Purcell's Magical 'Fairy Queen' At The Proms
From London's Royal Albert Hall
As an opera composer, Henry Purcell is best known for a single piece: the drama Dido and Aeneas, which dates from around the 1680s. Strictly speaking, it's the only opera Purcell ever wrote.
The Hit Single
Many elements of Purcell's "semi-opera" appear in the opening scene of Act Three: There's a love song and chorus ("If Love's a Sweet Passion"), a bit of dialogue for Queen Titania, a symphonic evocation of swans and the lively Dance of Four Savages. This BBC Proms performance features the Glyndebourne Chorus, with soprano Lucy Crowe, tenor Ed Lyon and actor Sally Dexter as Titania.
'If Love's a Sweet Passion'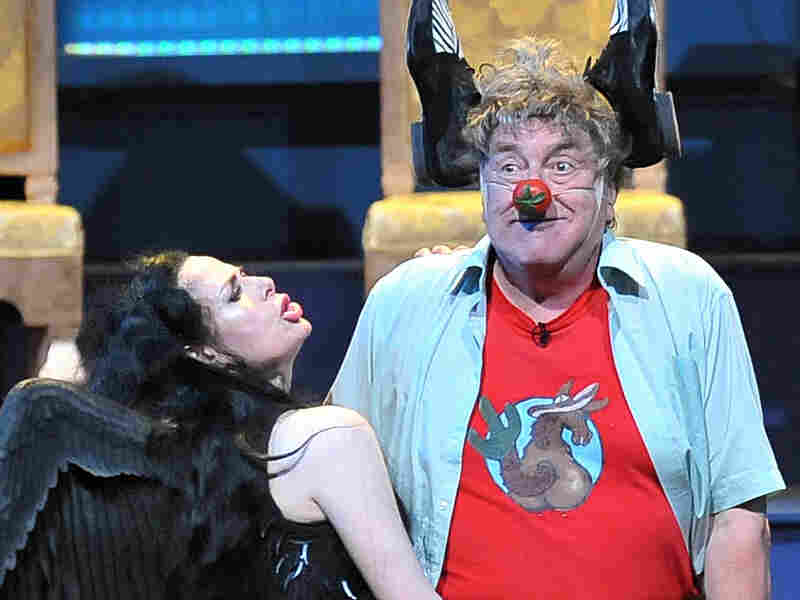 In 17th-century England, musical theater in which all the dialogue is sung — that is to say, opera — hadn't really taken hold. Londoners got a taste of real opera for the first time in 1674, when a French production was staged at the Duke of York's wedding. But no one seemed to like it. Instead, the English preferred a kind of hybrid: a mix of brief musical numbers and songs inserted into a more traditional stage play, dominated by spoken dialogue. This was what Londoners expected, and as a result, it became the formula composers followed for several decades.
But in the 1690s, Purcell came up with four dramas that reversed that process. Music became the main focus; the spoken passages served more as a dramatic framework for a series of elaborate songs, ensembles and choruses. These pieces were called semi-operas, and the most lavish of them all was The Fairy Queen, first performed at London's Dorset Garden Theatre in 1692. The production was so lavish they had to organize additional performances the following year just to cover the expenses.
It might be called a "semi-opera," but The Fairy Queen requires a whole crowd of performers — essentially three separate casts comprising singers, actors and dancers. Purcell based the piece on Shakespeare's popular play A Midsummer Night's Dream, but altered it at will to make room for self-contained musical masques (or scenes) in each of its five acts, along with a wholesale cutting and updating of the Bard's language.
Even if it doesn't follow Shakespeare to the letter, The Fairy Queen features something for almost everyone. First, there's the music, some of Purcell's most inventive. And there are scenes of slapstick and drag, a drunken poet or two, dancing monkeys, swans and, true to the original, Bottom the weaver, donning the head of an ass.
On World of Opera, host Lisa Simeone presents a production of The Fairy Queen from this summer's 2009 BBC Proms Music Festival at London's Royal Albert Hall. The semi-staged production, by the Glyndebourne Festival Opera, marks the 350th anniversary of Purcell's birth. Conductor William Christie leads a cast of 39 singers, actors and dancers and the Orchestra of the Age of Enlightenment in a new performing edition of the opera, which requires reverting to a much lower standard pitch (the note A = 405 cycles per second) and even the construction of some new (old-style) instruments.
See the previous edition of World of Opera or the full archive.
The Story Of 'The Fairy Queen'
In ACT ONE, the young woman Hermia is scheduled to marry Demetrius, according to her father's wishes. But she's actually in love with another man, Lysander. And Demetrius is also already engaged, to a woman named Helena. Hoping to avoid this double mismatch, the two couples leave town.
Cast of Singers
Miriam Allan, soprano
Lucy Crowe, soprano
Claire Debono, soprano
Anna Devin, soprano
Helen-Jane Howells, soprano
Rachel Redmond, soprano
Carolyn Sampson, soprano
Robert Burt, tenor
Sean Clayton, tenor
Ed Lyon tenor,
Adrian Ward tenor,
Lukas Kargl baritone,
John Mackenzie baritone,
Andrew Foster-Williams, bass-baritone
Desmond Barrit, bass
The Glyndebourne Chorus
Orchestra of the Age of Enlightenment
William Christie, conductor
Nearby in the woods, the fairy queen Titania is also avoiding a troublesome relationship — hiding from her jealous husband, King Oberon. She has fairies at hand to entertain her, and for fun, they torment a drunken poet.
In ACT TWO, Titania and Oberon are still quarreling. As a diversion, Titania turns the woods into a picturesque wonderland. Fairies keep her amused with songs and dances. Eventually, she orders them to sing a lullaby. While she's asleep, Oberon sprinkles her eyes with juice from a magic flower.
In the THIRD ACT — thanks to that magic — Titania falls in love with Bottom, who has the head of a donkey. Trying to seduce him, she changes the scene to a magical forest, complete with a river bridged by the bodies of dragons, with swans in the water beneath them. Here, the entertainment is provided by fauns, dryads and nymphs, until they're driven away by four green savages. The act concludes with the song of a nymph, a dance of haymakers and a final chorus.
In ACT FOUR, Titania is still with Bottom. The two have fallen asleep, along with the two mismatched couples, Hermia and Demetrius plus Helena and Lysander.
Oberon wakes Titania and Bottom, and Titania works some magic of her own. She turns the scene to a lush garden of fountains. It's Oberon's birthday, and for the celebration, the sun god Phoebus floats in on a cloud, followed by characters representing the four seasons, and there's a spectacle of songs and dancing.
In ACT FIVE, the Duke of Theseus finally allows the two couples to be matched up as they wish: Hermia with Lysander, and Demetrius with Helena. They tell him about the wondrous events that have happened so far, but he doesn't really believe them. So Oberon puts his own magical powers on display. He conjures the goddess Juno, riding on a chariot drawn by peacocks, and to represent paradise, there's a lush Chinese Garden. Finally, the God of Marriage himself appears, and the entertainment ends with a joyful ballet and chorus.