Mississippi Grapples with Rising Infant Death Rate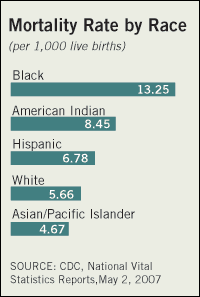 Five Leading Causes of Infant Death
#1 Congenital malformations, deformations and chromosomal abnormalities
account for roughly 20 percent of all infant deaths. These are defects or diseases present in a baby at birth and can be inherited or caused, for example, by a lack of certain prenatal vitamins or exposure to alcohol or drugs in the womb. Much of the time, however, causes are unknown. Malformations can involve different organs such as the brain, lungs and liver, but most commonly affect the heart. Down syndrome is one of the most frequently diagnosed chromosomal abnormalities.
#2 Disorders related to premature birth and low birth-weight
cause about 17 percent of all infant deaths. Infants born too small (less than 5.5 pounds) or too soon (before 37 weeks) are more likely to have less-developed organs. The mother's alcohol and drug use, inadequate weight gain or chronic health problems can cause a shorter gestation period and low birth-weight. Socioeconomic factors, such as low income and a lack of access to health care, also contribute to these conditions.
#3 Sudden Infant Death Syndrome (SIDS)
accounts for about 8 percent of infant deaths. Also called "crib death," SIDS is diagnosed when a previously health baby dies while asleep, without crying or showing any other signs of struggle or distress. Usually SIDS occurs in infants in the first six months of life. Medical experts have linked SIDS to unsafe sleeping positions (sleeping on the stomach or side) and parental smoking, but the underlying causes largely remain a medical mystery.
#4 Maternal complications during pregnancy
cause about 6 percent of infant deaths. Among the most common complications: pregnancy-induced hypertension, a weakened cervix (leading to premature dilation), and early breaking of the amniotic sac. Complications are more likely to occur in mothers carrying twins, triplets or more.
#5 Accidents and unintentional injuries
account for roughly 4 percent of all infant deaths. They include car accidents, falls, drowning and accidents involving guns.
Sources: Centers for Disease Control and Prevention. These are the most recent reliable statistics and are based on 2004 CDC surveys.
The rate of infant mortality in the U.S. has been steadily declining since 1960, when 27 out of every 1,000 newborns died. Now the national average stands at 6.9 deaths per 1,000 births.
But some Southern states are seeing a disturbing trend: Their infant-mortality rates are not improving, and some are getting worse. The most recent statistics show Mississippi had the biggest increase in the number of babies dying in their first year of life.
Historically, the state has had a higher infant-mortality rate than most of the country. But between 2004 and 2005, the number of babies dying in the state increased almost two points — to 11.4 deaths per 1,000 births.
Oleta Fitzgerald, Southern regional director for the Children's Defense Fund, says Mississippi had been making improvements in reducing the number of babies born dead or who died before their first birthday. But that has changed.
"We were very shocked to see that, over the last four or five years, rates have started to climb and are spiking," Fitzgerald says.
Many health-care experts are trying to make sense of the trend, but Fitzgerald says it's simple: She calls it a moral issue.
"Nobody wants to take care of poor children, whether they are black or white or whatever color," she says.
A History of Loss
In the tiny town of Hollandale in the Mississippi Delta, social worker Janet Johnson meets with 22-year-old Jamekia Brown.
When Brown was 17, she gave birth to a baby boy named De'Terrence. He weighed 4 pounds but had congenital problems and lived just one month. Brown was pregnant again in 2004, but the child, a girl named Fre'Mya, was stillborn.
Brown pulls out a photo from a shoebox in her closet.
"This is me with my first baby, De'Terrence," she says. "They had to go [do] a second surgery, and they think he wasn't going to make it. So they let me hold him while all the tubes and stuff was on him."
Brown also has a photo of Fre'Mya. "She's dead, "she says. "I didn't get no footprint or nothing for her."
Despite health issues, including high blood pressure and thyroid problems, Brown is pregnant again. Her social worker, Johnson, is worried. Johnson says even though Brown is on Medicaid and considered high risk, she can't see a specialist.
"It's so rural that women have to travel 36 to 40 miles one way to see a doctor," Johnson says. "When they go in, patients see a nurse practitioner. They see a physician in the eighth month [of pregnancy]."
Little Access to Care
Another problem, according to Johnson, is that many doctors in rural areas do not accept Medicaid.
Johnson works for the federally funded Delta Health Partners, making home visits and providing support for 55 patients in several rural counties. Health Department clinics are no longer open in every county, so she helps women get to medical appointments and get on Medicaid.
To apply for Medicaid, women now need an original birth certificate, and they must appear in person. Many critics say this new policy is preventing women and babies from getting the medical care they need.
Fizgerald of the Children's Defense Fund adds that many people have just dropped out because they are demoralized: "We see families that are operating as subcultures, and people who say, 'I don't want welfare. I do not want to have to go to that office and ask those people anymore to help me.'"
The Race Factor
Race is another factor that contributes to the higher infant-mortality rate in Mississippi and the rest of the South. Nationally, black mothers are twice as likely to lose their babies as white mothers, and in Mississippi, about half of all babies are born to African-American women.
Even well-educated, affluent black women are more likely to have problem pregnancies than their white counterparts, but it's not clear why.
Dr. Alan Brann, a professor of Pediatrics at Emory University, says doctors need to tackle the issue of low birth-weight, which is one of the leading causes of infant mortality.
"It (low birth-weight) is an indicator of the status of health of the community," Brann says. "It's the best canary we have in the mine to say this population that has high rates of very low birth-weight babies are not healthy people."
Early Intervention
Getting high-risk women medical and prenatal care when they are pregnant is not enough, Dr. Brann says. Medical experts should also monitor women between pregnancies to make sure they stay healthy and take care of any ongoing medical issues. A pilot program launched in Atlanta is addressing this need.
Brann says high-risk women need more access to services that doctors know will work, including preconception care and primary medical care.
"It's just simple, basic health issues that we have not afforded all of our citizens," he says.
The cost of providing ongoing medical care for these women is about $2,000 a year. The cost of treating babies born prematurely — some with severe health problems — is tens or hundreds of thousands of dollars per child. Many never leave the hospital.
Sandy Reynolds' son, Jeremiah, weighed just 1 pound, 15 ounces when he was born. He lived 11 months in a neonatal intensive care unit in Jackson, Miss.
Reynolds and her husband spent at least three days a week with their son.
"We dressed him up for Halloween and we had Christmas with him," she says. "We never treated him like he was a sick baby."
But Jeremiah's underdeveloped lungs were so susceptible to infection that he died the day after Christmas last year, without ever going home. Reynolds still grieves.
"God gave us 11 months, and I don't take back any of that time, because we enjoyed every day that we went with him," she says.
This is the fourth child she has lost in 12 years.