Senate Approves Sotomayor Confirmation
Senate Approves Sotomayor Confirmation
The Senate voted Thursday to confirm Judge Sonia Sotomayor to the U.S. Supreme Court. She is the court's third woman and first Hispanic. Sotomayor won support from all Democrats who voted, plus some Republicans.
MELISSA BLOCK, host:
From NPR News, this is ALL THINGS CONSIDERED. I'm Melissa Block in Washington.
MADELEINE BRAND, host:
And I'm Madeleine Brand in California.
It is official. Sonia Sotomayor will join the Supreme Court as its first Hispanic and third woman. Sotomayor was confirmed today by the Senate by a vote of 68 to 31. All Democrats and 9 Republicans supported her.
NPR's Audie Cornish reports from the Capitol.
AUDIE CORNISH: Minutes after the vote was tallied, President Obama went to the microphone with high praise all around.
President BARACK OBAMA: With this historic vote, the Senate has affirmed that Judge Sotomayor has the intellect, the temperament, the history, the integrity and the independence of mind to ably serve on our nation's highest court.
CORNISH: During three days of debate, Democrats portrayed Sonia Sotomayor as a scrappy intellectual from the Bronx with an unbeatable resume highlighted by a 17 year stretch of judicial restraint on the federal bench. Illinois Democrat Dick Durbin said senators shouldn't hold Sotomayor's personal history against her.
Senator DICK DURBIN (Democrat, Illinois): Judge Sotomayor should not be chosen to serve on the court because of her Hispanic heritage, but those who oppose her for fear of her unique life experience do no justice to her or our nation. Their names will be listed in our nation's annals of elected officials one step behind America's historic march forward.
CORNISH: GOP opponents said it wasn't Sotomayor's heritage that concerned them, but the role that heritage might play in her approach to cases. Republicans highlighted rulings she's issued involving Second Amendment gun rights, property rights and job discrimination against whites. Ranking Judiciary Committee member Jeff Sessions of Alabama argued that the moderate who testified before the committee would become a freewheeling liberal activist on the high court.
Senator JEFF SESSIONS (Republican, Alabama): We need judges who uphold the rights of all, not just some, whether they are New Haven firefighters, law abiding gun owners or Americans looking for their fair day in court. We need judges who put the Constitution before politics and the right legal outcome before their desired personal, political, social outcome.
CORNISH: And as evidence of bias, Republicans returned again and again to Sotomayor's speeches and writings outside of court. Especially the now notorious comment Sotomayor made in a 2001 speech about how a wise Latina judge might reach a better conclusion in a case than a white male. Iowa Republican Charles Grassley said this version of the judge could not be reconciled with the one Democrats presented.
Senator CHARLES GRASSLEY (Democrat, Iowa): The statements made at the hearing and those made in speeches and law review articles outside of the hearing are polar opposites of each other. Some of her explanations were contrived or farfetched. I'm not sure that the judge - which judge I am to believe.
CORNISH: Democrats said the GOP was distorting Sotomayor's record by highlighting three cases out of more than 3,000. Nine Republicans broke ranks to vote for Sotomayor's confirmation, but many said the process has become too personal and too politicized. Ohio Republican George Voinovich, who supported Sotomayor, criticized President Obama for bringing ideas like empathy and heart into the nomination process.
Senator GEORGE VOINOVICH (Republican, Ohio): Let me be clear. If I applied President Obama's standard, I would not be voting for Judge Sotomayor, his nominee. All of us in this chamber can examine the academic credentials of and prior judicial decisions authored by a nominee and determine whether he or she is qualified. We cannot examine and judge what is in the heart.
CORNISH: Jubilant Democrats gathered after the debate to tout the historic nature of the vote, which makes Sonia Sotomayor the first ever Hispanic elevated to the high court. And it falls on the anniversary of the Voting Rights Act of 1965.
Audie Cornish, NPR News, the Capitol.
NPR transcripts are created on a rush deadline by an NPR contractor. This text may not be in its final form and may be updated or revised in the future. Accuracy and availability may vary. The authoritative record of NPR's programming is the audio record.
First Up For Sotomayor: A Case With Partisan Edge
Sonia Sotomayor made history Thursday, winning approval from the Senate to become the next Supreme Court justice — and the first Hispanic to sit on the nation's mightiest bench.
Sotomayor's confirmation came despite strong Republican opposition and on a mostly party line vote of 68-31. But the partisan bickering surrounding Sotomayor isn't likely to end once she is sworn in on Saturday morning. In less than a month, the court is scheduled to rehear arguments in a high-profile campaign finance case that could rewrite rules that restrict political campaign spending by corporations and unions.
And it just so happens, legal experts say, that issues of campaign finance and the ongoing struggle to balance free speech rights with the corrupting effect of big money in politics lie right in Sotomayor's wheelhouse.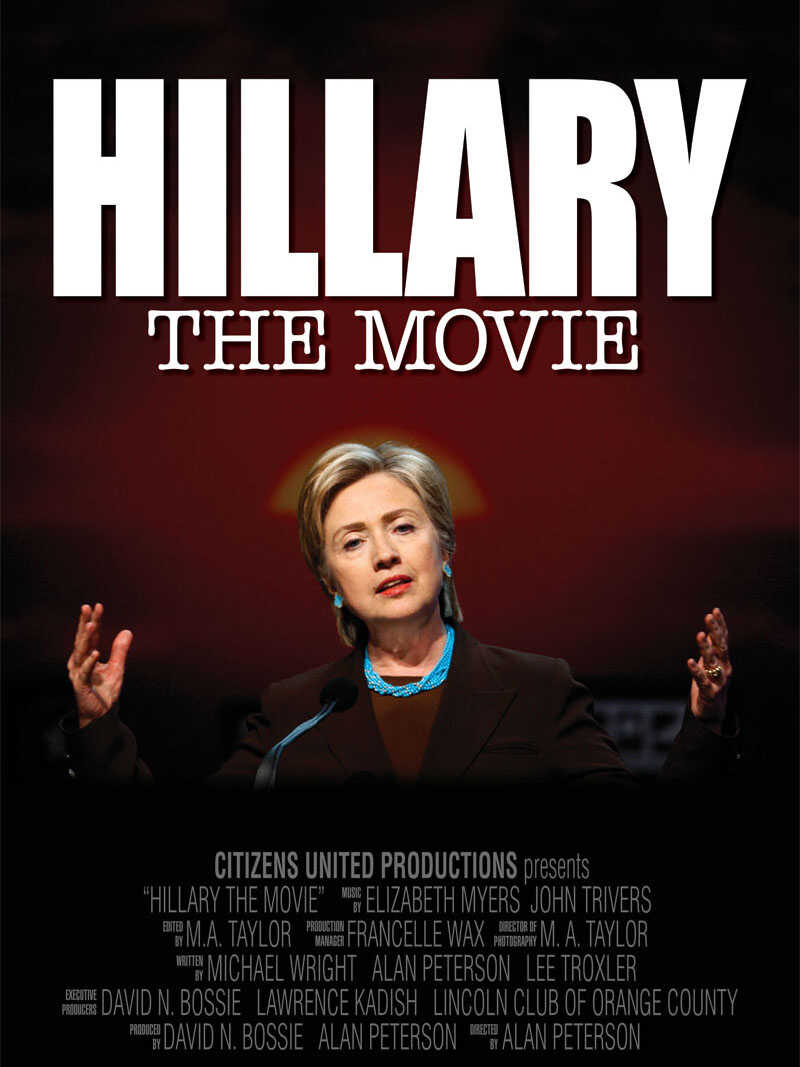 Courtesy of Citizens United
"She is the only one on the court who has experience as a campaign finance regulator," says Rick Hasen of Loyola Law School in Los Angeles, referring to Sotomayor's four years as a member of the New York City Campaign Finance Board.
"Her experience is in both election law and policy, and she could bring a different perspective," Hasen says.
The Hillary Clinton Movie
At issue in the case, scheduled to be reargued Sept. 9, is whether the Federal Election Commission violated a conservative advocacy group's free speech rights when it barred the release of an anti-Hillary Clinton movie on the eve of the 2008 presidential primary season.
Other Upcoming Cases
Salazar v. Bruno, oral arguments Oct. 7
At the center of this case is whether an 8-foot cross erected on federal land 75 years ago as a war memorial and maintained by the government violates the First Amendment principle of separation of church and state. Lower courts invalidated a land swap that would have created for the cross an island of private land in the Mojave National Preserve. Cross supporters argue that the Oregon resident who challenged its location has no legal standing to sue.
United States v. Stevens, oral arguments Oct. 6
Robert Stevens sold a product most find distasteful: videos of illegal dogfights. But after being convicted of "knowingly selling depictions of animal cruelty" across state lines and for profit, Stevens won a reversal on appeal. The videos, the court ruled, were constitutionally protected speech. The high court will have to decide whether it agrees, or whether the intentional cruelty depicted is unprotected speech — like child pornography.
Stop the Beach Renourishment v. Florida Department of Environmental Protection, arguments to be scheduled
When a government entity trucks in sand to build up an eroding shoreline, who owns the new beach? The issue before the high court is the constitutionality of Florida's plan to redo seven miles of a storm-damaged shoreline by creating a public beach between private homes and the Gulf of Mexico. Homeowners say their due process rights were violated; the state says the plan is a legal taking in the public interest of shoreline restoration.
Citizens United, which produced the movie, argued that the tenets embodied in the 2002 McCain-Feingold campaign finance law suppress political free speech by barring the use of corporate and union funds for partisan communications and limiting the time frame in which those partisan advertisements or broadcasts can be shown.
The FEC and a lower court found that the film, funded in part by corporate donations, violated the law's big money ban as well as a rule that prohibits "electioneering communications" in the 30 days before a primary for federal office — in this case, a presidential primary season during which Clinton was seeking her party's nomination.
But the Supreme Court's decision to have the case reargued suggested that justices less friendly to corporate campaign spending rules may be using the movie case to re-examine the broader law, including subsequent high court decisions that upheld corporate and union money restrictions.
"You always tremble a little bit when something like that happens," says Mary Wilson, president of the League of Women Voters, which has filed a friend of the court brief in favor of the FEC's position.
"From our perspective, we are trying to protect our political process from huge corporate expenditures in candidate elections," she says. "When something's not decided on the briefs, we wonder, what more do they need to hear on this?"
Big Changes Afoot?
Hasen is among election law experts who say that the court under Chief Justice John Roberts' guidance, and since now-retired Justice Sandra Day O'Connor was replaced by Justice Samuel Alito, has been consistently chipping away at campaign finance rules.
"They've decided four cases before this one and in each, they either held a rule unconstitutional, created an exception" or otherwise weakened the law, Hasen says.
A ruling for Citizens United "would be a significant change in its own right, and also signal that other campaign finance laws are ripe for challenge," Hasen says.
But Steven Shapiro of the American Civil Liberties Union says that predictions of great changes are overstated.
"I don't think it would be the end of campaign finance legislation as we know it," says Shapiro, who co-wrote the ACLU's friend of the court brief that supports Citizens United.
"This is not a challenge to contribution limits, nor is it a challenge to soft-money limits," he said. "This is about government revocation of core political speech, regardless of the speaker."
In its brief, the ACLU asserts that McCain-Feingold's broad prohibition on "electioneering communications" and its ban on corporations' and unions' paying for such communications violate the First Amendment on its face. The FEC defines electioneering communications as any broadcast, cable or satellite communication that refers to a "clearly identified candidate" for federal office, is publicly distributed shortly before an election for office that candidate is seeking, and is targeted to voters who will decide the race.
Sotomayor's Role
So how might the country's newest justice figure in the clearly polarizing debate?
Wilson of the League of Women Voters says she believes that Sotomayor's experience and her personality will help advance arguments made by those who favor keeping restrictions intact.
"She was on the New York City Campaign Finance Board, so she certainly has familiarity with these kinds of issues," Wilson says. "We also know that she's very good at asking pointed questions and getting to the heart of the matter."
Sotomayor was a founding member of the nonpartisan finance board in 1988, and she served until 1992, when she was named a District Court judge. The board administers the city's public matching campaign funds program, monitors candidate contribution limits and disclosures, publishes a voter guide and oversees debates.
In his assessment of Sotomayor's record on campaign finance, Hasen says he found that her decisions mirror those made by Justice David Souter, the high court jurist whom she is expected to replace.
So though she brings experience to the issue, her presence on the court won't wrest control of the issue from the court's majority conservative wing.
"It's a very high-profile case, and one about which she is likely to have a strong opinion," Hasen says. "But whether she can sway the conservatives? I doubt it."