Shaky U.S.-Sheikh Alliance Tempers Violence in Iraq
Shaky U.S.-Sheikh Alliance Tempers Violence in Iraq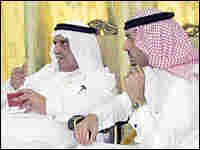 Maj. Kurt Ebaugh, U.S. Marine Corps
Violence in Iraq's al-Anbar province has dropped dramatically since the beginning of the year, due in large part to friendly relations between coalition forces and local sheikhs who have decided to ally with the U.S. in the fight against al-Qaida.
Now that the province is safer, some tribal leaders who had fled the country during the violence are coming home. Old rivalries are re-emerging as the sheikhs jockey for leadership positions in the new alliance.
While the tribes for the most part remain united in their commitment to fight al-Qaida, their internal power struggles make it more difficult for U.S. forces in al-Anbar province to manage their relationships with the tribes — an alliance that has been key in the struggle to secure the volatile region.