Cuba Holds Allure As U.S. Tourist Destination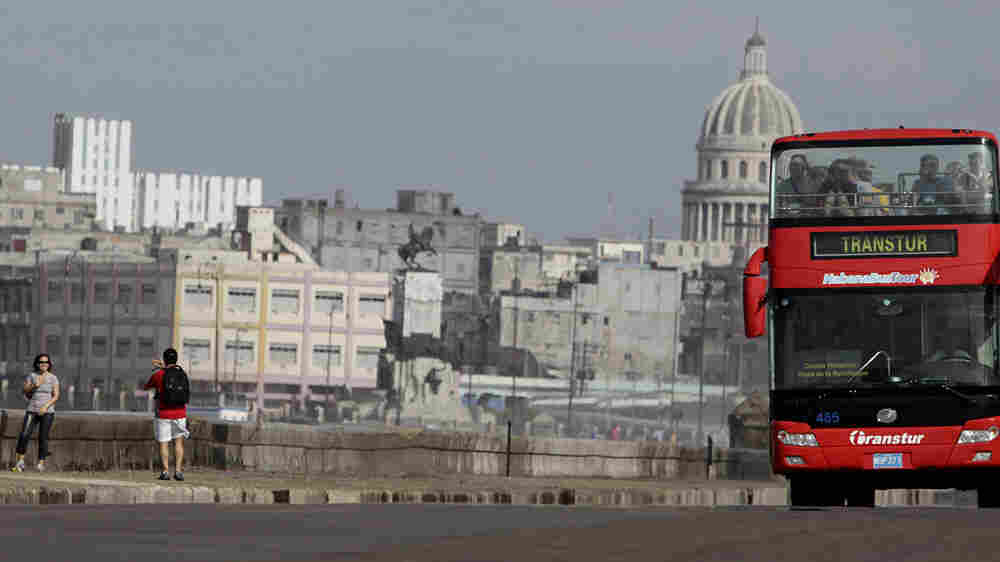 For many American tourists, Cuba is the Caribbean's forbidden fruit.
Legislation is pending in Congress that would lift the ban on U.S. citizens traveling to Cuba. Travel industry officials estimate that as many as 1 million Americans might visit the island each year.
The question is whether Cuba is ready for a huge jump in foreign visitors.
The island nation has much to offer.
The lack of development under communist rule has left parts of the country resembling a land from a time warp to the 1950s — a welcome change of pace for many foreign tourists.
Cuba is close — Havana is only as far from Miami as Boston is from New York. And the country has beaches, mountains and a rich history.
Attractions Abound
The central Cuban city of Camaguey offers travelers labyrinth-like streets, which were laid out in the 1500s to be intentionally confusing to attacking pirates.
Tourists can go snorkeling in the Bay of Pigs, or lounge on the white sand beaches along the north coast that was favored by Ernest Hemingway.
In the city of Remedios on Cuba's northern coast, the main church was built in the 16th century. Estaban Augustin Granda Fernandez, 87, used to play the organ at the church. Now, he is the caretaker and shows visitors around the sanctuary.
He points out the timbers in the ceiling, the original Spanish tiles in the floor and the statue of the Virgin Mary, who appears to be dancing the flamenco.
Granda also points out that the statue has a bulge in her belly. It is the only image of a pregnant Virgin Mary in Cuba, he says, slapping his own stomach.
Roberto Maseo, who works in a dive shop in the beach town of Santa Lucia, says Cuba's main tourist market is Canada, because of its proximity. Flying time from Toronto to Santa Lucia, or from Montreal to Camaguey, is about three hours, Maseo says.
Santa Lucia has a series of two- and three-star resorts that sell all-inclusive package vacations. Maseo calls it a value resort. Scuba-diving excursions — all equipment and transportation included — cost about $35.
Maseo is currently preparing for a shark show. "We feed the sharks. No protection. Shark is actually swimming over you, over your heads. People can actually touch them. No problem," he says with a laugh.
Economic Benefits Of Expanded Tourism
In 2008, tourism was Cuba's second leading source of income after nickel exports. It's a growing source of revenue that the communist regime wants to expand.
There are plans to open 30 new hotels across the island in the next five years.
While Cuban officials say they're not banking on Washington lifting the travel ban, hundreds of thousands of additional visitors from across the Florida Straits could pump much-needed cash into Cuba's flagging economy.
"For us, the American market is a big opportunity," says Dario Fernandez, general manager of Hotel Melia Havana, a Spanish-run luxury hotel in the capital city.
The hotel has 400 rooms, seven restaurants and the biggest pool in Havana. It is jointly owned by the Cuban government and a group of foreign investors, and is managed by the Spanish resort chain Sol Melia.
Fernandez says about 3 percent of his guests are from the United States, but he estimates that number could rise to 50 percent without the travel ban. Last year, the hotel had an average occupancy rate of 82 percent — considered good in the business.
But there are challenges to running a five-star hotel in a communist country where ordinary citizens earn just $20 a month. For instance, the reason Melia Havana has seven restaurants is that few dining options outside the hotel meet foreign tourists' standards. The Melia runs its own fleet of buses for its employees because the city's transportation system is so unreliable.
American Tourists' Historical Connection
The Hotel Nacional in Havana abounds with shared history. The Nacional was built in 1930 and modeled after the Breakers Hotel in Palm Beach, Fla.
In 1946, American mobster Charles "Lucky" Luciano held a convention at the Nacional of American gangsters plotting to turn Havana into a second Las Vegas. In 1951, Hollywood stars Frank Sinatra and Ava Gardner stayed there on their honeymoon.
After Fidel Castro came to power in 1959, he shut down the hotel's casino and installed Soviet anti-aircraft guns along the front lawn — under which a bomb shelter, built during the Cuban missile crisis of 1962, still remains.
But if guests don't want to think about the moment the world was pushed to the brink of nuclear war, mafia gambling rackets or the clash between capitalism and communism, they can sip mojitos at an outdoor restaurant, looking north across the water toward Florida.
Jesus Noguera Ravelo, a tour guide, says Cuba's infrastructure is not ready for a huge influx of American visitors. He notes there aren't enough buses, rental cars, quality restaurants or hotel rooms.
"But if you ask me about the will of the Cuban people, I would say, yes, we are ready. We would like to have more exchange with the American people coming from the U.S. to Cuba," he says.
Noguera says the American visitors who do come have much more interest in Cuban history than other tourists — in part because the two countries have such a long, intertwined relationship. He says if he tries to give Canadians or Europeans a one-hour talk about the Cuban revolution, their eyes start to roll back in their heads. But Americans, he's found, are eager to hear about it.
"That is telling you that we have a lot in common. And we have to know each other a lot more," Noguera says.