Chasing After The Elusive Narwhal
Chasing After The Elusive Narwhal
One quiet evening not too long ago, Kristin Laidre was standing on a rocky beach, peering out of a fjord dotted with icebergs. The water looked strangely still under the nighttime sun.
"It's great conditions for seeing narwhals," said Laidre, watching through binoculars as a small group of narwhals moved past a glacier that spilled down from the Greenland ice cap. "They're so sneaky, but they can't really hide when the sea is like a mirror."
Narwhals are an Arctic whale known as the unicorn of the sea. The males have a distinctive long, spiral tusk. For centuries, traders sold these tusks as the legendary unicorn horn, which people thought had magic powers.
And in this particular fjord, called Inglefield Bredning, the narwhals do seem to have an almost magical ability to evade the researchers who are longing to catch them.
"They're swimming away from the nets," Laidre said, watching as the path of the swimming narwhals made a kind of shimmering line in the still water. "Yeah, they seem to be swimming toward the other side right now."
Thousands of narwhals spend their summers in this fjord, and Laidre, an oceanographer at the University of Washington, has been coming here for the past eight years. Again and again, she's tried to catch a narwhal by setting up giant nets. This shouldn't be impossible. She and her colleagues have had success with nets in other places. "We definitely can catch them in nets in Greenland and in Canada — in many places in Canada," she says. "But here, we haven't managed to do it."
If she could briefly snag a narwhal here, she could attach a small, sturdy satellite transmitter to a ridge of cartilage and blubber along its back. For months, the transmitter would send back all kinds of information, like where the narwhal goes and how deep it dives.
And that would be incredibly useful. Because even though the narwhal has long been famous for its unicorn horn — it's thought to be the whale version of a peacock's tail or a lion's mane — most of the narwhal's life is a mystery, hidden by darkness and ice.
"The main reason that narwhals are not studied is that it's not very easy," says Laidre. "They live in this, you know, totally extreme environment, where half the year, it's completely dark and minus 30 and covered in ice, and the whales are 200 kilometers offshore, and nobody in their right mind would make an expedition to study them."
Then in the summer, when there's warmth and endless light, she says, "they're completely skittish and shy from humans, and so you have to wait days before you might even see a narwhal. I mean days, weeks."
And so she waits ... and waits ... and waits. For two weeks in July, she heads up a little camp on this remote, rocky beach. There are a few tents, a couple of colleagues from Denmark, plus five Inuit hunters from a nearby town. Twenty-four hours a day, someone keeps watch on big white floats that will bob and jerk if a narwhal swims into the nets.
If that happens, Laidre will pull on a survival suit and rush toward the water to get her hands on the narwhal so she can tag it. In other places, when she's managed to do this, it's been an intense, wild ride. "It tends to be a little bit out of control," she says. "It's struggling, and it's trying to get free, and it's trying to get untangled, and it wants to come up for air, and it's going up and it's diving, coming down."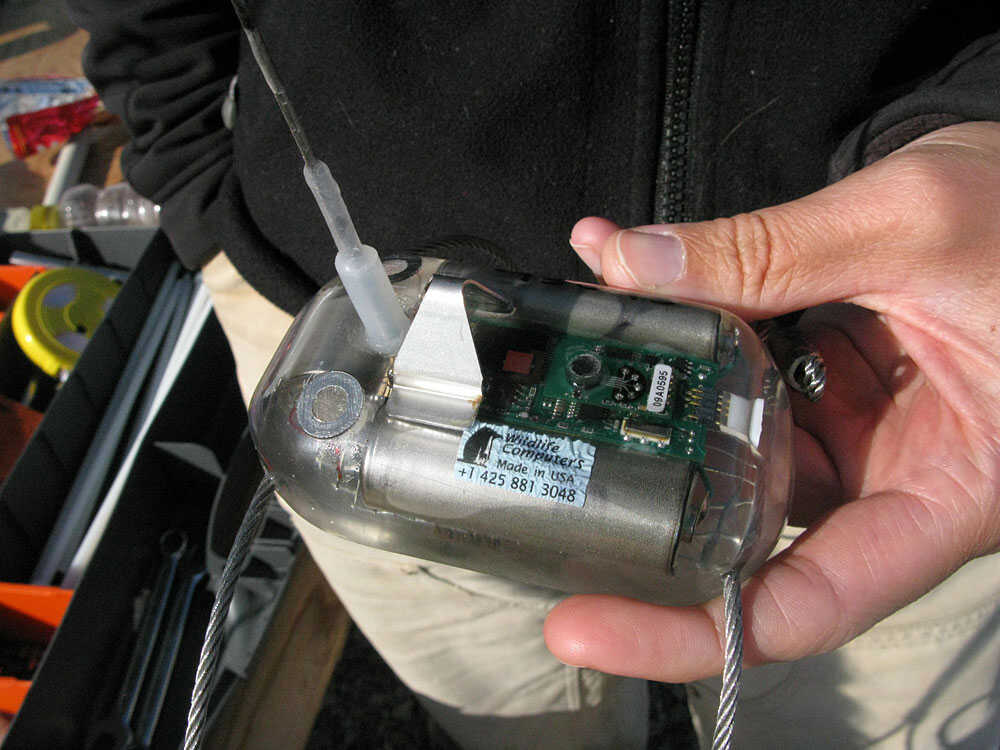 She says that when you touch a narwhal, it feels like a cold, hard, slippery inner tube. And the breath from their blowhole isn't that great. "They have whale breath," she says. "Kind of a heavy, little bit blubbery smell."
Here, though, she can see and even hear the narwhals spout, but only from far away. There's nowhere to go, nothing to do. For hours, days, her team sits around and stares at the blue sky, the blue water and icebergs — lots of icebergs — some bigger than houses. They drift by like clouds. As Laidre watches them with a colleague, partly to make sure none of them are headed for the nets, she jokes that maybe they should change fields, since "it's a lot easier to catch icebergs."
As a kid, Laidre remembers she had a set of stickers that had a narwhal, but she had no idea that she'd someday study the creatures. Her dream was ballet. "I trained intensively through high school, and then I went and I danced with a ballet company in Seattle," she says, explaining that an injury ended that career. So she went to college and now has a research job at the University of Washington.
Still, she thinks the physical and mental challenge of ballet was actually good training for studying narwhals. "You learn how to be miserable and suffer, and like, you just have to keep going for the sake of what you're doing," she says.
One night, a white mist suddenly covers everything. The hunters have to take in the nets since no one can see their buoys. As the fog lifts, but before the nets are back out, the narwhals appear, frolicking in front of the glacier, totally out of reach.
Another day, icebergs come dangerously close to the nets. The hunters have to move them to let the icebergs pass.
To pass the time, one day Laidre decides to decorate a plywood sign that's lying around. Under the name of the Greenland Institute of Natural Resources, which supports this project, there's the black outline of a narwhal. She picks up a paintbrush and starts filling it in with white paint. It looks like she's creating a tiny narwhal version of Moby Dick. She's read the book, of course, and jokes that sometimes she feels worse than Captain Ahab.
But even though catching a narwhal here might feel like pursuing something impossible and elusive, "I approach it with a very fatalistic attitude, a very realistic attitude with a good sense of humor," says Laidre. "Not expecting too much."
Then, two days before she has to leave, the narwhals come. She joins two hunters at the top of a hill and peers through binoculars. The backs of the narwhals move up and down through the water. A large group is near shore, sort of milling around. They don't seem to be in any hurry. Laidre runs down to the beach, pulls out her box of satellite transmitters, and struggles into a red survival suit. "I think it's really close," she says. "It's like the closest we've come in a really long time. After all these years, I don't usually put my suit on unless I really believe that there might be a chance."
She's quiet and tense, watching the narwhals. They move toward the nets. Then they veer slightly and slip away.
That night in her tent, Laidre hardly sleeps, waking every hour to check the nets. When she does drift off, narwhals swim into her dreams. One dream narwhal beaches itself by her tent. In another dream, she finds a strangely tiny narwhal, like a salamander, lying at her feet. "Now I had too many narwhals," she laughs, "but for various reasons I still couldn't tag them! So they were really weird dreams, and then I woke up and I thought, I think it might be time to go home."
The nets are pulled out onto the rocky shore. Everything gets packed into a permanent tent for storage. The plywood sign with the painted narwhal is screwed over the front door to keep polar bears from busting in. And Laidre says she hopes to come back next year, to try again.