Human Speed Limit? We're Nowhere Near It
Human Speed Limit? We're Nowhere Near It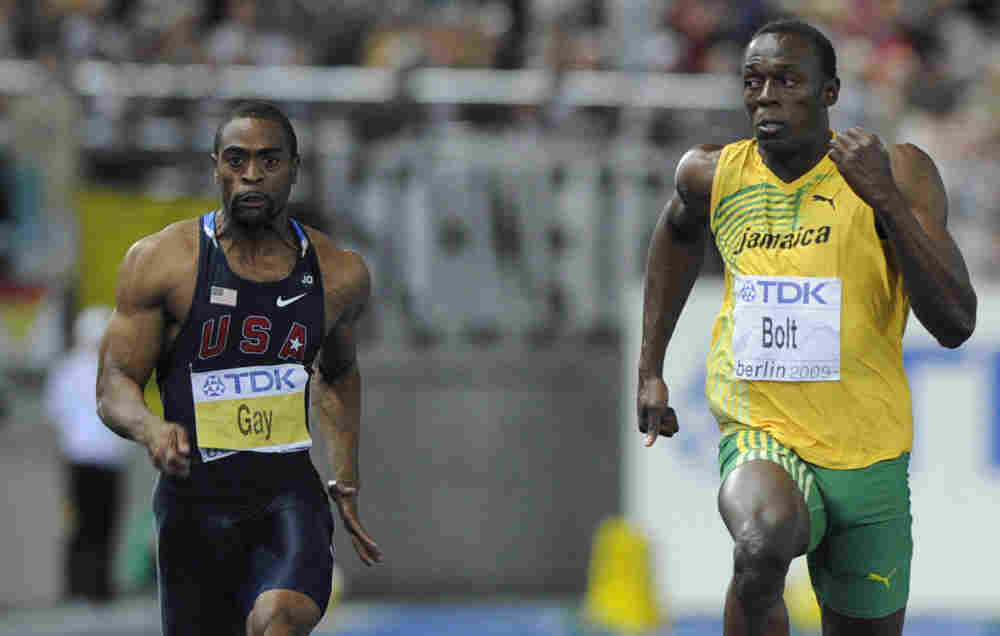 Oliver Morin/AFP/Getty Images
Jamaican sprinter Usain Bolt blasted through his own world record for the 100-meter dash Sunday at the World Track and Field Championships in Berlin — but he barely had any time to savor that incredible feat before people were asking him how much lower he can go.
Bolt knocked a fraction of a second off his previous best time. The record now stands at 9.58 seconds. And Bolt has said the 100-meter dash can be done even faster.
But where does this end? Is there a human speed limit?
"I would say in the next decade, it wouldn't surprise me if [the 100-meter record] goes below 9 seconds," professor Peter Weyand, a physiologist at Southern Methodist University in Dallas, tells NPR's Melissa Block. "It could go faster than that — and it probably will."
Weyand, who specializes in the biomechanics of running, says the body's speed depends on how fast the muscles are able to "turn on."
"And we know biologically we're not anywhere close to that limit," Weyand says.
The scientific understanding of speed is still relatively new, Weyand says. Better understanding of the body's mechanics and more advanced training programs — developed in recent years — have helped runners shave time off records.
And Bolt, who has dominated sprinting in the past two years, is an oddity.
One thing that scientists have generally accepted is that taller, bigger runners — Bolt is very tall for a sprinter, at 6-foot-5 — are at an initial disadvantage because they take longer to get going. But once they get up to speed, they are at an advantage because they have a longer stride.
"The sprinters that run the short indoor dashes tend to be shorter bodies because most of that race is the accelerating or speeding up part, where it's an advantage to be short," says Weyand of the 100-meter dash. "But outdoors on the track, for example, if you go from 100 to 200 to 400 meters, the specialists get progressively taller."
What is odd about Bolt is that he hasn't displayed any disadvantage at the start of the race.
"He gets out just as fast — or faster — than his competitors, which is at odds in terms of muscle physiology and body size as we understand it currently," Weyand says.
At 22 years old, Bolt is also still young for a sprinter. Many athletes in this category compete well into their early 30s. It seems he will have plenty of years to test the bounds of human speed.