Storm Downs Beloved Trees In Central Park
Storm Downs Beloved Trees In Central Park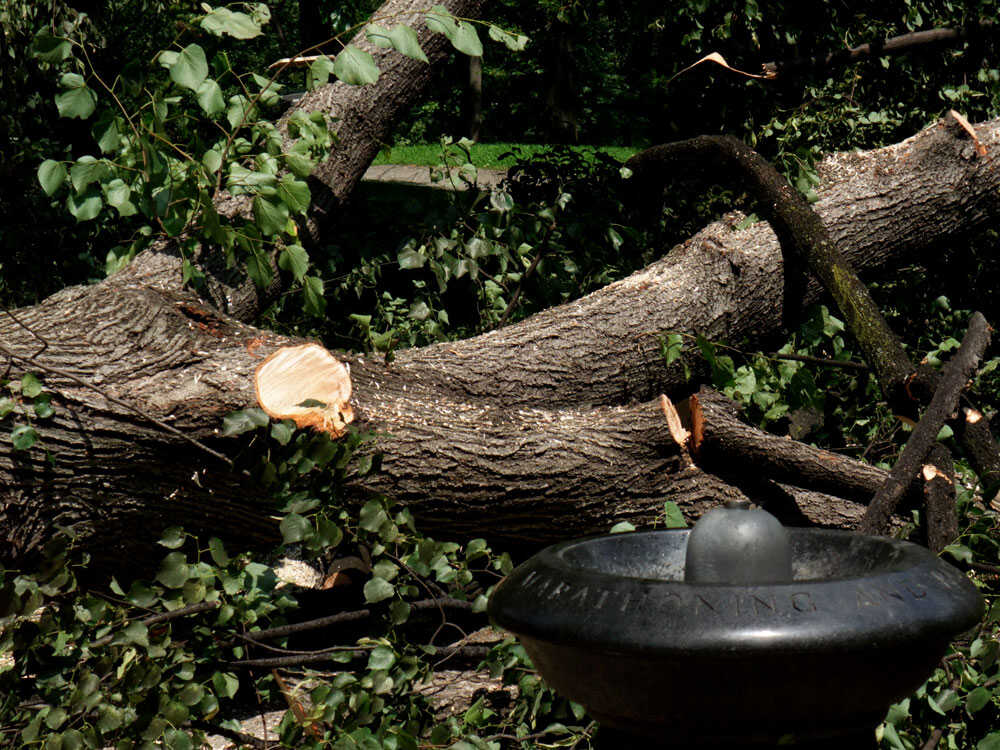 On Tuesday, a short, violent storm caused extensive devastation in New York's Central Park, downing about a hundred trees and fatally damaging many more.
Central Park is my backyard. It's right across the street. It's my country house, my birding forest, my nature. This year, it was my stay-cation place as well.
I have watched scarlet tanagers here, and great egrets, and mourning warblers. I have seen a woman in a wheelchair feeding four baby raccoons at dusk.
And I have followed the trees from season to season. There are many species of oaks and maples, horse chestnuts, London planes, elms, beeches, white ash, black locust, bald cypress, mulberries, willows, sweet gum — I could go on and on.
From my window, nothing looks different today. The huge rains of this summer have made the park luxurious. But enter the park, and the devastation of Tuesday's storm is everywhere. No one has seen anything like it in decades.
The storm — which meteorologists called a microburst, not a tornado — did its worst damage right where I live in the west 90s and 100s. Walking out at 6 a.m. Wednesday, I saw at least 30 trees — oaks, ginkgos, maples and others, many more than a hundred years old — totally uprooted.
Today, there is yellow caution tape all over the park, closing pathways and warning runners and dog walkers of the danger from falling branches. Right where I enter the park, there's a rock outcropping on the left. At first I couldn't even understand what I was seeing: a huge brown mass behind the rock. It was an enormous root system of a tree upended.
Then I saw another, and another. Near the pool around 100th Street, it looks like a tornado has passed through. After walking several miles to see the damage, I went to look for my favorite tree, a huge London plane that three people holding hands would never get their arms around. It's still there, with only a few branches torn off.
The death of these old friends is so sad. At the same time, there is something so beautiful and primal about the power of a storm, of nature still beyond human control.
There's a wonderful old book that is still available. It's called Tree Trails in Central Park. It takes you on walks, identifying tree by tree. If I open it to the chapter that starts on my block, it tells me that right to the left of the entrance are two European willows, and a horse chestnut tree. If I walk to the first intersection and pause by the end of the last bench, I will find a small red oak. By the playground entrance is a green ash. It even says things like "next to lamppost 9314 is a Chinese elm."
I wonder how many entries in this book would have to be rewritten now.