Abbas Lashes Out at Hamas; Israel Strikes Gaza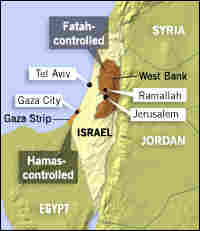 Palestinian President Mahmoud Abbas lashed out at Hamas on Wednesday, calling the movement "murderous terrorists" who had targeted him for assassination.
Israeli warplanes and tanks, meanwhile, hit targets in northern Gaza. At least four Palestinians were killed, officials said.
Israel's Defense Minister Ehud Barak also ordered that any of the hundreds of Palestinians holed up at a Gaza border crossing should be allowed to enter the Jewish state if they need medical treatment.
In an uncharacteristically fiery televised speech, Abbas said Hamas replaced the "national project" with "its project of darkness."
"There is no dialogue with those murderous terrorists," Abbas said, accusing them of attempting a coup. It was Abbas' toughest speech since he fired the Hamas-led Cabinet and replaced it with his own team of Fatah supporters and experts over the weekend.
"Our main goal is to prevent sedition from spreading to the West Bank, ... to prevent violations by any party, and to deal (with everyone) equally, based on law," he said.
In a lightning military-style operation last week, Hamas militias routed the numerically superior Fatah security forces and took over their bases, leaving Abbas' Fatah in control only of the West Bank.
Abbas said that despite the turmoil, peace talks with Israel should resume.
"The atmosphere is not preventing a start to negotiations," he said, adding that he hoped the international community, including the Quartet of Mideast mediators, would convene an international peace conference that can lead to negotiations between the Palestinians and Israel.
Defense Minister Barak on Wednesday instructed officials to let in "humanitarian cases" at the crossing between Gaza and Israel, while Israeli aircraft fired missiles at two rocket launchers in northern Gaza, in the first aerial attack on the strip since Hamas' takeover.
Israeli tanks also rolled about 600 yards inside southern Gaza before dawn, and four militants were killed in a gunbattle, Palestinian hospital officials said.
About 200 Gazans, petrified by the chaos in the Hamas-controlled coastal strip, have been camped out for six days in a tunnel on the Palestinian side of the Erez crossing with Israel, pleading with Israeli authorities to grant them safe passage to the West Bank.
Hamas seized control of Gaza last week after vanquishing security forces allied with the rival Fatah faction, leaving many Gazans worried about further violence. Some in the tunnel fear their lives are in danger because of their Fatah loyalties; others seek a better life than volatile Gaza can offer.
Among their numbers are people wounded in gunbattles between the rival factions.
With no sanitary facilities at the tunnel, the stench of urine and sweat has permeated the air. Food and water were in short supply as women, children and young men sat waiting on mats or concrete.
No numbers were specified, and specific guidelines for determining urgency were not released. But shortly after the order was issued, a 17-year-old boy with leukemia was on his way through the passage, said Shadi Yassin, a military liaison official.
On Tuesday, Israel allowed in two Palestinians wounded in a shootout at the terminal the previous day. Three other people hospitalized in Gaza in the course of Hamas-Fatah infighting last week also were allowed to pass.
Hamas' takeover of Gaza led Israel to seal its borders.
Israel, which has sophisticated weapons screening equipment in place at Erez, says it is letting through only the staff of international organizations, people with special permission and humanitarian cases. Military officials say they don't think all of the people in the tunnel are in danger.
Israeli military spokesman Shlomo Dror said Wednesday any foreign national wishing to leave Gaza was allowed to do so in coordination with their embassy.
More than 100 foreigners have left Gaza since Hamas seized full control there last week, Dror said. He did not specify their nationalities. Three buses carrying foreigners left the Erez crossing from Gaza into Israel on Wednesday.
From The Associated Press
Q&A: Hamas and Fatah
Hamas and Fatah are rival Palestinian factions that have attacked Israel in the past. Here's a look at the two organizations:
What is Hamas?
Hamas, an Islamist group, has pursued a policy of "armed resistance" against Israel — carried out by suicide bombing attacks on Israeli civilians — while also extending social-welfare programs to Palestinians in the Gaza Strip and the occupied West Bank. Hamas' official name is Harakat al-Muqawama al-Islamiya (Islamic Resistance Movement).
What is Fatah?
Fatah was the first exile group to launch attacks against Israel. Fatah's official name is Harakat al Tahrir al Falastini (Palestinian Liberation Movement). Fatah is the dominant member of the greater Palestinian Liberation Organization (PLO).
What are the origins of these groups?
Hamas was founded in the Gaza Strip in 1987 by Sheik Ahmed Yassin and Dr. Abdel Aziz al-Rantissi, both of whom have since been killed by Israel.
Hamas is an offshoot of the Muslim Brotherhood, a religious and political organization with branches throughout the Arab world. In 1988, Hamas wrote its charter, which calls for the destruction of the state of Israel and swears to "raise the banner of Allah over every inch of Palestine." The charter is still in effect today.
However, Hamas member Ismail Haniya — named prime minister under the unity government — has spoken of a possible long-term truce with Israel, if Israel withdraws from territory occupied after the 1967 war.
Fatah was founded by the late Yasser Arafat and a small group of Palestinian nationalists in the late 1950s. The group is a member of the PLO, a loose umbrella group of a number of Palestinian organizations founded in Cairo in the mid-1960s.
Fatah quickly became the most powerful member of the PLO, which Arafat also led.
What does the PLO think of Israel?
In 1993 the PLO officially renounced terrorism and recognized Israel's right to exist. In exchange, PLO leaders were allowed to return from exile in Tunisia and recognized as the Palestinian Authority, the governing body of the Gaza Strip and parts of the West Bank. They were also allowed to set up Palestinian security forces. Although the PLO has officially renounced terrorism, some of its member organizations have been accused of or have claimed responsibility for continued attacks.
The PLO was initially based largely in Jordan. But after fighting between PLO guerrillas and the Jordanian army in 1970, a conflict known as Black September, the PLO was forced out of Jordan. Most of the guerrillas — and Yasser Arafat — settled in Lebanon. The PLO then launched frequent attacks on Israel from their Lebanese bases, prompting two Israeli invasions of Lebanon — in 1978 and 1982.
What approach does Hamas take toward Israel?
Hamas calls for the destruction of Israel. Its armed resistance has been carried out by suicide bombing attacks on Israeli civilian buses, nightclubs and other venues. As a result the United States, Israel and the European Union have labeled it a "terrorist organization." Human Rights Watch has also criticized Hamas for its attacks on civilians.
Hamas' main claim for support among Palestinians comes from its provision of social welfare services that neither the Israelis nor Fatah provide. From its inception, Hamas has funded and developed an elaborate network of schools, orphanages, health clinics and other social services that have given it reach into every sector of its populations.
How is Fatah viewed as compared to Hamas?
Despite its violent past, Fatah is now seen as the more moderate Palestinian party. While the group's constitution also calls for the destruction of Israel, the group falls under the PLO, which has renounced terrorism. Fatah's leadership of the Palestinian Authority was seen as corrupt and inept by many Palestinians, which is the major reason for its loss of seats in the government in the 2006 election.
How have Hamas and Fatah fared politically?
In January 2006, Palestinian voters in Gaza, the West Bank and East Jerusalem voted for a new Palestinian legislature. Hamas won a major victory, taking 74 of the 132 seats, in an election deemed fair and honest by international observers. Its rival, the once-dominant Fatah party, criticized for ineffectiveness and corruption, took only 45 seats.
Fatah still controls the presidency, the highest elected position in the government. Mahmoud Abbas has held the position since January 2005. Fatah also controls roughly 70,000 police and security forces throughout the West Bank and Gaza Strip. These forces regularly clash with Hamas loyalists.
The surprise political victory in 2006 gave Hamas control of the Palestinian government. It also created a conflict with Israel and with Palestinian Authority President Mahmoud Abbas. Hamas refuses to accept Israel's right to exist and says it will not honor pre-existing treaties signed by the Palestinian Authority. In light of this, Israel, with the support of the United States and the European Union, launched a financial boycott of the Hamas-led government. Israel refused to pay the Palestinian Authority its monthly trade taxes, which Israel collects, and Washington has sought to freeze all bank transfers to the Palestinian Authority. The results deprived the authority's 150,000 civil servants of salaries for a time, but aid has continued to flow from the European Union and the United States via a specially devised "mechanism" that bypasses the Palestinian government.
How have recent events impacted the relationship between Hamas and Fatah?
In June, Hamas took control over the Gaza Strip, destroying the headquarters of President Abbas as well as other government buildings. As a result of the violence, Abbas dissolved the unity government, a power-sharing deal between the two groups that was signed on Feb. 9, 2007, and swore in an emergency government. He forced out the prime minister, Ismail Haniyeh, who is a member of Hamas. Abbas named Salam Fayyad, a Western-backed independent lawmaker, to the post.
Hamas leaders have condemned the move, making a decision not to recognize the changes, and insisted that the Fatah-Hamas unity government formed in March remains in charge of the Palestinian Authority. Haniyeh has claimed that he continues to hold the position of prime minister of the Palestinian Authority.
Leaders from the United States, Europe and Israel have spoken out in support of Abbas and his new government — and plan to restore aid to the Palestinian people.