Prep Football Players Grit Through 'Basic Training'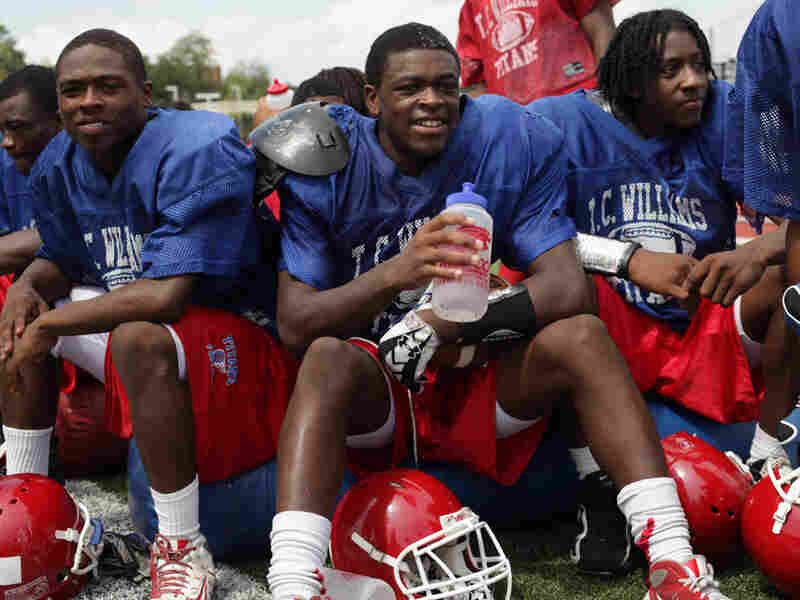 For soldiers, it's basic training. For accountants, it's tax season. For football players, it's summer two-a-days practices.
In the working class town of Piscataway, N.J., home of the fear-inducing, high-flying, Piscataway Chiefs, the impassioned line coach Jeff Cerro pushes his team hard.
Cerro is a former Chief, as are all but one member of the coaching staff. Sweating out the 94-degree heat are the players who hope to make this team state champion for the fifth time this decade.
"Some guys are giving in to the pain, some guys are working through it. You can tell a lot by going through these hot August workouts," Cerro says.
Cerro works under head coach Dan Higgins, who is a policeman by night and works the third shift in Piscataway. Maybe it's because his father was the Piscataway head coach in the 1970s and '80s, but Higgins describes coaching this team as a calling.
But at a recent practice, the only calling Higgins was doing was calling on his players to reject fatigue and complacency.
It was sophomore Javier Cruz's first time out with the varsity team.
"It's not, like, killing me — yet," Cruz says.
Off The Field: The Modern Titans
If Cruz despairs, there are tangible rewards of sacrifice all around him. More than a dozen Piscataway grads are playing on college scholarships, and the current team has a number of players with offers, including wide receiver Jawaun Wynn. He didn't even start least year, but will be playing for Rutgers next year.
Wynn took advantage of the off-season camp and combine circuit. His father, Rodney, was one of a dozen fathers who pitched a tent and grilled burgers in the shade as their sons practiced.
"Me and Jawaun have been running around since February going to and from camps, combines everywhere," he says. "He's just been showcasing himself, trying to get a scholarship out of it, which he got."
St Joseph's Prep
About 75 miles south of Piscataway, another top-flight team absorbs a highly detailed lesson in punt coverage under the noonday sun from Gil Brooks, head coach of St Joseph's Preparatory School in Philadelphia.
"The Prep," as it's known, is a powerhouse in the Philadelphia Catholic League and has been a nationally ranked team as recently as a few years ago. Each year, the team spends a week at a day camp in South Jersey for three-a-days. Brooks is demanding of his players, but also of himself. As a lawyer, he often has to return to his office when football practice ends
"I'm not a big sleep guy — four to six [hours] and I'm OK. I don't have other hobbies really. I have my kids. But I don't golf, I don't do too many other things except for prep football," Brooks says.
Brooks' players are similarly driven. They test into St. Joseph's. As befits a team of thinkers, Brooks instructs through interrogation, constantly questioning his players as he coaches. It helps that Brooks has encyclopedic knowledge of Philadelphia football: He casually references specific plays from games long ago, sometimes before the players were even born.
Senior Dan Sweeney, a receiver, says the players are in awe whenever Brooks recounts a reverse by Cardinal O'Hara High School in 1998, but sometimes they're just nodding out of obligation.
Grueling summer practices are but one part of Sweeney's devotion to football. All the players train year-round. Football dictates family vacations and limits the scope of other extracurricular possibilities.
Sweeney's dad, Joe, is also a graduate of St. Joseph's. A proud father and alum, he still he recognizes the year-round commitment of his son — and all the sons.
"In all honesty, it would be very difficult to miss more than a week or two because most of the summer session is conditioning, and if you're away from that part of the game for an extended period of time, it will show," Joe Sweeney says.
That's the fear — and the fact. Every player on Piscataway knows that if he relents, his opposite number on Sayreville may be powering through another set in the weight room. Everyone on St. Joseph's is driven by the vision of the guy he has to defend from LaSalle, somewhere out there, outworking him.
Hundreds of players in each conference, and millions nationwide, play in a collective network of worry and hard work, punishment and repetition. The promise is that it will pay off in wins. The reality is that it might not. But at least this week, camp is ending, and the season is about to begin.