At Camp, Teens Blow Stuff Up, As They're Told
At Camp, Teens Blow Stuff Up, As They're Told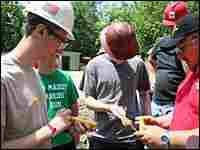 While some teens use their summers to learn sailing, archery or soccer, Brandon Meadows attends Summer Explosives Camp in Missouri to learn how to use dynamite.
"Some people like baseball, others like math – I just like to set off bombs," he said. "I figure here, learning how to do it properly is better than messing around with it at home, right?"
Meadows is one of 20 teenage campers enrolled in a weeklong explosion camp in the Missouri Ozarks. At the camp, high school students from as far away as Egypt and Hawaii shoot dynamite, TNT and plastic explosives.
The camp's leader, Paul Worsey, a professor at the University of Missouri, Rolla, uses the camp as a way to attract new recruits into the unglamorous field of mine engineering. He recruits students to help carry on the industry, which is facing a serious personnel shortage.
"It's critically important," Worsey said. "These are our workers to sustain this industry going forward."
So far, the camp is working. Meadows has already enrolled in the explosives engineering program at the University of Missouri at Rolla for next fall.
In fact, since Worsey started the camp in the hills just outside Rolla, Mo., five years ago, enrollment in the university's program has more than doubled, up to about 135.
"One of the good things about it is that we manage to attract the kids that might otherwise get into a little bit of trouble," Worsey said. "[We] give them a good outlet and an opportunity for a career."
Worsey said most students from the camp will end up attending the explosives engineering program at the university, which is a recognized leader in the industry.
The students are critical to an industry that is rapidly declining.
Each year, U.S. engineers shoot billions of pounds of explosives in mines and quarries, but many of those engineers are about to retire. Bruce Watzman, with the National Mining Association, said about 5,000 mining engineers will hang up their hardhats in the next decade and the number of mine engineering graduates has dwindled to about 100 a year.
Worsey knows recruitment is vital so he tucks little physics lessons into every detonation.
One such lesson presented itself when a concrete column erupted into a hail of rocky chunks, but continued to hang together on its dense, steel frame, despite the skull-thumping blast. Worsey reminded students to always do test shots – the only way to determine how much rebar is hidden in the concrete before a blast.
During his week at camp, Niels Zussblatt, a teen from St. Louis, helped blast a rock from deep in a mine, obliterated a watermelon, cut steel beams and set off a "wall of fire."
One of his favorites?
"Blowing up the chicken was good," he said. "It flew – forced bits of chicken guts to fly like 40 to 50 feet."
Before completing the chicken explosion, Zussblatt heeded his professor's warning: When you are looking at the explosion, do not have your mouth open.
Frank Morris reports for member station KCUR.