Calif. Wildfires Threaten Thousands Of Homes
Calif. Wildfires Threaten Thousands Of Homes
A massive fire in the Angeles National Forest nearly doubled in size overnight, threatening 12,000 homes in the Los Angeles area. Gov. Arnold Schwarzenegger has issued emergency declarations for four counties.
MELISSA BLOCK, host:
From NPR News, this is ALL THINGS CONSIDERED. I'm Melissa Block.
ROBERT SIEGEL, host:
I'm Robert Siegel. And we begin this hour of the program with a report from near the fire lines North of Los Angeles where a massive wildfire is burning out of control. The blaze doubled in size overnight. It has consumed more than 80,000 acres along a 20-mile path and the flames are getting closer to a critical mountain complex that's topped with radio, TV, and cell phone transmitters. Joining us now is reporter Frank Stoltze of member station KPCC. And Frank, I gather you're near the fire lines in the community of La Crescenta, that's just North of Glendale, California. What are you seeing there?
FRANK STOLTZE: Yes, I'm in one of the mandatory evacuation areas and up above me I can see the steep ridges with some flame. It's a fire. The firefighters have actually kept this particular fire here to burn off some of the vegetation. It's a back fire but the air is very smoky. Much of the acreage is, of course, deep in the Angeles National Forest. But it's these areas where the homes (unintelligible) against the forest that firefighters are worried about.
SIEGEL: As you said, they're back into the forest and we lost a syllable there. This became a fatal fire yesterday when two L.A. County firefighters ran their truck off a mountain road. Today California Governor Arnold Schwarzenegger spoke about those men. Let's listen to what he said.
Governor ARNOLD SCHWARZENEGGER (California): Every Californian is grateful for their bravery and for their great service and, of course, they are my heroes, and I'm sure that I know that they're also yours too.
SIEGEL: Frank, those two firefighters died in the effort to fight this fire. In general, what are the firefighters doing to try to get it under control?
STOLTZE: Well, we've got of course the hotshots from across the West here who are busy building fire lines around the fire, clearing brush, and setting some of these back fires. We also, of course, have firefighters from city fire departments around Southern California. In fact, I'm next to a fire truck from downtown Los Angeles. They usually are assigned to protect high rises but they tell me that these fires, these rugged fires are harder to fight than those high rises because the weather changes quickly, because of the rugged condition.
SIEGEL: Speaking of the weather, how is today's weather affecting the firefighting effort?
STOLTZE: It's a little bit cooler today. Temperatures over the last few days have been around 100 degrees, humidity is very low. And the good thing is we've not had those hot Santa Ana winds that we see in Southern California that have burned so many homes over the past years. We do not see that wind. That's the one good thing here.
SIEGEL: This summer, of course, we've all been following the California budget crisis and all of the lay-offs and furloughs. Is there any indication that the firefighting effort is in anyway compromised by California's dire straits?
STOLTZE: There's none. We've seen the helicopters up in the air dropping the water. We've seen the big DC-10 Super Scooper that drops 20,000 gallons of water in one drop. So they have the full fire - range of firefighting apparatus on this fire. I'll note, though, that in the budget crisis, they eliminated much of the state's reserve. There's been no indication that that will hurt these firefighting efforts and certainly the governor said he will do everything he can to protect life and property from this massive fire.
SIEGEL: And have you seen what provisions are made for people who evacuate from the forest-fire effort?
STOLTZE: We have evacuation centers at a number of high schools around here. Most people it seems have followed evacuation orders. Many have not. In fact, there's word that a group of residents trapped in a small community deep in the forest is having to be evacuated. There's even a camp where 75 firefighters had to be moved out because flames overran their camp - just an example that while this fire is not as dangerous as it was yesterday, perhaps, is still very much a threat.
SIEGEL: Okay, thank you, Frank.
STOLTZE: Thank you.
SIEGEL: That's reporter Frank Stoltze of member station KPCC. He spoke with us from near the fire lines in La Crescenta, California.
NPR transcripts are created on a rush deadline by Verb8tm, Inc., an NPR contractor, and produced using a proprietary transcription process developed with NPR. This text may not be in its final form and may be updated or revised in the future. Accuracy and availability may vary. The authoritative record of NPR's programming is the audio record.
California Battles Quick-Spreading Wildfires
A wildfire continued to burn out of control in the Angeles National Forest on Monday, doubling in size overnight and devouring more than 85,000 acres as it raced toward a communications complex and threatened a historic observatory.
The number of acres burning jumped from 42,000 on Sunday to 85,700 by Monday morning, the Los Angeles County Fire Department said on its Web site. With more than 2,500 firefighters on the ground, the fires are still only 5 percent contained.
The largest of the eight blazes burning across the state was near Los Angeles, where at least 21 homes had been gutted and 12,000 others were being threatened. Another fire northeast of Sacramento burned more than 60 homes and other buildings near the town of Auburn. In San Bernardino County, a 900-acre fire has forced the evacuation of Oak Glen and threatens 2,000 homes.
Other Dangers Remain
CalFire spokesman Daniel Berlant said firefighters have stopped the progression of the flames that charred the area near Auburn, but other dangers abound. Authorities urged evacuees to remain in a shelter at a local church for the time being.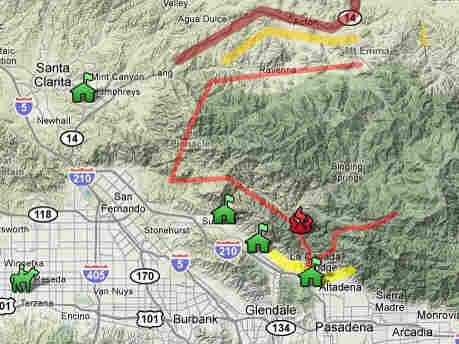 "Displaced residents are staying there until we can get rid of all the hazards that exist — the fire activity, downed power lines and gas leaks," Berlant said.
On Mount Wilson, the University of California at Los Angeles' tower camera showed the observatory shrouded in heavy, gray smoke. A posting on the observatory's Web site said there was little fire activity in the immediate vicinity just before 8 a.m. PDT, and fire crews had been instructed to withdraw.
"They [firefighters] are still within close proximity for redeployment, thus, the good news is that the fire in the observatory's vicinity seems to have diminished. The bad news is that there are no firefighters presently on the scene," a post on the observatory's Web site said.
Two Firefighters Killed
As firefighters tried to get the blazes under control, California Gov. Arnold Schwarzenegger noted the sacrifices made by two firefighters who were killed in the line of duty on Sunday.
"Our hearts are heavy as we are tragically reminded of the sacrifices our firefighters and their families make daily to keep us safe," he said in a prepared statement.
Fire Capt. Tedmund Hall, 47, and firefighter Spc. Arnaldo "Arnie" Quinones, 35, were killed when their vehicle rolled down a mountain near the town of Acton on Sunday, the Los Angeles County Fire Department said in a statement.
The fire has raged since Wednesday, when it broke out near a ranger station. Dry vegetation and triple-digit temperatures have fueled the fire, causing it to spread quickly.
Containment Not Near
Thousands of people have since been evacuated, but a few remained and were overtaken by the flames, including two people who were critically burned while they tried to hide in their backyard hot tub. The wildfire was threatening to destroy more houses, as well as transmitters for many radio and television stations that broadcast to Los Angeles.
"Local law enforcement uses those radio signals. FBI, LAX [Los Angeles International Airport] uses those communications towers, so it could be a little bit of a problem if those towers go out," said Shane Rollman, a U.S. Forest Service spokesman.
An enormous mushroom-shaped cloud of smoke and vapor covered the area much of the weekend, and people across the region were fighting to breathe through the smoke and ash.
Officials said they might not be able to contain the fire until Sept. 8. Early Monday morning, the department said the fire was only 5 percent contained. Schwarzenegger has declared a state of emergency in Placer, Monterey, Los Angeles and Mariposa counties.
With reporting by NPR, member stations KQED and Capital Public Radio and wire services