'Tea Party' Tour Star Puts Movement To Song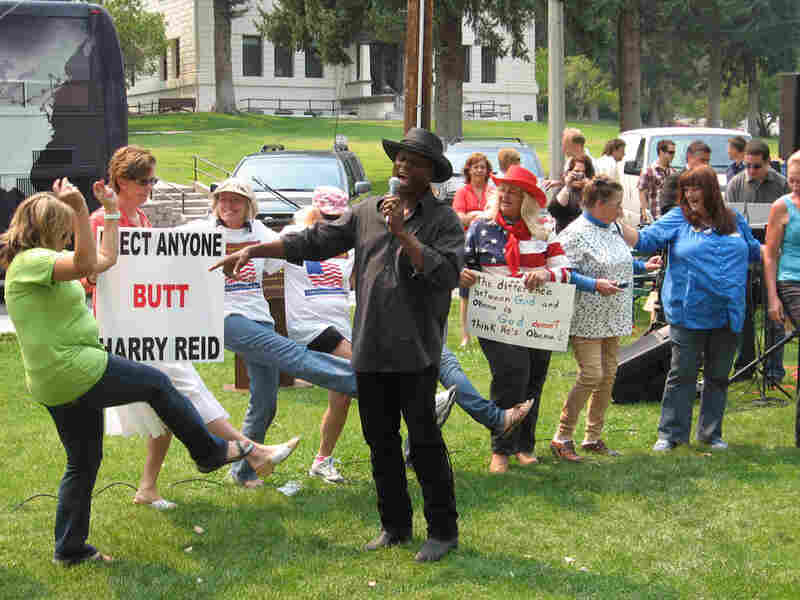 Lloyd Marcus doesn't fit the stereotype of the typical conservative activist: He's black, has a ponytail and wears an earring. He is also a musician, and he wrote the "American Tea Party Anthem" — the theme song for a movement that's pushing for a smaller federal government.
Marcus is crisscrossing the country as part of the Tea Party Express bus tour, performing his song several times a day at rallies. He begins every gig with the same phrase.
"I am not an African-American. I'm Lloyd Marcus — American!" Marcus recently told a cheering crowd of several hundred in Elko, Nev.
Marcus says he has known he is a conservative since he was 10 years old, after his family moved into a new apartment in the Baltimore projects. He watched as the buildings became havens for crime and drug use.
Marcus says he took away a lesson: "Self-esteem does not come from people giving you stuff," he said during a break in performances in Ely, Nev. "Self-esteem comes from getting an education, getting a job and going your own way."
That lesson is the cornerstone of his political philosophy.
"When I hear politicians pander to the poor, it turns my stomach because I know how it stifles people," Marcus says. "It kills their spirit and it keeps them down. And that's why I'm conservative."
Marcus has become a favorite among those attending the Tea Party Express rallies.
At one point during each performance, he invites a dozen women onstage for an impromptu chorus line as he sings "New York, New York" in his best Sinatra voice.
He changes the words to suit the occasion. For example: "These vagabond shoes are longing to stray" becomes "This socialist nightmare must come to an end."
Marcus says he is the only conservative in his family. The rest are Democrats and they all enthusiastically voted for Barack Obama. Marcus, however, relishes being different. He knows what he believes and he is sticking with it.