Calif. Fire Officials Optimistic About Containing Blaze
Justin Sullivan/Getty Images
Fire officials reported significant progress toward gaining ground on a massive wildfire sweeping through the mountains above Los Angeles, burning scores of homes and threatening thousands more as well as a historic observatory housing some of the largest telescopes ever built.
U.S. Forest Service incident commander Mike Dietrich says Tuesday containment rose from 5 percent to 22 percent. The fire area now covers 199 square miles.
Blaze Threatens Historic Observatory
Blaze Threatens Historic Observatory
At least 53 homes have been destroyed in the Station Fire, and neighborhoods on the northern and southern flanks of the blaze have been evacuated.
Gov. Arnold Schwarzenegger has declared a state of emergency in five California counties hit by devastating and costly wildfires.
"There's action everywhere," Schwarzenegger said Tuesday as a thundering helicopter interrupted a news conference at the scene of two other wildfires burning in the inland region east of Los Angeles.
The governor said the state has spent nearly 60 percent of its $182 million emergency firefighting fund just two months into the fiscal year, and criticized Democratic lawmakers who had pushed for a smaller reserve. California has also applied for six grants from the Federal Emergency Management Agency to help fight fires.
President Obama has said he would do what he could to help state and local governments.
White House spokesman Robert Gibbs said Tuesday that White House is receiving regular updates on the wildfires, and will continue to monitor the situation.
Officials say it may take weeks to fully contain the flames. However, the commander of the firefighting operation said Tuesday that he was encouraged by the progress being made.
"I'm feeling a lot more optimistic today than I did yesterday and the crews are doing fabulous work out there on the grounds, but the bottom line is that they're fighting for every foot," said Mike Dietrich of the U.S. Forest Service.
Although the fire is listed as only 5 percent contained, Dietrich said that figure should improve once overnight progress is mapped. He said bulldozers had cut up to 12 miles of new firebreaks overnight Monday and that no new structures had been damaged.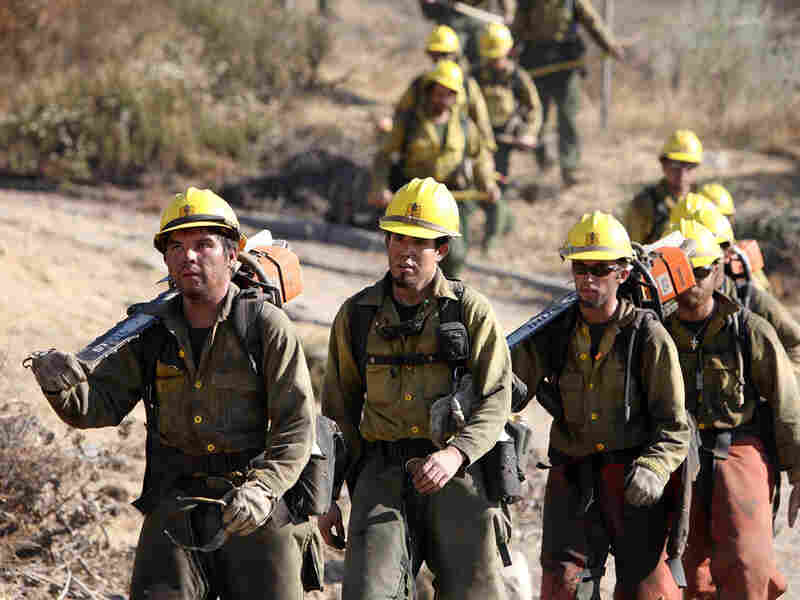 Justin Sullivan/Getty Images
The Station Fire is by far the largest of several blazes dotting the state. It has burned for six days, plowing through half-century-old thickets of tinder-dry brush, bush and trees just 15 miles north of downtown Los Angeles. Some 12,000 homes are threatened and about 2,000 people have been forced to flee.
The flames threaten to climb Mount Wilson, a 5,700-foot peak near Pasadena that is home to a landmark 100-inch telescope — the world's largest until 1948. It is also the site of most of the radio and TV station towers in Los Angeles. Firefighters were setting backfires and spraying fire retardant in the area to halt the blaze's advance.
The U.S. Forest Service reports that the blaze has destroyed more than 122,000 acres, or about 190 square miles. Fire spokesman Paul Lowenthal said Tuesday that it isn't expected to be fully surrounded until Sept. 15.
A total of 3,600 firefighters and numerous aircraft have been deployed to fight the fire. Crews are grappling with weather conditions that favor fire: temperatures topping 100 degrees and low humidity.
"It gets to a point in the afternoon with the wind coming up that it even makes its own weather," Dixie Dees, a spokesperson with the Station Fire incident command center, said. "When the temperature goes up and humidity goes down and the wind comes up, which is what's happened in the last three or four days, that's kind of the perfect storm for very aggressive fire behavior."
Meteorologist Curt Kaplan said there was a 20 percent chance of a thunderstorm in the fire area Tuesday, but that could end up hurting efforts because the storm could bring 40-mph wind gusts.
The flames also have moved dangerously close to the 160-acre Wildlife Waystation sanctuary, a rehabilitation facility for wild and exotic wildlife.
The sanctuary's publicist, Jerry Brown, said volunteers have helped move hundreds of birds, reptiles and chimpanzees to safety. He said the animals "don't quite know what's going on."
"There's a lot of commotion, there's smoke in the air," Brown said. "We still have lions, still have tigers, still have wolves — there's still a good bit of work to be done."
The swath of fire extends from the densely populated Los Angeles foothills communities of Altadena, La Canada Flintridge, La Crescenta, Tujunga and Sunland in the south to the high-desert ranch lands of Acton.
Tujunga Canyon resident Bert Voorhees said he and his son were able to retrieve several cases of wine from the brackish water of their backyard swimming pool Monday, about all he salvaged from his home.
"You're going to be living in a lunar landscape for at least a couple of years, and these trees might not come back," the 53-year-old Voorhees said, wondering aloud how many of his neighbors would choose to rebuild.
Two firefighters — Capt. Tedmund Hall, 47, of San Bernardino and firefighter Spc. Arnaldo "Arnie" Quinones, 35, of Palmdale — were killed Sunday when their vehicle plummeted off a mountain road. At least three residents who ignored an evacuation order suffered major burns.
Several fires across the state are much smaller and largely contained, but a new blaze in San Bernardino County — directly east of the Station Fire — has engulfed 900 acres so far and threatens 2,000 homes.
Material from The Associated Press was used in this report.