Blaze Threatens Historic Observatory
The California wildfires are threatening the Mount Wilson Observatory, which houses two giant telescopes and several multimillion-dollar university programs. Hal McAlister, the director of the observatory and a professor of astronomy at Georgia State University, says Mount Wilson is a superb site for astronomy because of its proximity to the Pacific Ocean, which helps produce steady star images.
Web Resources
MELISSA BLOCK, host:
The wildfire has endangered a historic observatory. For more than 100 years, the Mount Wilson Observatory has been a hub for astronomers and astrophysicists. The site has been evacuated and shut down because of the fire. Images broadcast from a camera attached to a 150 foot tower over the observatory show a thick yellowish grey smoke enveloping the mountain. But according to an observatory blog, things are looking more promising than they have in the last few days. Hal McAlister has been updating that blog. He's director of the Mount Wilson Observatory. He's also professor of astronomy at Georgia State University and he joins us from Atlanta. Professor McAlister, welcome to the program.
Professor HAL MCALISTER (Director, Mount Wilson Observatory): Thank you very much. Pleased to be here.
BLOCK: And it must be a tough thing for you. You go back and forth, but right now you're there in Atlanta. It's got to be hard to be following this from across the country. What are you hearing?
Prof. MCALISTER: Well, it is hard. Although with the Internet and telephone and so forth, I'm really as well poised to hear things here as I would be in LA since I can't be on the mountain.
BLOCK: Mm-hmm.
Prof. MCALISTER: But this - as the blog has shown, it's been kind of a roller coaster ride. The latest news is actually quite encouraging. Yesterday morning, about sunrise, the firefighters were pulled off Mount Wilson because of the danger of their being trapped back on the observatory grounds. But then this morning, they were redeployed about 9:40. We learned that the firefighters were once again back on the ground and that's terrific news. They've been working very hard for the last 48 hours, further reducing brush and fuel for the fire and we have, for the last few years, been working hard mitigate fire danger from trees and oaks clusters and things like that. So we think the place is in good shape.
BLOCK: What are the water resources up there?
Prof. MCALISTER: We have a firefighting system up there that includes a half million gallon of water tank. That's also can be supplemented by our potable water tank, that's another quarter million gallons. And that's fed into a high pressure fire hose system that feeds hydrants around the observatory grounds.
BLOCK: Has the Mount Wilson Observatory have been threatened by fire before?
Prof. MCALISTER: You know, every year we go through white-knuckle time with the fire season in southern California and we've been lucky until this year. There was an episode back in the '70s where fire reached within a mile of the observatory, but that was beaten back by firefighters.
BLOCK: Well, the observatory goes all the way back to 1904. Why don't you tell us about some of the breakthrough discoveries that have been made there?
Prof. MCALISTER: Certainly. Mount Wilson was founded by a remarkable man named George Ellery Hale who was responsible for, successively, the world's four largest telescopes culminating with the Mount Palomar 200 inch telescope that opened in 1949. The telescopes and facilities he built on Mount Wilson were for 40 years, the most powerful, most sophisticated in the world, the largest. And he assembled an extraordinary talented staff including luminaries such as Edwin Hubble whose name is known to most people, the namesake of the Hubble space telescope.
BLOCK: Sure.
Prof. MCALISTER: Hubble of course found that the universe was vaster than we had ever imagined before, that it's expanding. And his work inspired the big bang theory for the origin of the universe.
BLOCK: And that all stems from Mount Wilson.
Prof. MCALISTER: That stems from work that originally which started at the Lowell Observatory but Mount Wilson's larger telescopes were able to take it to four fruition to really define how fast the universe is expanding and really how old it is.
BLOCK: You know, I would think with the lights of LA County all around you that that would be a pretty tough spot to try to be doing astronomical work there.
Prof. MCALISTER: Well, it is. If you're interested in looking at the faintest objects in the universe, you've got to go elsewhere. But Mount Wilson remains a superb site for astronomy because of its proximity to the Pacific Ocean. You can imagine the Pacific can cool down air coming across it. It stabilizes and flows very smoothly over the mountains and the San Gabriels are the first mountains to encounter it. And it produces really steady star images, and its among the best in the world in fact in that regard.
BLOCK: And right now, at least as far as you can tell, the observatory seems at least safer than it did maybe a day or two ago.
Prof. MCALISTER: I feel a lot better now than I did yesterday at this time. That's for sure.
BLOCK: Well, Hal McAlister, thanks for talking to us.
Prof. MCALISTER: Glad to. Thank you for your interest.
BLOCK Hal McAlister is the director of the Mount Wilson Observatory. He joined us from Atlanta. And you can find a link to his blog at the NPR blog The Two-Way.
NPR transcripts are created on a rush deadline by Verb8tm, Inc., an NPR contractor, and produced using a proprietary transcription process developed with NPR. This text may not be in its final form and may be updated or revised in the future. Accuracy and availability may vary. The authoritative record of NPR's programming is the audio record.
Calif. Fire Officials Optimistic About Containing Blaze
Justin Sullivan/Getty Images
Fire officials reported significant progress toward gaining ground on a massive wildfire sweeping through the mountains above Los Angeles, burning scores of homes and threatening thousands more as well as a historic observatory housing some of the largest telescopes ever built.
U.S. Forest Service incident commander Mike Dietrich says Tuesday containment rose from 5 percent to 22 percent. The fire area now covers 199 square miles.
Blaze Threatens Historic Observatory
At least 53 homes have been destroyed in the Station Fire, and neighborhoods on the northern and southern flanks of the blaze have been evacuated.
Gov. Arnold Schwarzenegger has declared a state of emergency in five California counties hit by devastating and costly wildfires.
"There's action everywhere," Schwarzenegger said Tuesday as a thundering helicopter interrupted a news conference at the scene of two other wildfires burning in the inland region east of Los Angeles.
The governor said the state has spent nearly 60 percent of its $182 million emergency firefighting fund just two months into the fiscal year, and criticized Democratic lawmakers who had pushed for a smaller reserve. California has also applied for six grants from the Federal Emergency Management Agency to help fight fires.
President Obama has said he would do what he could to help state and local governments.
White House spokesman Robert Gibbs said Tuesday that White House is receiving regular updates on the wildfires, and will continue to monitor the situation.
Officials say it may take weeks to fully contain the flames. However, the commander of the firefighting operation said Tuesday that he was encouraged by the progress being made.
"I'm feeling a lot more optimistic today than I did yesterday and the crews are doing fabulous work out there on the grounds, but the bottom line is that they're fighting for every foot," said Mike Dietrich of the U.S. Forest Service.
Although the fire is listed as only 5 percent contained, Dietrich said that figure should improve once overnight progress is mapped. He said bulldozers had cut up to 12 miles of new firebreaks overnight Monday and that no new structures had been damaged.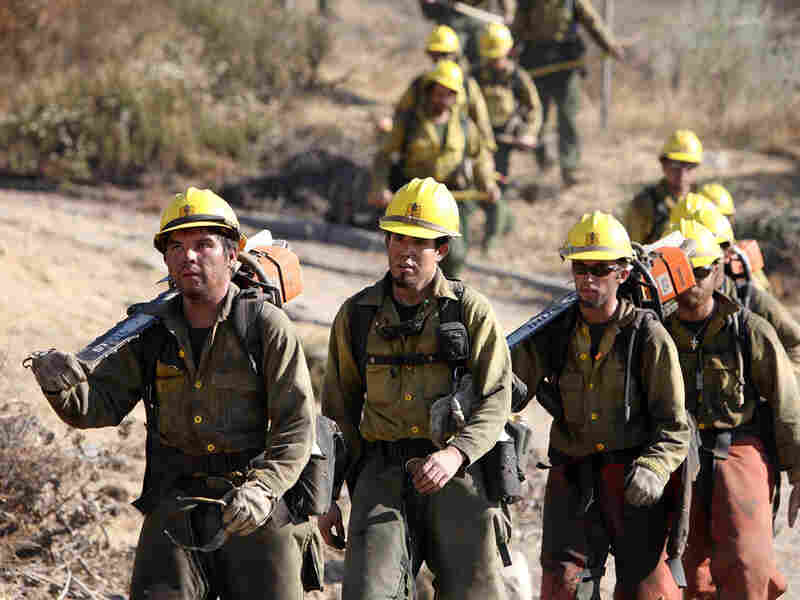 Justin Sullivan/Getty Images
The Station Fire is by far the largest of several blazes dotting the state. It has burned for six days, plowing through half-century-old thickets of tinder-dry brush, bush and trees just 15 miles north of downtown Los Angeles. Some 12,000 homes are threatened and about 2,000 people have been forced to flee.
The flames threaten to climb Mount Wilson, a 5,700-foot peak near Pasadena that is home to a landmark 100-inch telescope — the world's largest until 1948. It is also the site of most of the radio and TV station towers in Los Angeles. Firefighters were setting backfires and spraying fire retardant in the area to halt the blaze's advance.
The U.S. Forest Service reports that the blaze has destroyed more than 122,000 acres, or about 190 square miles. Fire spokesman Paul Lowenthal said Tuesday that it isn't expected to be fully surrounded until Sept. 15.
A total of 3,600 firefighters and numerous aircraft have been deployed to fight the fire. Crews are grappling with weather conditions that favor fire: temperatures topping 100 degrees and low humidity.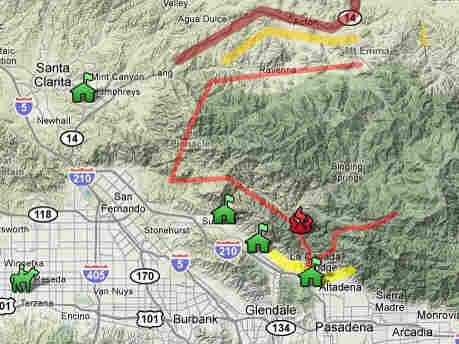 "It gets to a point in the afternoon with the wind coming up that it even makes its own weather," Dixie Dees, a spokesperson with the Station Fire incident command center, said. "When the temperature goes up and humidity goes down and the wind comes up, which is what's happened in the last three or four days, that's kind of the perfect storm for very aggressive fire behavior."
Meteorologist Curt Kaplan said there was a 20 percent chance of a thunderstorm in the fire area Tuesday, but that could end up hurting efforts because the storm could bring 40-mph wind gusts.
The flames also have moved dangerously close to the 160-acre Wildlife Waystation sanctuary, a rehabilitation facility for wild and exotic wildlife.
The sanctuary's publicist, Jerry Brown, said volunteers have helped move hundreds of birds, reptiles and chimpanzees to safety. He said the animals "don't quite know what's going on."
"There's a lot of commotion, there's smoke in the air," Brown said. "We still have lions, still have tigers, still have wolves — there's still a good bit of work to be done."
The swath of fire extends from the densely populated Los Angeles foothills communities of Altadena, La Canada Flintridge, La Crescenta, Tujunga and Sunland in the south to the high-desert ranch lands of Acton.
Tujunga Canyon resident Bert Voorhees said he and his son were able to retrieve several cases of wine from the brackish water of their backyard swimming pool Monday, about all he salvaged from his home.
"You're going to be living in a lunar landscape for at least a couple of years, and these trees might not come back," the 53-year-old Voorhees said, wondering aloud how many of his neighbors would choose to rebuild.
Two firefighters — Capt. Tedmund Hall, 47, of San Bernardino and firefighter Spc. Arnaldo "Arnie" Quinones, 35, of Palmdale — were killed Sunday when their vehicle plummeted off a mountain road. At least three residents who ignored an evacuation order suffered major burns.
Several fires across the state are much smaller and largely contained, but a new blaze in San Bernardino County — directly east of the Station Fire — has engulfed 900 acres so far and threatens 2,000 homes.
Material from The Associated Press was used in this report.