California Wildfire Caused By Humans, Officials Say
Fire officials said Wednesday that human activity caused the massive fire north of Los Angeles that has engulfed more than 140,000 acres since it erupted a week ago, threatening thousands of homes and a historic observatory.
Crews, Weather Assist In Fighting Calif. Fires
Crews, Weather Assist In Fighting Calif. Fires
Deputy incident commander Carlton Joseph said at a news conference that investigators have determined that the Station Fire was human-caused but are still trying to figure out exactly how it started — and whether it was an accident or arson. Lightning was ruled out.
Joseph said the cause could be anything from a dropped cigarette to a spark from a lawn mower and that investigators have several leads. Though they aren't clear how it started, they do know where it started: near mile marker 29 on the Angeles Crest Highway.
After days of conditions that favor the formation and spread of wildfires, crews caught a break in the weather that raised hopes that they could stem the flames, which have destroyed 62 homes and structures.
Lower temperatures and slightly higher humidity levels gave firefighters a chance to substantially raise the containment level and allow some evacuees to return to their homes. But officials are keeping an eye on the wind, which was calm overnight but could pick up later Wednesday and fan the flames.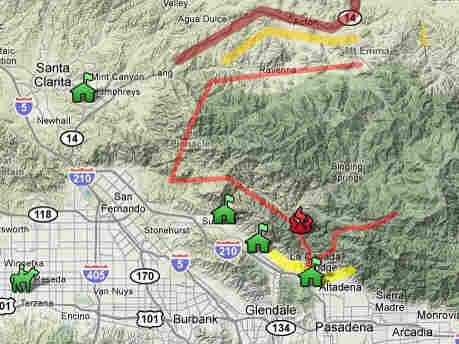 A giant Boeing 747 dropped 20,000 gallons of water and retardant over the area with each pass, and a huge World War II-era air tanker was used to douse Mount Wilson, sparing damage to telescopes and other astronomical equipment at the famous observatory, as well as most of the city's radio and television transmitter towers.
Firefighters also lit backfires and used bulldozers to comb the foothills of the San Gabriel Mountains, removing brush and cutting fire lines. The air tankers also helped bring the blaze about 28 percent under control as of Wednesday.
Meanwhile, Gov. Arnold Schwarzenegger has declared a state of emergency in neighboring San Bernardino County, where two separate wildfires threaten about 3,000 homes. The residents of 900 homes in the city of Yucaipa have been ordered to leave as winds have driven flames within a quarter-mile of houses.
Schwarzenegger visited the affected area and served breakfast to firefighters.
Despite the recent progress battling the Station Fire, which has destroyed dozens of homes and claimed the lives of two firefighters, the U.S. Forest Service incident commander, Mike Dietrich, was cautious in his assessment.
"Right now, if I were in a boxing match, I'd think we're even today," Dietrich said Tuesday.
Some of the 12,000 people forced to flee their homes were being allowed to return. Officials lifted evacuation orders in wide areas of La Canada Flintridge and La Crescenta on Tuesday, but about 6,000 people remain out of their homes.
"They already told us you could go home already, but we're going to stay a little longer until the smoke goes away and then go back," said Carl Mirzoyan, who lives in the La Crescenta neighborhood.
Others who had been told to leave refused.
In a hillside neighborhood of Glendale, Frank Virgallito stood in a group anxiously watching a controlled burn edge toward their neighborhood.
Virgallito said he and his neighbors had been on high alert since Friday but ignored a voluntary evacuation order.
Steve Whitmore of the Los Angeles County Sheriff's Department said that for those who stayed despite the evacuation call, "what we are doing is jotting down their names and addresses, so we can notify the next of kin, if we have to."
He added that there had been "absolutely no reports of looting."
With additional reporting by NPR's Mandalit Del Barco and Ina Jaffe, and material from The Associated Press