KitchenAid Mixers Still Proudly American
KitchenAid Mixers Still Proudly American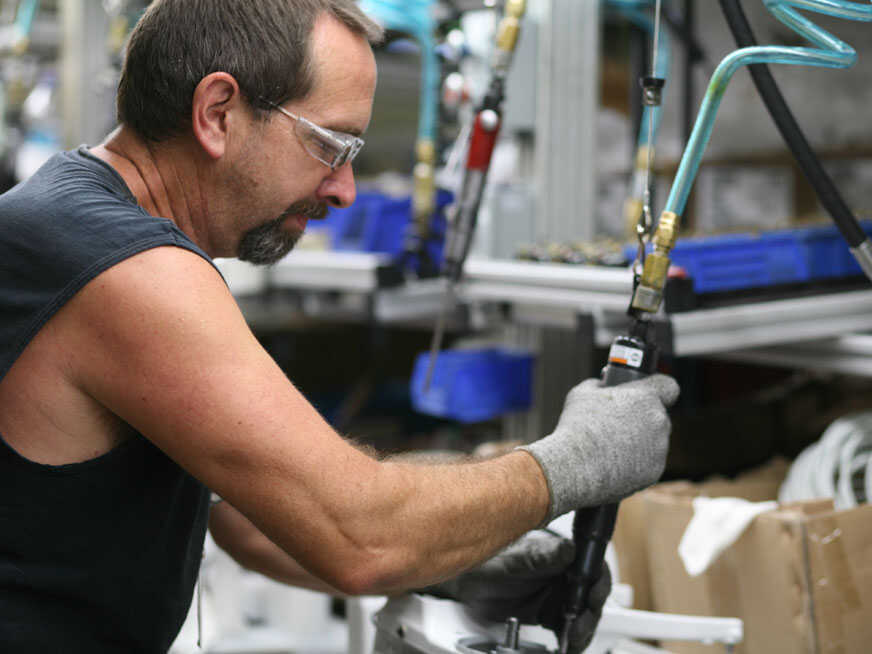 The KitchenAid stand mixer is the tool of the trade of cooking, especially baking. At $200 and up, it's an investment in both money and counter space — and it's still being made in the U.S.
The mixers have been made in Greenville, Ohio, since 1941. At the KitchenAid Experience Center, the company's retail store in the town, every model of mixer and blender in every color can be seen.
People come to the store for cooking demonstrations; sometimes they arrive as if on a pilgrimage, walking through the front door in amazement. Downstairs there is a mixer museum, featuring, especially now that there's a movie about her, a cobalt blue K5A model that was owned, used and signed by Julia Child.
"Bon appetit," she inscribed on the bowl.
Early History
Fifty or so other vintage mixers have been donated.
The Model H, from 1919, is the first. Store manager Gloria Keller-Brinley says it stands about 26 inches high and weighs approximately 65 pounds.
"They were made four per day, and the average cost was $189, which was equivalant to about $2,000 today," she says.
Ten years before that, Herbert Johnson, an engineer, invented the mixer idea for bakeries. He made the Hobart, which held 80 quarts; then came the 5-quart countertop concept.
"They didn't know what to name it, so they took several of them home: the CEO, and the vice president, and the engineers," Keller-Brinley says. "One wife was particular on it by saying it was the best 'kitchen aid' she's ever had — 'I don't care what you call it.' "
The Factory
The KitchenAid factory is a modern building on the outskirts of town. It employs about 700 people who run three shifts, making the mixers and the KitchenAid blenders as well. It is largely an assembly process: Parts come in from all over and leave together in boxes ready for the store.
The glossy enamel colors: Empire Red, Onyx Black, Pearl Metallic, Licorice and White — are recognizable, as are the parts and the whisk, which KitchenAid calls the wire whip.
Tony Mikesell has been working at the plant for almost 17 years. He's a local guy who spent four years in the Army before returning home to KitchenAid. There are a couple of lathes at his work station; during his shift each day, he will process 5,000 parts.
"I machine down the hub gear that's in the nose of the mixer for all the attachments and stuff to go into, and also face off the back of a couple gears so they mesh correctly in the transmission housing," Mikesell says.
The KitchenAid factory seems to run without effort. A worker will pick up a part that has just arrived. Where it makes sense, robotic machines do even faster and more precise work. KitchenAid won't say how many stand mixers the company makes at this facility, but KitchenAid's Sarah Erisman offers an estimate.
"During our busy season, we have been known to build around 7,000 units a day," she says. "It just depends on demand, you know, and with the economy being like it is it could be a little lower than that."
The County Fair
KitchenAid is a big company now owned by Whirlpool, which has annual sales of $20 billion. A tiny portion goes to help out the the Great Darke County Fair in Greenville. KitchenAid sponsors the 4-H Club Teen Bake-a Rama.
Four young people are in the competition, using hand mixers to whip up brownie batter, hoping for the judges' delight.
Alex Neikamp hands out the prizes. At 17, Neikamp usually enters the contest. This year, he is helping run it. He has been baking since grade school, growing up with a KitchenAid mixer on the counter.
"That's probably my favorite utensil in my kitchen," he says. "I especially like to make lemon meringue pie on it because you can make your crust, your filling and your meringue."
It's likely he will have to leave his mixer behind when he leaves home, but Neikamp isn't disturbed.
"Well, I'm hoping when I get married I get one for a wedding present," he says.