In Sweden, 'Pirates' Make The Web A Political Cause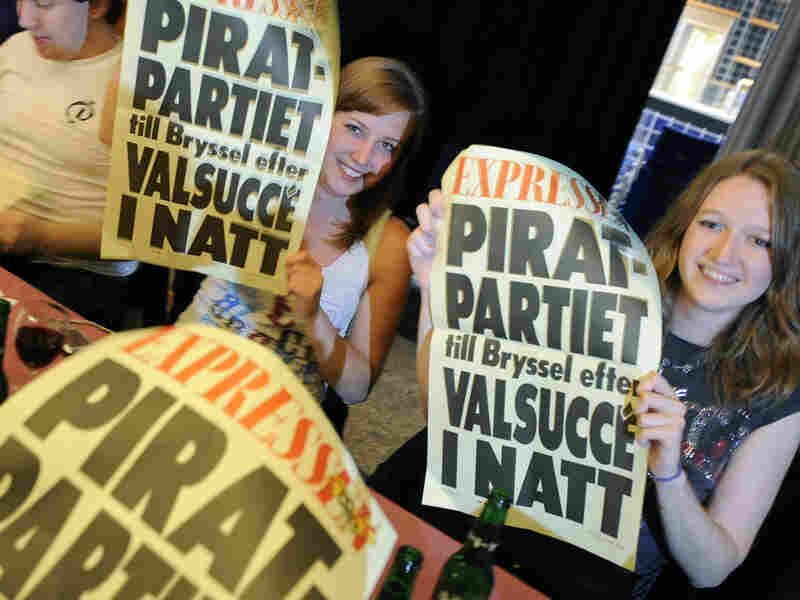 Olivier Morin/AFP/Getty Images
A political movement growing in Europe is focused on a single issue — the Internet.
The standard bearer of this movement to protect Internet privacy and eliminate patents and copyrights is the Pirate Party, which was founded several years ago in Sweden, one of the most wired nations on the planet.
The party now has a seat in the European parliament. In Germany, the party has gained some city council seats. Branches exist or are being set up in dozens of other countries.
"I am in the party because I see a dangerous path that this country is following with its laws," says Jonathan Rieder, a 21-year-old party member in Stockholm. He believes that civil liberties are under attack in Sweden.
He objects to two laws in particular. One, passed last year, allows Swedish authorities to monitor phone, fax and e-mail traffic crossing the country's borders. The other, a European Union directive adopted in April, allows copyright holders to find out the Internet addresses of file sharers. The same month, a court sentenced owners of the Swedish file-sharing site Pirate Bay to a year in jail and millions of dollars in fines.
Rieder and other party members meet in the dark cellar of a medieval building in the Gamla Stan, Stockholm's old town. Their pale faces are illuminated by laptop screens as they surf the Internet during a meeting of the local chapter.
"The average citizen means less and less for the government, who listens mostly to the money that corporations are giving them," Rieder says.
The Pirate Party wants to reform copyright law, abolish all patents and protect privacy on the Internet. Combining these issues has been a very successful formula.
In June, Sweden held an election for deputies to the European parliament. It was the party's first electoral test. It won a seat and took more than 7 percent of the vote. Its youth wing is now the biggest of any Swedish political party.
Party leader Rick Falkvinge says copyright reform and privacy are two sides of the same coin. A former computer entrepreneur, Falkvinge says he founded the party because he felt Swedish political leaders were turning their country into a surveillance society.
"When somebody wants to shut down your right to communicate in private, or the fact that government wants to eavesdrop on anybody and anything to have some semblance of control over what the public is up to, young people in particular today, take offense to that," Falkvinge says.
It's a complex debate, with some paradoxes. Swedes say the right to privacy is sacred. Yet the country prides itself on an openness that makes much personal information public. By law, a citizen can find out how much another person earns.
Opponents predict the Pirate Party will disappear now that many establishment political parties are incorporating elements of its platform into their own.
Hakan Josefsson, a fiction editor buying tickets at an arts center in Stockholm, rejects the Pirates and says their motivation is not about lofty principles.
"It's about that people want everything for free," he says, referring to the party's efforts at computer file sharing. "Nobody wants to pay if you can get something for free."