Marine 'Trust Game' Has Deadly Consequences
Marine 'Trust Game' Has Deadly Consequences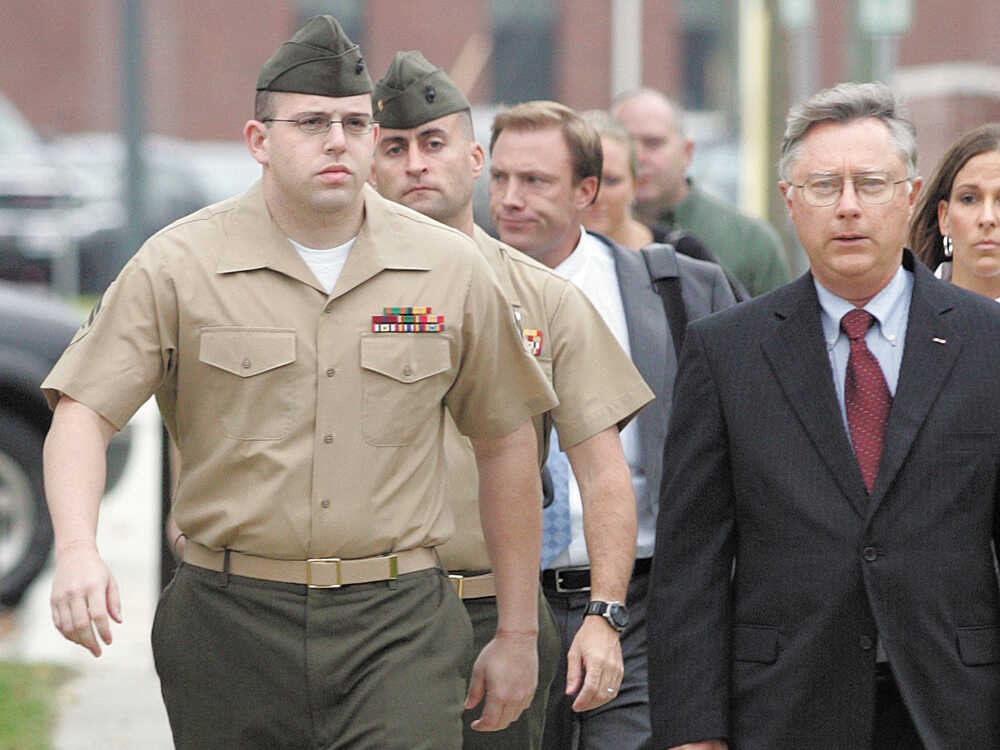 Don Bryan/The Daily News/AP
Last week at Camp Lejeune in North Carolina, Marine Cpl. Mathew Nelson was sentenced to eight years for killing a fellow Marine in what's known as a "trust game." But it's not the first military fatality from this dangerous diversion.
Trista Talton, who covered the story for the Marine Corps Times, says that in Nelson's unit, the game was primarily played by senior Marines. They would make it look like their pistols were ready to fire a round, then point the weapon, usually at a junior Marine. "Do you trust me?" they'd ask.
"What we have learned in the testimony was [that] most of the time, they would say, 'Yes,' " Talton says.
But it's not like Russian roulette, she says. "There's not supposed to be a round in the chamber." The Marine with the gun is supposed to either pull the trigger or pull the gun away and show that the weapon is clear.
In March of 2009, Nelson was in Iraq. Eight other Marines were in the room when Nelson walked in, Talton reports. He threw his gear on his bed, and then started talking with another Marine near Lance Cpl. Patrick Malone. Nelson played the game with the first Marine, then pointed his M9 pistol at Malone's head to play the game again. When Nelson pulled the trigger, Malone fell dead.
Malone was the only fatality from the platoon despite several more incidents of trust games uncovered during the investigation. So far, two more Marines and a Navy corpsman have been court-martialed.
Nelson pleaded guilty to involuntary manslaughter and another seven counts of reckless endangerment. During testimony, he admitted to playing trust games with seven other servicemen two to three times, Talton says. Nelson also apologized directly to Malone's family in the courtroom.
"He used words like 'foolishness,' 'stupid,' 'It was a stupid game,' " Talton says. But according to her reporting, trust games in the Marines aren't unusual. In 1997, a lance corporal died in Okinawa after other Marines dropped him from the third story of his barracks. In 2007, a Kentucky National Guardsman shot and killed his best friend, a fellow soldier.
Talton first became aware of the game last July, when a private stationed at Camp Lejeune allegedly killed his civilian roommate while playing this game. Other Marines testified during Nelson's trial that they'd heard of the game while in deployment.
No one seems to know when or where the game originated, Talton says, but in Nelson's case, at least, it seemed to be a way to build camaraderie. To prove that " 'when we're in a war zone together, I can trust you,' " she says.
But one major factor fueling the game could be boredom "These are primarily young guys in their low- to mid-20s." They're used to gun play, she says.