What's Still Top Secret? Economic Briefings
Pete Souza/White House via Getty Images
When the Lehman Brothers banking firm collapsed a year ago this week, it prompted a financial panic that spread around the world. In February, with unemployment soaring and international trade in free fall, Adm. Dennis Blair, the director of national intelligence, advised Congress that the global economic crisis had replaced terrorism as the country's "primary near-term security concern."
U.S. intelligence analysts had concluded that a sharp drop in international money flows raised the prospect of destabilizing social unrest in countries with scarce resources and fragile governments. The collapse in financial markets had brought a sharp reduction in the transfer of investment capital to developing nations, while the global recession meant immigrant workers in the United States and elsewhere found it harder to send money back to family members in their native lands. Economic distress was laying a foundation for terrorism and insurgencies.
Economics As A National Security Priority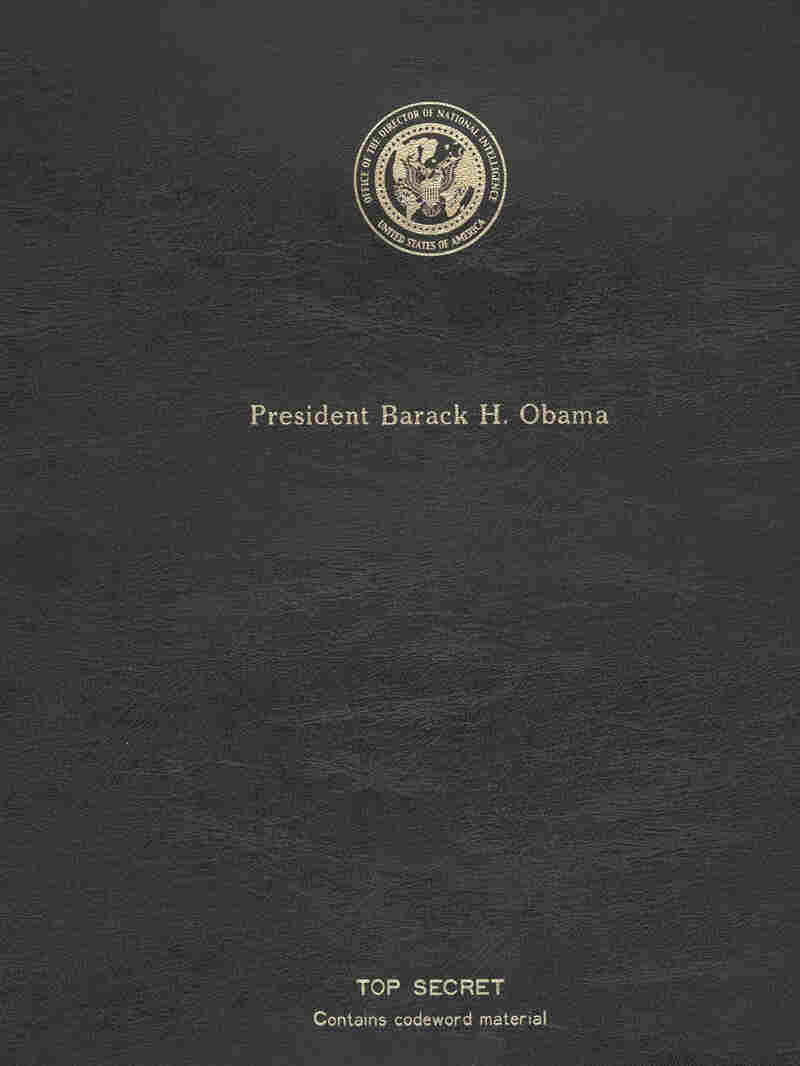 The financial panic of a year ago has subsided, but economic issues still rank high on the country's national security agenda. Since February, the CIA and other intelligence agencies have been producing a three- to four-page daily "economic intelligence brief" for distribution to a half-dozen senior U.S. government officials. The EIB is in addition to the better-known "president's daily briefing," or PDB, the top-secret intelligence document prepared every day for every president since Lyndon Johnson. It is also separate from the economic brief that the National Economic Council prepares daily for President Obama.
"We supply the classified information," says a senior intelligence official who oversees the preparation of the EIB. "Plus, we're more multidisciplinary." The EIB, for example, may highlight the economic implications of a secret political development in a foreign country. One recent EIB explained how U.S. allies might scale back their security cooperation because of budgetary problems. Another included secret data on supply and demand issues in the global oil market. A typical EIB includes two or three "articles" on selected topics, according to the official.
The CIA prepared a similar economic intelligence report for a time during the Clinton administration, but it was later discontinued. Intelligence officials say the new product was launched by Michael J. Morell, the CIA's director of intelligence, in response to a request from Obama administration officials for more guidance on the security implications of global economic developments.
Taking A Closer Look At China And Russia
One possible subject for EIB analysis is China's handling of its dollar-denominated foreign currency reserves, believed to total well in excess of $1 trillion.
"China has been very secretive about how they hold their reserves," says Richard Cooper, a Harvard University economist who chaired the government's National Intelligence Council from 1995 to 1997. "If the Chinese were to begin moving their reserves, the intelligence community could find out at least as quickly as the markets notice it," he says. "Perhaps more quickly."
Another possible topic would be the huge state-owned investment funds known as "sovereign wealth funds," set up in recent years by Russia and other states with vast foreign reserves. Many of those countries hire private fund managers, but Cooper says the CIA could dig for more information about their activities, including the instructions given to the private managers. "[Is it] just, 'maximize returns' or 'stick it to the Americans'? We have an interest in [knowing] that," Cooper says. "That's an area where some of our sources and methods could be helpful in giving us advance warning if somebody wanted to make trouble."
Secret Information
The intelligence official who oversees the preparation of the EIB will not discuss what secrets it may include. "The vast majority of our pieces take advantage of information that is not in the public domain," he says. "But I can't go beyond that." One example: A monthly "economic vulnerability review" identifies those countries that are in the most serious economic trouble.
The new attention to the intersection of economic and security issues has also raised the profile of those U.S. officials whose responsibilities span both areas. Chief among them is Michael Froman, who wears two hats in the Obama administration, serving simultaneously as a deputy to Gen. James Jones, President Obama's national security adviser, and as a deputy to Lawrence Summers, Obama's chief economic adviser.
"There are some issues that have more of a national security component and some issues that have less of a national security component, and sometimes that points us to one boss more than another," Froman says. "But we work jointly for both [Jones and Summers]."
Froman advises his colleagues on the National Security Council of the geopolitical significance of economic developments, while at the National Economic Council, he specializes in those economic policy issues that have an international dimension.
"Actions taken at home to stimulate the economy or to repair the financial sector or to reform the regulatory regime all have international implications that require international concerted action," he says.
Froman is the Obama administration's main contact person for dealing with the "Group of 20" countries. Since the global economic crisis, this group has taken on much of the geopolitical importance previously accorded to the smaller Group of Eight industrialized countries.
"The crisis has underscored that advanced industrial economies on their own cannot deal with or solve all the global problems, and you need the emerging countries at the table as well," Froman says. "The G-20 has been very effective in mobilizing concerted action, and it does reflect a different approach to global governance."
The next G-20 summit will be held this month in Pittsburgh. Obama and other U.S. officials will meet their counterparts from China, Brazil, India, Saudi Arabia and other emerging economies as well as the leading industrialized countries. In preparation for the summit, they'll be advised by the CIA and other agencies, according to the intelligence official who prepares the EIB.
"When U.S. officials go into negotiations, they look to the intelligence community to tell them what the others are bringing to the table," the official says. "That's something we do."