Retail Sales Gains Extend Beyond Autos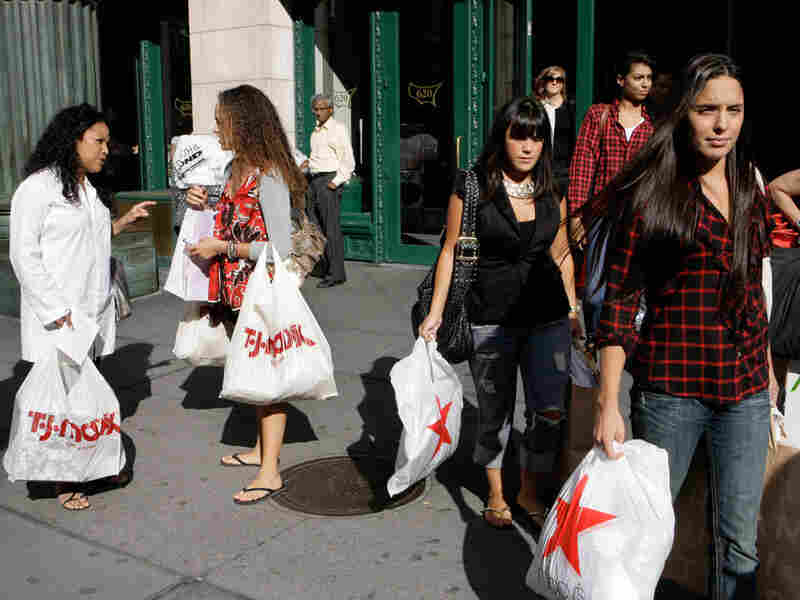 The government's Cash for Clunkers auto rebate program and a robust increase in other purchases pushed August retail sales to their biggest monthly increase in more than three years, according to a Commerce Department report released Tuesday.
Retail sales rose to a seasonally adjusted 2.7 percent last month — the biggest monthly increase since January 2006 — after falling 0.2 percent in July. Although a 10.6 percent increase in vehicle sales helped the picture, other items flew off the shelves, too.
Excluding vehicle purchases, sales of other goods rose 1.1 percent. Gas station sales rose 5.1 percent, as prices rose at the pump; department store sales were up 2.4 percent as students got ready for school; and sales of sporting goods and books saw a jump of 2.3 percent.
"The consumer came to life in August," said Hugh Johnson, chairman and chief economist of Albany, N.Y.-based Johnson-Illington Advisers.
The auto sales hike was the biggest jump in nearly eight years. Experts said the government's Car Allowance Rebate System — Cash for Clunkers — was responsible for the jump.
The Commerce Department report is widely viewed as an indication of how cautious consumers are about spending money. Consumer spending accounts for about 70 percent of economic activity in the U.S.
The Transportation Department said the Cash for Clunkers program resulted in the sale of nearly 700,000 cars. The plan, which ended Aug, 24, gave consumers big rebates for trading in gas-guzzling vehicles for newer, more fuel efficient models. U.S.-made cars topped the list of the most purchased vehicles, including the Ford Focus, Toyota Corolla and Honda Civic, the department said.
"This is a win for the economy, a win for the environment, and a win for American consumers," said Treasury Secretary Ray LaHood.
However, the spending spree was not confined to automobiles. Electronics, appliances and sporting goods also showed improvement — a sign that consumers are starting to spend again after months of hunkering down because of worries about the recession.
"The good news is that we've turned the corner on the recession," said Brian Bethune, an economist at Global Insight. "As the recovery progresses, things will start to improve. But for the average American household it will be hard to get their arms around this" because high unemployment is likely to continue into next year.
In a separate report, the Labor Department's Producer Price Index showed that wholesale prices rose 1.7 percent in August after falling by 0.9 percent the previous month.
The increase was nearly double what experts had predicted — but that was mostly because of food and energy prices, said Johnson.
Increases in the wholesale prices of fruit, cheese and eggs pushed the cost of food up 0.4 percent from July, while energy costs surged 8 percent because of a 23 percent rise in the cost of gas.
Excluding food and fuel, core inflation rose a modest 0.2 percent. Although many economists expect inflation to remain low because of the weak labor market, Johnson said leading indicators suggest that inflation may rise modestly higher than predicted.
"We'll see higher inflation because the leading indicators — including the percentage of purchasing managers paying higher prices — have been rising steadily for five consecutive months. That's telling me that inflation will not only rise, but will be stronger than the consensus currently expects in the first three quarters of 2010," he said.
In a second report by the Commerce Department, figures showed that businesses slashed their inventories for the 12th consecutive month in July.
The report said inventories fell 1 percent in July to the lowest level since March 2006.
Analysts are hoping the steady drop will mean that companies will begin to rebuild their diminishing stockpiles.