Mullen Calls For More Troops In Afghanistan
Mullen Calls For More Troops In Afghanistan
The nation's top military officer says more U.S. troops will likely be needed to win the war in Afghanistan. Adm. Mike Mullen's comments before the Senate Armed Services committee came as Democratic Sen. Carl Levin of Michigan underscored his opposition to additional forces, and Sen. John McCain, the committee's ranking Republican, shot back that any delay in sending troop reinforcements would have catastrophic consequences.
ROBERT SIEGEL, host:
From NPR News, this is ALL THINGS CONSIDERED. I'm Robert Siegel.
MELISSA BLOCK, host:
And I'm Melissa Block. On Capitol Hill today, a preview of the national debate over how many American troops should be fighting in Afghanistan. Admiral Mike Mullen, the Chairman of the Joint Chiefs of Staff, testified. His message was that winning the war will require more troops. As NPR's Mary Louise Kelly reports, it was the clearest signal yet that a request for more forces will land on President Obama's desk.
MARY LOUISE KELLY: With public support for the war effort falling and with an openly skeptical Senator Carl Levin presiding, it fell today to Admiral Mullen to make the case for sending more U.S. troops to Afghanistan. Mullen is the nation's top military officer. He told senators the U.S. finally has the right strategy for the war and the right commander to execute it in General Stanley McChrystal. Mullen said he doesn't know how many extra troops General McChrystal will ask for.
Admiral MIKE MULLEN (Chairman, Joint Chiefs of Staff): But I do believe that having heard his views and having great confidence in his leadership, a properly resourced counterinsurgency probably means more forces.
KELLY: Mullen says he expects the troop request within the next couple of weeks. It's said to lay out a range of options and the risks that go along with each. And here's an interesting development: military sources tell NPR that the document is already substantially complete, but that General McChrystal is waiting for word from Washington before he sends it. With Washington so divided over the wisdom of sending more troops, the request has become politically loaded.
At today's hearing, Senator John McCain, the ranking Republican on the committee, pointed to press reports that the Obama administration may be stalling on troop decisions because they're focused on the health care debate, which would be a huge mistake, argued Senator McCain.
Senator JOHN MCCAIN (Republican, Arizona): Every day we delay in implementing the strategy and increasing a number of troops there - which we all know is vitally needed - puts more and more young Americans', who are already there, lives in danger.
KELLY: The Obama administration says it is committed to the fight in Afghanistan. President Obama himself has called it a war of necessity. But the White House has signaled it's in no hurry to take up the question of troop reinforcements. White House spokesman Robert Gibbs has said it will be, quote, "many, many weeks before the president gets to any sort of decision about that," end quote. That would delay a decision on whether to add to the 68,000 U.S. troops already approved for Afghanistan well into the autumn or winter, when heavy snows and bitter cold have traditionally slowed the fighting.
It would also square with the counsel of Democrats such as Senator Levin, who chairs the Armed Services Committee. Today, he repeated his advice to the president: Avoid escalating the war, focus instead on training Afghan security forces.
Senator CARL LEVIN (Democrat, Michigan): I believe these steps should be urgently implemented before we consider a further increase in U.S. ground combat troops, beyond what is already planned to be deployed by the end of the year.
KELLY: But Senator McCain and other Republicans pushed back against the notion that Afghanistan's army and police force can turn the tide without the help of more U.S. troops. Here's an exchange between Admiral Mullen and the senator.
Sen. LEVIN: Is there any - under any reasonable scenario, Admiral, a prospect that trained Afghan security forces can handle the bulk of the fighting over the near to medium term?
Adm. MULLEN: No sir.
Sen. LEVIN: If we followed such a course, do you think the situation in Afghanistan would improve or get worse?
Adm. MULLEN: I think it would probably continue to deteriorate.
KELLY: Meanwhile, it looks as though other senior commanders may soon be summoned to make the case for more troops. Senator McCain called for both General McChrystal and General David Petraeus, the overall commander in the region, to come testify on the way forward in Afghanistan.
Mary Louise Kelly, NPR News, Washington.
NPR transcripts are created on a rush deadline by Verb8tm, Inc., an NPR contractor, and produced using a proprietary transcription process developed with NPR. This text may not be in its final form and may be updated or revised in the future. Accuracy and availability may vary. The authoritative record of NPR's programming is the audio record.
Military May Ask For More Troops For Afghanistan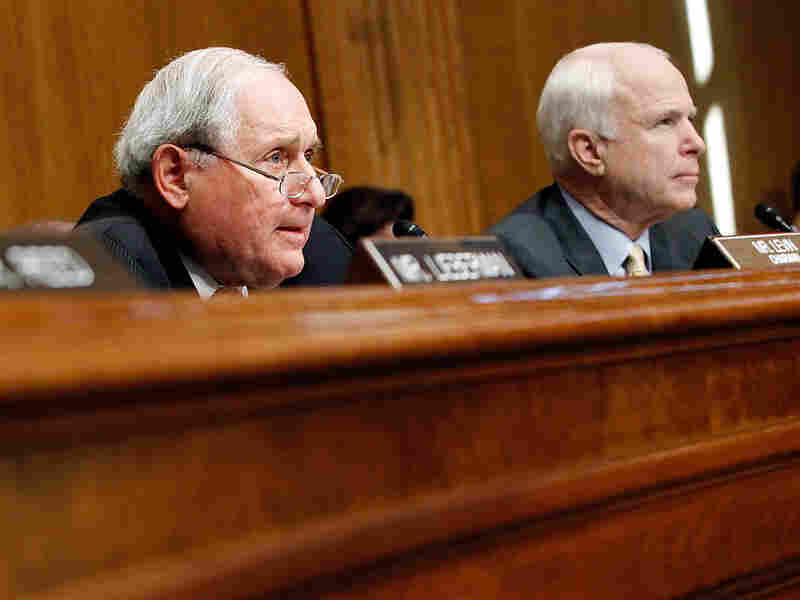 Chip Somodevilla/Getty Images
Jewel Samad/AFP/Getty Images
Leaders of a key Senate panel showed their impatience Tuesday with the military's process for assessing strategy needs in Afghanistan as the chairman of the Joint Chiefs of Staff suggested that more forces will be needed.
Adm. Mike Mullen said "it's very clear to me that we will need more resources" to carry out President Obama's counterinsurgency strategy in Afghanistan, adding that that "probably means more forces."
But Mullen said he had not received a formal request from Gen. Stanley McChrystal, the commander of U.S. and NATO forces in Afghanistan. McChrystal spent the summer reviewing the military's needs and goals in Afghanistan.
The U.S. currently has about 65,000 troops in Afghanistan, including about 21,000 troops Obama ordered there earlier this year. A contingent of several thousand additional trainers is on its way.
Members of the Senate Armed Services Committee differed on whether more combat troops should be deployed.
The differences were evident during a hearing on the nomination of Mullen for a second term as chairman of the Joint Chiefs.
Levin: Build Up Afghan Forces
Committee Chairman Carl Levin (D-MI) pressed for faster action to build up and train Afghanistan's army and police forces, to supply them with arms and equipment, and to get lower-level insurgents to switch loyalties from the Taliban to their own local defense forces.
Levin said those actions would demonstrate the U.S. commitment to success in the war "while avoiding the risks associated with a further increase in U.S. ground combat troops."
The senior Republican on the committee, Sen. John McCain of Arizona, said he strongly disagreed with the idea that the U.S. should take a "wait and see" approach before sending more American troops to Afghanistan.
McCain: Learn The Lessons Of Iraq
"I've seen that movie before," said McCain, referring to Iraq, where he said Iraqi forces repeatedly collapsed until the surge in American troops provided the Iraqis with enough mentoring and support to be effective.
"To do this we will need more U.S. forces in Afghanistan," said McCain. "If we wait, it may well be too late."
Mullen said that while waiting for McChrystal's assessment, he has made no recommendations to the president about how many more troops might be needed.
Sons of Afghanistan?
Levin said the military should focus on persuading insurgents in Afghanistan to switch sides.
Mullen acknowledged that, until recently, the plan hasn't been "an area of focus." But he said British Lt. Gen. Graeme Lamb has been named to head a program aimed at reconciling Pashtun insurgents who now support the Taliban.
Lamb helped create the so-called Sons of Iraq program in which former Iraqi insurgents were persuaded to join self-defense militias that fought against al-Qaida in Iraq.
What's Taking So Long?
McCain said he was frustrated by the slowness of McChrystal's assessment. "Why should it take weeks and weeks to make an evaluation and reach a decision?" he demanded, when Obama had laid out the new counterinsurgency strategy in March.
Mullen said that McChrystal has found conditions on the ground in Afghanistan to be tougher than he expected, and that the evaluation was complicated by the fact that it extended to the needs of the NATO troops as a whole, rather than just the Americans.