'Buffy' Creator Snags Emmy For 'Horrible' Idea
'Buffy' Creator Snags Emmy For 'Horrible' Idea
A week before the 61st annual Primetime Emmy Awards airs on Sunday, golden statuettes were handed out in the creative arts division. One went to a show that was created specifically to be seen online: Dr. Horrible's Sing-Along Blog.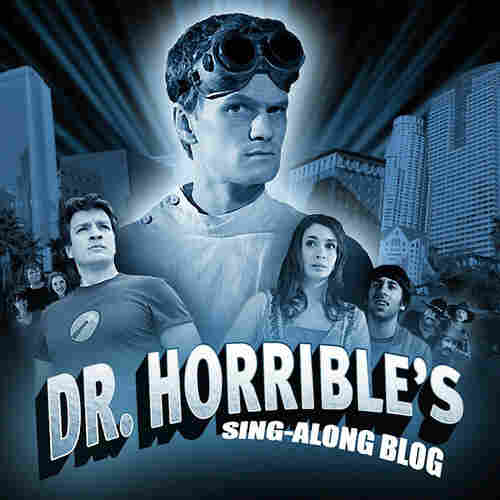 The 43-minute Web musical is about an aspiring supervillain played by Neil Patrick Harris (who, incidentally, is the host of this year's awards ceremony). The Emmy was the first for creator Joss Whedon, though he had been nominated for one of his other projects, the TV version of Buffy the Vampire Slayer.
Whedon came up with the idea for the three-part Web series during the 2008 writers' strike. He tells Liane Hansen that he was trying to prove people could create content "that didn't look like it was shot in their backyard, that wasn't a cute kitten."
"[I wanted to show] we could do this without the giant corporations who are squashing us under their heel," he says, "and that everybody could get paid."
When it became clear executives in Silicon Valley wouldn't support his idea for a musical about a lovelorn supervillain, Whedon says, he hunkered down and raised the money himself. Then he fleshed out the idea with his brothers and future sister-in-law.
'Dr. Horrible's Sing-Along Blog'
Watch the three-part Web musical on Hulu.com
Getting Harris and actor Nathan Fillion, who had worked with Whedon on the sci-fi series Firefly, to come on board was less of a challenge.
"Their reaction was to say 'yes' before I could even tell them what it was about," Whedon says.
When the first episode aired online July 15, 2008, the Web site was so overwhelmed it crashed — which is "the way it must always be remembered by America," jokes Whedon.
"'We were too cheap to pay for enough bandwidth' is not quite as legendary-sounding," he adds.
Whedon tells Hansen he definitely wants to pursue the story more, but he and his team haven't determined what the medium will be and whether it will be another 45-minute story in three acts.
"Right now we're just writing with the idea of 'What's the next thing we'd like to see these characters do?'" he says. "Where we see them do it we'll figure out later."
Related NPR Stories
Web Resources