Colo. Terror Suspect Appears In Court
A judge ordered a Colorado man arrested as part of a terrorism investigation to be held pending a detention hearing Thursday. Afghanistan-born Najibullah Zazi has admitted to receiving training from al-Qaida, and has been charged with making a false statement to the government.
MADELEINE BRAND, host:
The three men arrested last week in connection with an alleged terrorist plot appeared in federal courts today. One man, the imam of a mosque in Queens appeared in New York. He was ordered held without bail. The other two, an airport shuttle driver and his father went before a federal judge in Denver.
NPR's Jeff Brady was in that courtroom and he's with us now. Hi, Jeff.
JEFF BRADY: Hello.
BRAND: This was Najibullah Zazi and his father Mohammed Zazi in court there in Denver. What happened today?
BRADY: Well, they were both (unintelligible) in handcuffs and they remained in handcuffs throughout the half-hour court appearance. The primary purpose of the court appearance today was to advise both the men of their rights, their Fifth Amendment right not to say anything, that sort of thing.
The federal prosecutor agreed to release the father, Mohammed Zazi as long as there's electronic monitoring so they know where he is all the time. The prosecutor asked the court to keep Najibullah Zazi detained. The government will have to justify that request at a hearing on Thursday. That will be a detention hearing, Thursday morning. In the meantime, Najibullah Zazi will be kept at a federal detention facility outside Denver.
BRAND: And how did the two men appeared today during the hearing?
BRADY: You know, it looks like they're wearing the same cloths today that they were arrested in late Saturday night. And the father, Mohammed Zazi, he appeared confused at times. His government-appointed attorney asked the judge for a Pashtun interpreter for future hearings, so there may have been a little bit of a language problem there.
Najibullah Zazi was quiet and composed. He has a very soft voice. He's only 24 years old. And one thing I noticed that Najibullah Zazi - he never looked at his father during the whole hearing, even though they were sitting across the table from one another. He just never looked at him, as far as I could tell.
BRAND: Mm-hmm. Now, can you just remind us again what the government alleges these men were up to?
BRADY: Yeah. Both of the men are charged with lying to federal investigators during a terrorism investigation. But it's clear that the FBI is worried about a lot more than that. And affidavits from the FBI says that Najibullah Zazi, that's the son, told them that he attended an al-Qaida training camp in Pakistan in 2008, where he learned about explosives and weapons. And they also found documents on his computer that show how to make a bomb. So, there are just some - certainly some bigger concerns that a lot we don't know, but maybe we'll learn more at that hearing on Thursday.
BRAND: Right. Thank you very much. That's NPR's Jeff Brady at the federal courthouse in Denver.
ROBERT SIEGEL, host:
Just how awkward did things got when President Obama was in the same room today with New York governor, David Paterson? That story is coming up on ALL THINGS CONSIDERED.
NPR transcripts are created on a rush deadline by Verb8tm, Inc., an NPR contractor, and produced using a proprietary transcription process developed with NPR. This text may not be in its final form and may be updated or revised in the future. Accuracy and availability may vary. The authoritative record of NPR's programming is the audio record.
Men Ordered Held Without Bail In Terrorism Probe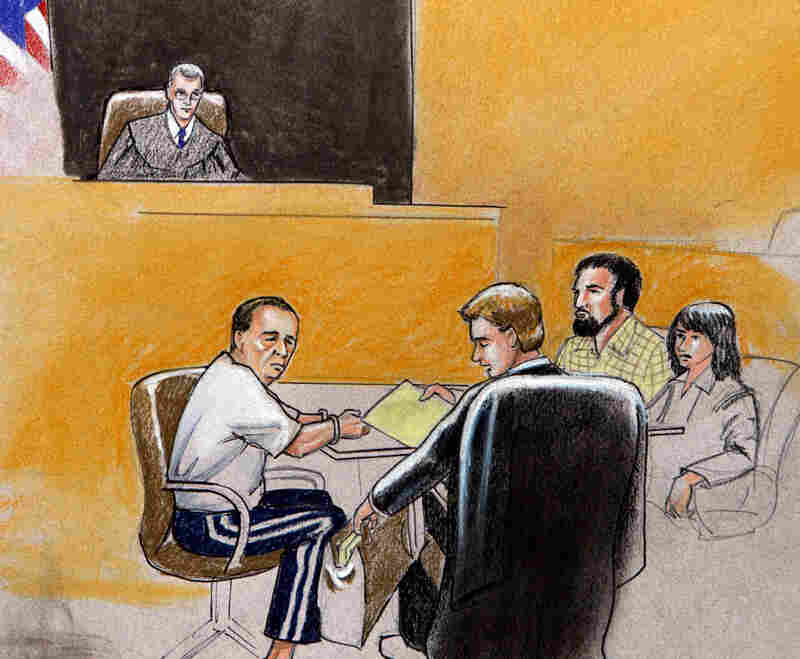 Three men arrested over the weekend as part of a far-reaching terrorism investigation had their first appearances before a judge Monday. All are accused of lying to federal authorities, a crime that carries an eight-year prison sentence.
Two of the men will remain in federal custody — Najibullah Zazi, 24, an Afghan national who drives an airport shuttle bus in the Denver area; and Ahmad Wais Afzali, 37, the imam of a mosque in Queens, N.Y. Zazi's father, Mohammed Wali Zazi, 53, was released on the condition that his movements be electronically monitored.
Najibullah Zazi avoided his father's gaze as the two sat across from each other at the defendant's table in a Denver courtroom. Both were in handcuffs throughout the proceeding and appeared to be wearing the same clothes they were arrested in late Saturday.
NPR'sJeff Brady Talks With Madeleine Brand About The Case
Federal Magistrate Judge Craig B. Shaffer scheduled both a preliminary hearing and a detention hearing for Najibullah Zazi for Thursday.
It is clear the younger Zazi is of the most interest to the FBI, and officials close to the case told NPR that more charges are coming. His charging documents suggest as much. They were released Sunday by the Justice Department and, among other things, state that Najibullah Zazi admitted he trained in explosives at an al-Qaida camp.
Zazi has publicly denied involvement in a terrorist plot and says the arrest is a mistake.
Law enforcement officials say the investigation was meant to play out much longer than it did. They felt compelled to move in when Zazi reportedly rented a car a few days before the anniversary of the terrorist attacks of Sept. 11, 2001, and drove cross-country from Denver to New York City. Authorities feared some sort of plan was swinging into action.
The alleged plot is of particular cause for concern because it represents the first time since the 2001 attacks that the U.S. has had to deal with a group with the capacity and expertise to launch a credible attack. Zazi apparently knew how to put together an explosive device.
The FBI has yet to level terrorism charges against the men. On Friday, the younger Zazi was involved in some sort of negotiation to cooperate with the FBI in the case. NPR learned this from officials involved with the case as well as someone familiar with Zazi's side of the story.
Law enforcement officials said Friday that Najibullah Zazi talked with prosecutors and said he was willing to say he'd trained in explosives in an al-Qaida camp but balked at admitting having had a role in any attack or plot. But the two sides couldn't agree on what Zazi would plead guilty to. By Saturday, whatever they might have been discussing in terms of a plea or a cooperation agreement was off the table. Zazi decided not to show up as scheduled for a fourth day of interviews. He was arrested a short time later.
Despite having acknowleged a link to al-Qaida, Zazi was allowed come and go from FBI headquarters because authorities said they hoped to draw out more suspects. From the investigators' perspective, allowing Zazi to remain free provided more opportunity for others who may have been involved to make a mistake and, for example, try to contact him.
There have been other arrests below the radar. Six or seven Afghan friends of Zazi's were taken into custody last week. The Afghans were living in Queens, and Zazi had stayed with them during a recent trip to New York. The FBI raided the apartment he stayed in and several other apartments soon after Zazi returned to Colorado.
It is unclear exactly what they were charged with, but apparently the arrests were in connection with attempts to rent a U-Haul truck a couple of weeks ago.
Some of the men went to a U-Haul rental place in Jamaica, Queens, and asked to rent their biggest truck, according to authorities. They didn't have a valid credit card but said they wanted to pay cash. When U-Haul representatives requested personal identification, the men apparently balked. While it isn't illegal to rent a U-Haul for cash, the men allegedly denied ever having been there when questioned by the FBI. The manager of the U-Haul outlet reportedly identified the men involved from photographs the FBI showed him.
Some of the evidence collected against Zazi was laid out in the charging documents. Zazi was under wiretap and other electronic surveillance for some time, and officials say they have a taped conversation of him speaking with a known al-Qaida operative in Afghanistan.
Authorities reportedly found images on his computer of handwritten notes that laid out how to make a bomb and, in particular, how to put together fuses. Zazi said he downloaded that information by accident when he pulled a religious text off the Internet. But law enforcement officials say the notes are in his handwriting.
The Queens apartment searches last week yielded 16 backpacks, cell phones, batteries, a bomb-making manual and a scale that police say could be used for measuring concentrations needed for a hydrogen peroxide bomb. No explosives were found.
Officials say they also found credit card receipts for items such as chemicals purchased at home improvement stores in the Denver area. One of the chemicals is used to clean concrete and masonry and is a common ingredient in homemade bombs.
The FBI is seeking surveillance video from those stores to try to identify other possible suspects.