U.N. Commits To Nuclear-Free World
The U.N. Security Council, in a session chaired for the first time by a U.S. president, adopted a U.S.-sponsored resolution committing all nations to work for a world free of nuclear weapons. The goal was laid out partly as a message to Iran and North Korea.
MADELEINE BRAND, host:
Now to the United Nations, where the Obama administration put nuclear nonproliferation front and center today. President Obama presided over an historic Security Council session. Members unanimously passed a resolution committing nations to work toward a world free of nuclear weapons.
As NPR's Michele Kelemen reports, that lofty goal was laid out in part as a message to Iran and North Korea.
MICHELE KELEMEN: The Security Council has only met at the heads-of-state level four times before, and today was a particularly poignant moment for President Obama. He became the first U.S. president to chair the council.
President BARACK OBAMA: I called for this one so that we may address at the highest level a fundamental threat to the security of all peoples and all nations: the spread and use of nuclear weapons.
KELEMEN: His secretary of state, Hillary Clinton, left the council briefly to go to a conference room just downstairs to reaffirm the U.S. commitment to ratifying the Comprehensive Test Ban Treaty. She pointed out that she was the first secretary in a decade to address that conference.
Secretary HILLARY CLINTON (Department of State): We come to this conference with an optimistic spirit that all parties can make a contribution toward a world without nuclear weapons. That is the promise of the CTBT. We rededicate ourselves to this effort, and we thank all of you who have continued the hard work over the last 10 years. We're happy to be back working with you.
KELEMEN: President Obama is planning to host a meeting next year on safeguarding nuclear weapons material. That and his summit at the Security Council today are part of his efforts to shore up the nuclear nonproliferation regime.
Pres. OBAMA: Now, we harbor no illusions about the difficulty of bringing about a world without nuclear weapons. We know there are plenty of cynics, and that there will be setbacks to prove their point. But there will also be days like today that push us forward, days that tell a different story.
KELEMEN: The resolution that the U.N. Security Council approved 15 to 0 calls for further progress on nuclear arms reductions. President Obama and his Russian counterpart, Dmitry Medvedev, say they're working on that. The resolution also raises concern about Iran and North Korea but does not name them specifically. President Obama says the idea is not to single out countries, but to demonstrate that international law is not an empty promise. French President Nicolas Sarkozy, through an interpreter, brought the lofty rhetoric right down to reality.
President NICOLAS SARKOZY (France): (Through Translator) We are living in a real world, not a virtual world. We are saying yes, reductions and President Obama himself has said, I dream of a world where there would be no such weapons. And yet right in front of us, two countries are doing exactly the opposite -right now.
KELEMEN: Sarkozy said that Iran has flouted five Security Council resolutions, and North Korea continues to defy the U.N. as well by firing off missiles and testing nuclear weapons. British Prime Minister Gordon Brown says the council can't stand by while Iran and North Korea reject offers for cooperation on peaceful nuclear power and instead, takes steps to develop nuclear weapons.
President GORDON BROWN (Great Britain): Today, I believe we have to draw a line in the sand. Iran must not allow its actions to prevent the international community from moving forward to a more peaceful era. And as evidence of its breach of international agreements grows, we must now consider far tougher sanctions together.
KELEMEN: One country that has recently given up its nuclear ambitions, Libya, has a rotating seat on the Security Council. But Libyan leader Moammar Gadhafi did not show up to today's Security Council summit, though he's in New York for the first time in his 40-year reign. He had his ambassador deliver the message that Libya thinks Israel has to open up its nuclear facilities to inspection if the world is to avoid an arms race in the Middle East.
Michele Kelemen, NPR News, The United Nations.
NPR transcripts are created on a rush deadline by an NPR contractor. This text may not be in its final form and may be updated or revised in the future. Accuracy and availability may vary. The authoritative record of NPR's programming is the audio record.
Security Council Approves Arms Control Measure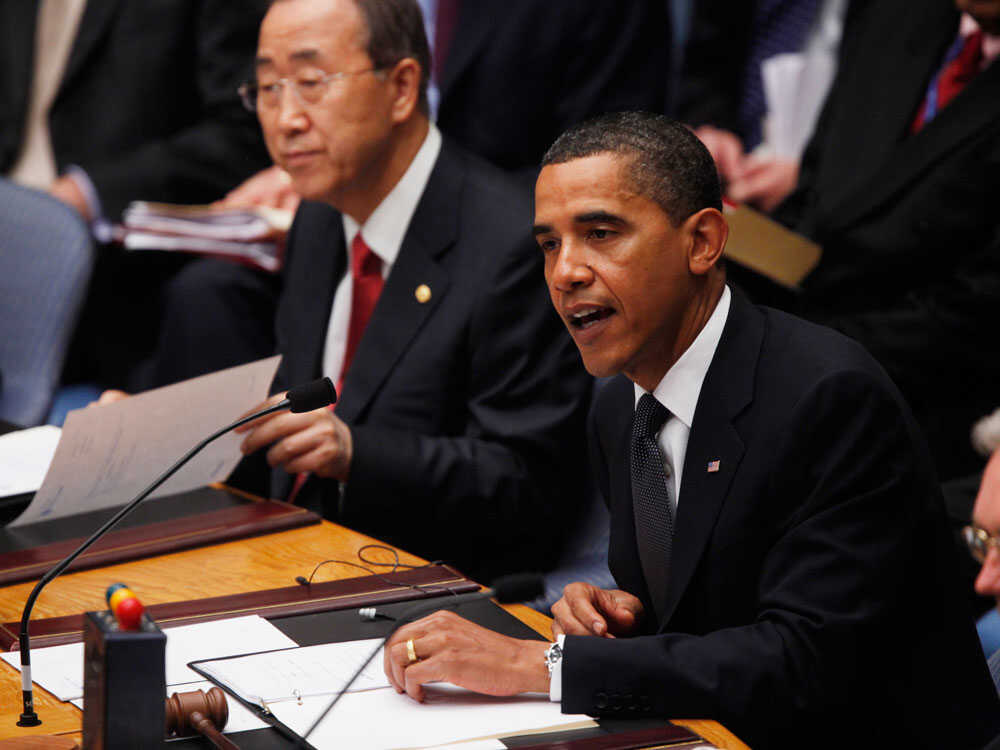 The U.N. Security Council, at a rare summit-level meeting chaired by President Obama, unanimously approved a U.S.-sponsored resolution on Thursday aimed at encouraging nations to scrap their nuclear weapons arsenals.
The resolution passed among growing calls for more international pressure on Iran to curb its nuclear program and concerns about North Korea, which has tested nuclear weapons.
The measure seeks more efforts to promote disarmament, prevent the spread of nuclear weapons and "reduce the risk of nuclear terrorism."
"This is not about singling out an individual nation," Obama said. "International law is not an empty promise, and treaties must be enforced."
With support for the resolution from Russia and China, Obama said world leaders "leave this meeting with renewed determination."
Focus On Iran, North Korea
The Security Council session was not specifically called to discuss Iran and North Korea, but they became a focus of the discussion.
From 'All Things Considered'
NPR's Michele Kelemen Reports On The Security Council's Resolution
British Prime Minister Gordon Brown told the Security Council that it should consider "far tougher sanctions" against Iran if it continued to defy resolutions ordering it to halt its uranium enrichment program.
French President Nicholas Sarkozy was critical of both Iran and North Korea. He said he supports diplomatic efforts, but they have had little effect.
"There comes a time when stubborn facts will compel us to take a decision if we want a world without nuclear weapons," Sarkozy said.
"As evidence of its breach of international agreements grows, we must now consider far tougher sanctions together," Brown said.
Obama called the U.N. measure "historic" said it represents "our shared commitment to a goal of a world without nuclear weapons."
Important New Safeguards
The president said new threats of nuclear proliferation call for new strategies. "Just one nuclear weapon exploded in a city," Obama said, "be it New York or Moscow; Tokyo or Beijing; London or Paris — would badly destabilize our security, our economies, and our very way of life."
Administration officials say the resolution includes important new safeguards to deter nations from withdrawing from the Nuclear Non-Proliferation Treaty, or NPT, after they have acquired peaceful nuclear technology that can be turned to military uses.
One provision would reserve the right for nuclear supplier states to take back nuclear equipment and material from any country that withdrew from the NPT and decided to go its own way, as North Korea did in 2003. The provision doesn't address just how this nuclear technology would be repossessed.
It is only the fifth time that the 15 nations on the Security Council have been represented by their heads of state or government, and it's the first time a U.S. president has chaired the meeting. That's because United States happens to hold the rotating presidency of the council this month.
Obama has promised to work with Russia to reduce arsenals of strategic nuclear weapons on both sides. He said his administration will seek ratification of a treaty to ban nuclear arms testing, and he pledged to work with other nations on a treaty that would prohibit the production of weapons-grade nuclear fuel.
The Security Council is also focusing on curbing smuggling of materials that could be used to make nuclear bombs.
Talking To The Nuclear Club
All five of the Security Council's permanent members the U.S., Russia, the United Kingdom, China and France are recognized nuclear weapons states.
Bruce Jones, a senior fellow at the Brookings Institution, says Obama's decision to take up nuclear issues at the summit marks an important change from the policy of the Bush administration, which was sometimes disdainful of the world body. "He is demonstrating that core American security objectives can be pursued through the U.N.," Jones said.
All five permanent members of the council are signatories to the Nuclear Non-Proliferation Treaty, and thus are committed to preventing the spread of nuclear weapons and reducing their own atomic arsenals, while supporting the right of any country to use nuclear technology for peaceful purposes.
Countries that have openly tested nuclear weapons and are not parties to the NPT are India, Pakistan and North Korea. Israel, which has not declared that it is a nuclear-armed state but is believed to have a substantial number of atomic warheads, also has not signed the pact.
Although Iran is a party to the NPT, the U.S. and other Western nations have charged that it is using its nuclear program as a springboard to developing a bomb.
"I'm hopeful that there will be some serious discussion on what it really means to meet your obligations under the NPT," says William Hartung, director of the Arms and Security Initiative at the New America Foundation.
Hartung says some of the countries that agreed not to pursue nuclear weapons under the NPT are impatient with the major players. "They're saying, 'We want to see timelines and substantive steps you're going to take to get rid of your weapons,' " he says.
The administration is hoping the Security Council meeting helps build support for another key nuclear-arms agreement, the Comprehensive Nuclear Test Ban Treaty. The treaty was adopted by the U.N. General Assembly in 1996 but hasn't yet taken effect, because some countries that have nuclear reactors have not yet ratified it.
The United States is one of those nations. Ratification of the treaty has been at the center of a long-running dispute; although the U.S. has observed a moratorium on nuclear weapons testing since 1992, the Senate rejected the treaty in 1999, and the Bush administration showed no interest in trying again.
Critics say that some nuclear testing is necessary to make sure that existing nuclear weapons are still effective, and they complain that it's still possible for nuclear nations to cheat and test weapons in secret.
Other experts maintain that it's possible to carry out weapons testing using computer models and that modern surveillance techniques make it much easier to prevent cheating.
Obama has said he will make it a priority to gain Senate ratification of the treaty.
Deeper Cuts For The Best-Armed States?
The countries with the biggest arsenals of nuclear weapons, the U.S. and Russia, have promised to reduce their stocks. U.S. officials are hoping that the Security Council meeting will speed up efforts to dismantle and dispose of atomic weapons.
In July, Obama and Russian President Dmitry Medvedev signed an agreement directing their nuclear negotiators to reduce the number of deployed nuclear warheads on each side from 2,200 to no more than 1,675. In his speech on to the U.N. General Assembly on Wednesday, the president said he would "complete a nuclear posture review that opens the door to deeper cuts."
Hartung says this means that Obama is willing "to push back against bureaucrats in the Pentagon who would like to see business as usual" and no cuts in weapons.
Hartung says he thinks negotiators might be able to get each side's stockpile to as few as 500 warheads. "That's certainly enough to deter anyone who's currently got the weapons, and it would make it harder for other [nuclear-armed] countries to say 'you go first,' before they cut their own arsenals."