Exchange Students Tackle Football, English In Oregon
Exchange Students Tackle Football, English In Oregon
In the world of high school football, there are small town teams — and then there are the Burnt River Bulls from Unity, Ore.
Burnt River plays in the 8-man football High Desert League — and for most of the season, they've managed to field the bare minimum of eight players.
It keeps them busy and tired. When the teams shift from offense to defense, or defense to offense, the Bulls merely step across the line of scrimmage and take up their new positions.
But numbers aren't the only challenge facing Burnt River this season. Most of the players are still trying to figure out the basics of the game.
United Nations In Helmets And Pads
Scroll down the Bulls' lineup, and all seems typical — at the beginning, at least. There's Caleb Andrews, a senior fullback, from Hereford, Ore. There's Justus Wise, senior halfback, also from Hereford.
But after that, the Burnt River lineup turns into a trip around the globe — Kan Bakai Uchkun Uulu, left guard from Kyrgyzstan; Szu-Yao Su, quarterback from Taiwan; Jovan Radakovic, left end from Serbia. Not to mention Ju Hyoung Park, right end from South Korea; Cem Erdogdo, right guard from Germany; and Ban Du, center from China.
Six foreign exchange students have turned the Burnt River Bulls into a virtual United Nations in helmets and pads.
These 15- to 17-year-olds plopped down in the Eastern Oregon town of Unity, population of about 120, for a crash course in rural America. Like a lot of remote areas, Unity brings in exchange students to increase funding for schools — and for the cultural give-and-take with the locals.
For the new boys, it has also been a crash course in a sport they had never played.
Better Than Yesterday
At a recent practice, out on the Burnt River football field, coach Wayne Wise shouts encouragement to his team.
"Looks a lot better than yesterday," Wise says.
And that could be the team's slogan — "better than yesterday." Starting essentially from scratch, with only two players who knew anything about football, the initial "yesterdays" were brutal. None more so than Burnt River's High Desert League opener.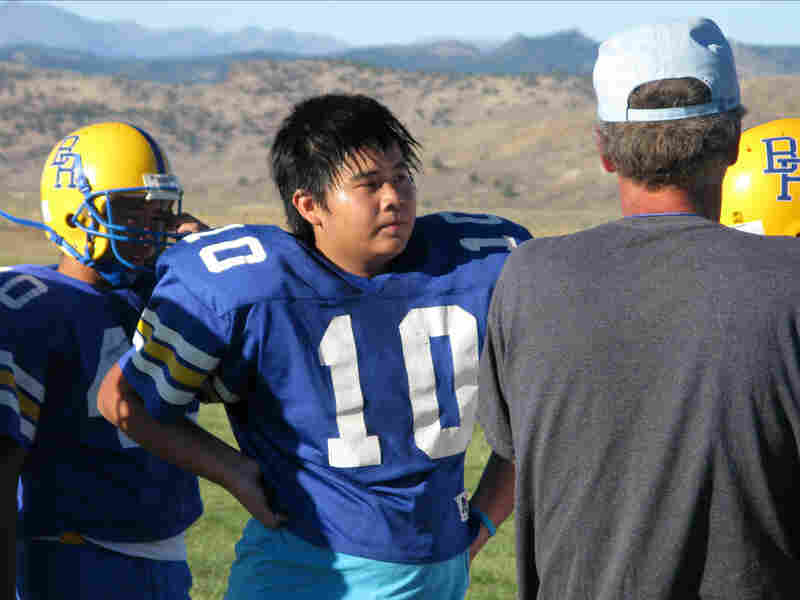 "They didn't know what to expect the first game," Wise says of his team. "Their mouths dropped open. We tried to explain to them that they were going to get hit — or hit somebody — every play. They weren't going to be up against the blue blocking dummy [that they work on in practice]. And they didn't believe it, I guess, until the whistle blew."
In that opening game against nearby Prairie City, the whistle blew for the last time at the end of the third quarter when officials stopped the game. Burnt River trailed 50-6 at the time; the Bulls, exhausted and aching, were down to five players.
Since then, they've looked at times like a real football team. They just added a ninth player, exchange student Tuan Chau from Vietnam.
Still, it's safe to say the international players haven't mastered the basics yet.
During practice, Justus Wise, the coach's son, makes sure in the huddle that everyone understands what he will say out loud to start the next play. Everyone in the huddle nods and says they understand. But when Wise calls out the signals, one of the players, Ban Du from China, jumps too soon. Everyone groans and drops down to do push-ups as a punishment.
"I forgot," Ban says.
Coach Wise responds: "That's what practice is for."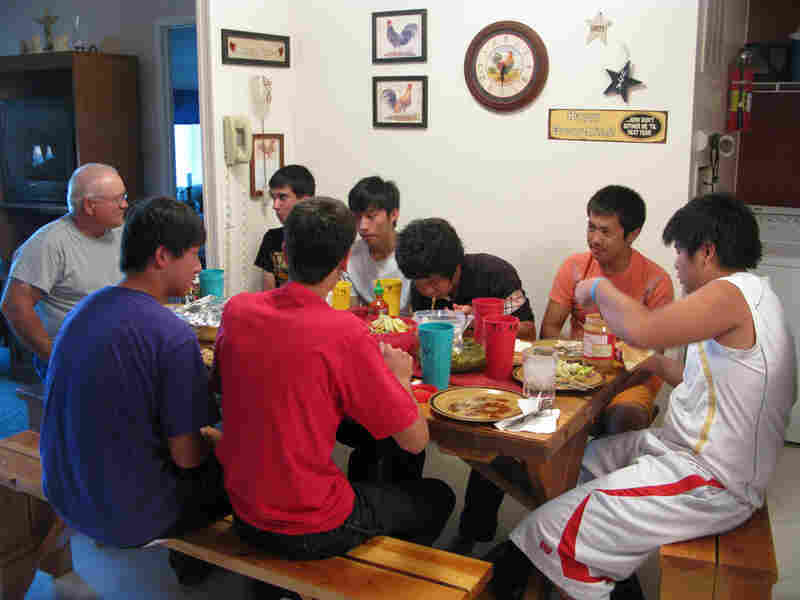 Even Harder Than Football
The boys have practice after football practice. Back at the dorm, located a few hundred yards from the football field, the foreign exchange students do regular English language drilling with their dorm mother, Darla Derrick.
Several of the boys still struggle with the new words and sounds.
Ju Hyoung Park from South Korea says English is the toughest part of football — even harder than the hitting.
"Almost I can't understand what they say," he says. "What the coach say, what Caleb [Andrews] say. I don't know what should I do. So I ... embarrassed."
But he and his teammates are a lot less embarrassed after last Friday.
A Big Win
Way ahead of schedule, the Bulls won a game last week. They beat a team with 19 players — 14 of whom were exchange students. The final score was 24-0.
Coach Wise, who is a perfect match for this team because he has never coached football before this year, called the turnaround "amazing."
Ban Du put victory into a Chinese context.
"It is the first time we win," he says. "We are together. We are like many chopsticks together — nobody can break it. So ... we are eight people ... [and we] beat the whole team. So I think very proud of us."
Coach Wise cautions against too much enthusiasm. He says at season's end, the Bulls won't collect any trophies. That's why he wants his players to have fun — and be competitive. With the numbers of kids dwindling in the already tiny town, this could be the last year for football in Unity.