Despite Struggle, Displaced Family Stays Together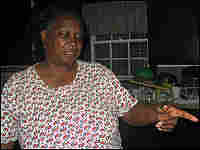 Before Hurricane Katrina hit in August 2005, Mary and Morris Martin and their grandchildren lived in a five-bedroom house on Flood Street in New Orleans.
Today, the Martins and 14 of their 42 grandchildren are crammed into a tiny three-bedroom house in Jackson, Miss. With no jobs and an income of a little more than $1,500 a month, the pair has managed to keep the family together despite overwhelming odds.
"We have battled a war trying to keep these kids together and to keep them from going to foster care," says Mary Martin, 56. "As long as we've got strength, I think we can make it."
Two of the Martins' daughters have substance abuse problems, which left the couple to raise their burgeoning family alone. Since 2003, they've raised 10 of their grandchildren – who range in age from three to 18 – and they've taken in four more since then.
Daily life under the roof of the yellow-frame house can be challenging. With only one bathroom for 16 people, getting ready in the morning can mean long traffic jams. At breakfast, Mary Martin is like an orchestra conductor grilling sausage, preparing grits and steering her sleepy brood to two kitchen tables.
Though there are few children in their new neighborhood, the Martin children look out for each other and manage to make their grandparents proud with stacks of school achievement certificates. One grandson, 18-year-old Kenneth, just graduated from high school, and is already taking classes at Mississippi State.
Despite their struggles, Mary Martin says she hopes her grandchildren will always remember the support that makes it possible for the family to survive.
"If something does happen to me and my husband, the kids can look back and say we had somebody that taught us well," she says. "And that's all I look for when the kids get older. Don't forget who showed you the right road to walk."