Director's Cuts: Holiday Picks 2001
Director's Cuts: Holiday Picks 2001
Weekend Edition Sunday's music director Ned Wharton offers his suggestions for holiday gift CDs.
E.S.T.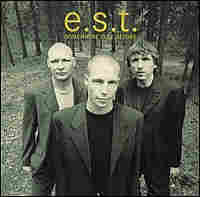 The Esbjorn Svensson Trio, or E.S.T. hails from Sweden, and though they may not be a household name on these shores, in Sweden their gorgeous jazz cds compete with Madonna and Radiohead on the pop charts. Somewhere Else Before is available in this country on Columbia Records, and the trio's website is www.esbjornsvenssontrio.com.
Brian Eno and J. Peter Schwalm
Ambient expert Brian Eno teams up with German DJ and percussionist J. Peter Schwalm to create the mind-boggling soundscape of Drawn from Life on Astralwerks Records.
Jay Farrar
Alt-country singer/songwriter Jay Farrar takes a break from Son Volt to offer his powerful solo debut, Sebastopol on Fellow Guard/Artemis Records. His website is www.jayfarrar.net.
Catie Curtis
Boston singer/songwrite Catie Curtis' terrific alt-folk cd on Rykodisc is called My Shirt Looks Good on You. Catie's website is www.catiecurtis.com.
A Mutated Christmas
Layng Martine III, a.k.a. Corporal Blossom, a.k.a. 1/2 of the group Slang curates a weird collection of fractured holiday classics on A Mutated Christmas. VERY stange and wonderful stuff. The cd is on the Illegal Art label.
Sonos Handbell Ensemble
Flutist Timothy Day plays with the Sonos Handbell Ensemble in A Very Classical Christmas on the Well-Tempered Productions label. There are selections from Tchaikovsky's Nutcracker, Handel's Messiah, as well as music by Bach, Vivaldi, and Mozart. The group's website is www.sonos.org.
Related NPR Stories