Obama Briefs Lawmakers On Afghan Strategy Review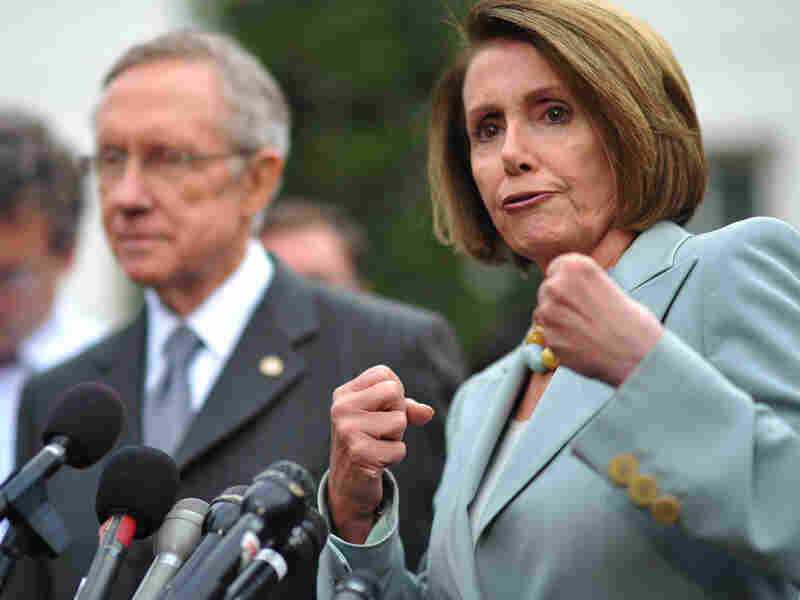 Mandel Ngan/AFP/Getty Images
Congressional leaders said they would support the president's decisions on strategy in Afghanistan. But after a White House meeting with President Obama on Tuesday, it was clear that there are many different views on what that strategy should be.
Obama's meeting with key Democratic and Republican lawmakers came as the president considers a request for as many as 40,000 more troops from Gen. Stanley McChrystal, his top commander in Afghanistan.
Obama told the gathering that he would conduct a rigorous review before making his decision, an administration official told reporters.
Senate Majority Leader Harry Reid (D-NV) said that the president received promises of support from both Republicans and Democrats.
But Minority Leader Mitch McConnell (R-KY) was more restrained. "I think Republicans will be able to make the decisions for themselves," he said.
Some minds were already made up. Sen. John McCain (R-AZ), who advocates an Iraq-style troop "surge," said he believes the opinions of key U.S. military commanders should be given extra weight. McCain said he was convinced that McChrystal was right in calling for more troops.
House Speaker Nancy Pelosi told reporters after the meeting that the president made it clear that his decision on Afghan strategy would be made deliberately after considering some key questions.
Among those questions, Pelosi said, would be whether the U.S. would have "an able partner" in the government of Afghan President Hamid Karzai. Votes are still being recounted in an August presidential election in Afghanistan that was widely considered to be rife with fraud.
Rep. Eric Cantor (R-VA), the House minority whip, said Republicans would support the president's decision on Afghanistan, but he quickly made it clear that the support would depend on Obama's willingness to heed McChrystal's request for more troops.
Cantor said Republicans "came here in support of the president relying on his commanders." He added: "Many of us feel that delay signals uncertainty."
Speaking Tuesday morning on NBC's Today show, McCain said the need for more troops was made "dramatically clear" by the deaths of eight American soldiers over the weekend.
"I know what a winning strategy is," McCain said. "It worked in Iraq. The situation is deteriorating. We can turn it around in a year to 18 months." McCain, Obama's rival for the presidency in the 2008 campaign, said he has great confidence in McChrystal.
The general has said that the eight-year U.S. effort in Afghanistan "will likely result in failure" unless he has more troops.
During a speech in London last week, McChrystal advocated a counterinsurgency strategy in Afghanistan, using additional U.S. and NATO troops to capture territory now held by the Taliban, and hold it until the Afghan government and its security forces are strong enough to hold it by themselves.
The U.S. currently has about 68,000 troops in Afghanistan.
McCain's insistence on more troops puts him at odds with Vice President Biden, who has argued that the U.S. should reduce the number of troops there and focus on a counterterrorism strategy aimed at hunting down al-Qaida operatives.
Biden has pointed to U.S. successes with airstrikes against al-Qaida leadership along the Afghan-Pakistani border. The New York Times quoted administration sources recently as saying that such strikes had killed more than half of the terrorist network's key figures over the past year, severely hampering its operations.
John Kerry (D-MA), the chairman of the Senate Foreign Relations Committee, has praised McChrystal for providing the president with what he called "a tightly reasoned blueprint" for achieving success in Afghanistan.
But Kerry has also argued that the U.S. must consider whether the current Afghan government is more of a help or a hindrance to a counterinsurgency strategy. In a recent commentary in The Wall Street Journal, Kerry cited the "deeply flawed presidential election" in Afghanistan, saying it raises questions about the credibility of Karzai's government in the eyes of the Afghan people.
Tuesday's meeting also includes Carl Levin, the Michigan Democrat who chairs the Senate Armed Services Committee. Levin has opposed adding more U.S. troops, calling instead for training and deploying more Afghan troops. Afghan security forces now number about 92,000.
Over the weekend, Obama's national security adviser, retired Gen. James Jones, sought to broaden the discussion beyond mere numbers of troops. He told CBS's Face the Nation that troop numbers were just one element of the U.S. strategy in Afghanistan.
Jones said other key issues would be the integrity of the recent Afghan presidential elections and the role of Pakistan in denying sanctuary to the Taliban on its side of the border.
Jones said he expected that the administration's review of Afghan strategy would be completed in a matter of weeks.