High School Football Refs: Ghosts Of The Gridiron
High School Football Refs: Ghosts Of The Gridiron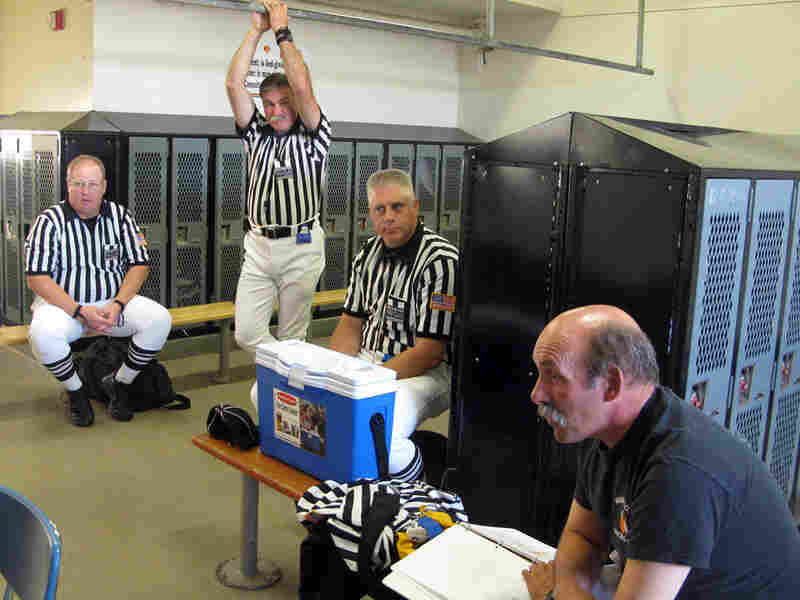 Football is often called controlled mayhem, and we have the officials to thank for the controlled part. Not that they're looking for thanks — any self-respecting referee, line judge or umpire would prefer to be relatively invisible during play.
Yet if you take a close look, you'll find more than black and white stripes and whistles.
Pre-Game
It's a Friday football night in Battle Ground, Wash. The Tigers of Battle Ground High are hosting the Heritage High School T-Wolves and as the opening kickoff approaches, the stadium fills.
In a locker room not far from the field, five men are slipping into white knee-length pants and black and white striped shirts. They go through a seemingly mundane, albeit important pre-game checklist: Who does what when they measure for a first down? Where will they stand on a field goal attempt? And how will they handle an ejection for unsportsmanlike behavior?
"If we have an ejection, take your time," says referee Rick Gilbert. He's the man in charge of the five-man officiating crew. "It's a big deal when somebody's ejected, OK? Be sure you've got it right."
Their day jobs include driving instructor and airline gate attendant, but on many fall evenings, they are linesmen and back judges and umpires.
They work varsity high school games for about $55 plus mileage — and, says Gilbert, for love of the game.
Your Photos: Rituals for Fans and Teams
"I played high school football like a lot of young men do," he says, adding, "and I just couldn't get away from the Friday-night activity of wanting to go to a football game. So about 20 years ago, I started doing games, working my way up."
Gilbert is the man in charge. As president of the Evergreen Football Officials Association, he oversees more than 100 officials in southwest Washington state. Still, Gilbert says he gets nervous before every game he works.
The Game Plan
After the coin toss and the opening kickoff, the boys from Battle Ground and Heritage begin to slug it out. The five-man officiating team establishes its game plan: positioning themselves in the right spots and working together at the same tempo.
After scoring plays, the officials get back into their positions by running straight toward the sideline, then turning 90 degrees up the sideline. They never go diagonally across the field, because, says Gilbert, it would call too much attention.
Tell Us Your Stories
All through the 2009 season, NPR will bring you some of the stories, characters, struggles and victories of high school football. We'd like your help identifying those stories.
What goes on in your city or town? Is there an extraordinary person or team we should talk to? A ritual we should know about?
Click here for instructions — we want to hear from you.
"The best game is one where the officials are totally incognito," he says. "You don't even know they're there."
But the junior member of his crew, umpire David Gile, is making his presence known — at least to his colleagues. He's rushing the tempo — for instance, putting the ball down too quickly to start the next play.
At halftime, Gilbert talks to Gile, who assures the other officials before the second-half kickoff that he got the message.
"I promise to slow down," Gile says as the others laugh.
"If not," says line judge John Pellerin, "the first round's on you!"
Controllers Of Mayhem
Pellerin is a chatty fellow. His position during the second half on the sideline, right in front of the Battle Ground team, gives him the opportunity to jaw with the coaches — especially after one play when they don't like where he placed the football on the field.
"That's a bad spot!" the coaches yell.
"I think it's very good. I think it is very good," Pellerin yells back.
Other times, Pellerin becomes a safety monitor. To a wide receiver on the Heritage side, he barks, "No. 23, button up the chin strap!"
He's also peacemaker, running up to two players starting to fight after the whistle.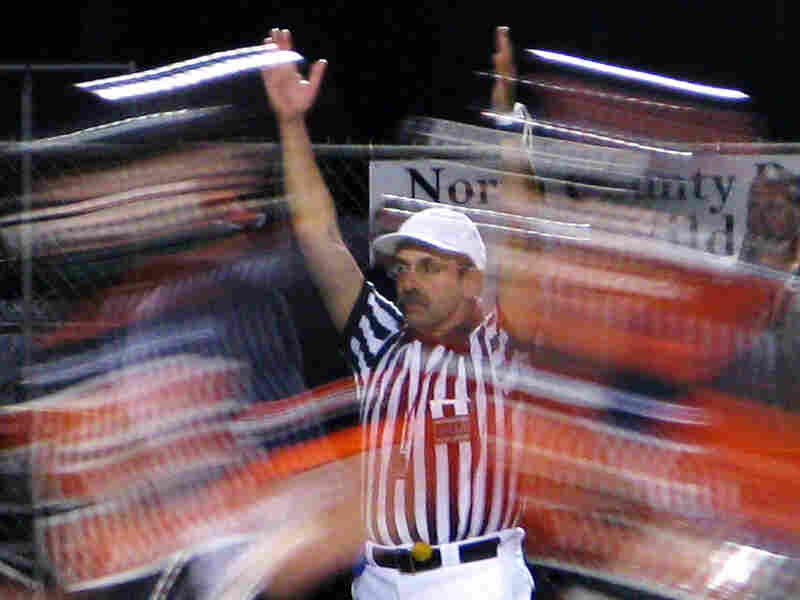 "Hey, hey, hey!" he shouts as he approaches them. "That's it! That's it!"
To be the controllers of mayhem, high school football officials must be certain in their actions. Yet this game, won by Heritage 43 to 37, ends with uncertainty.
On the last play of the game, the Heritage quarterback throws the ball out of bounds on purpose. It's intentional grounding. The players shake hands and head for their locker rooms.
Meanwhile, the crew huddles on the field, wondering if Heritage should be penalized, thus giving Battle Ground an extra play.
A Clunky Ending
They ultimately decide nope, game over, and they run off the field toward their locker room.
Once inside though, Gilbert and linesman Rick Langeland still appear troubled by the uncertain ending. They leaf through their rulebooks, until Langeland finds what they're looking for.
"OK, the period shall not be extended for an untimed down if the foul specifies a loss of down," he reads. Gilbert is relieved. "There you go," he says. "That takes precedent."
As they pack up their striped jerseys, yellow penalty flags and officials' baseball caps, there's a sense of relief in the locker room. It was an active game with lots of strange plays, yet no one complained about the officiating. There were no incidents, no fan abuse of officials — despite the clunky ending.
"It may look terrible out there — everybody trying to figure out what you're deciding," Gilbert says. "But you have to get it right. We took some time tonight on some of our stuff that probably didn't flow real quick. But we got it right. And that's the key to the whole thing."
Tell Us Your Stories
Does a member of your family play? What goes on in your city or town? Is there an extraordinary person — or team — we should know about or talk to? Is there an aspect of high school football you'd really like to learn or hear about? Are there aspects of the game that worry you? Use the comments section below to share your stories. Or send us dispatches through Twitter.
We also want to document the people behind the game and the rituals that surround it across the country. What food serves as a game appetizer? What's the special song the players listen to before heading out to the field? Upload your pictures to Flickr or upload videos on YouTube. We'll look through them and post the best on our site.
Share Using Twitter:
Tag your tweets #nprfootball.
Share Using YouTube:
Tag your videos with the keyword nprfootball.
Share Using Flickr:
Step 1: If you're not a member yet, join Flickr. It doesn't cost anything to join, though if you want to use it to share a lot of photos — i.e., hundreds or thousands — you may want to purchase a Pro account.
Step 2: Upload pics you'd like to share with the Friday Night Lives group. (If you're having trouble uploading, consult Flickr's help guide.)
Step 3. Go to the Friday Night Lives group and click "join this group." Confirm your membership.
Step 4: Find a photo from your collection that you'd like to add to the group. Between the title of the photo and the photo itself, you'll see a series of tabs. Click "Send to Group," then select "Friday Night Lives."
And that's it; you're done. Your photo will now be included in the group collection.