Fort Carson Quietly Mourns War Deaths
Fort Carson Quietly Mourns War Deaths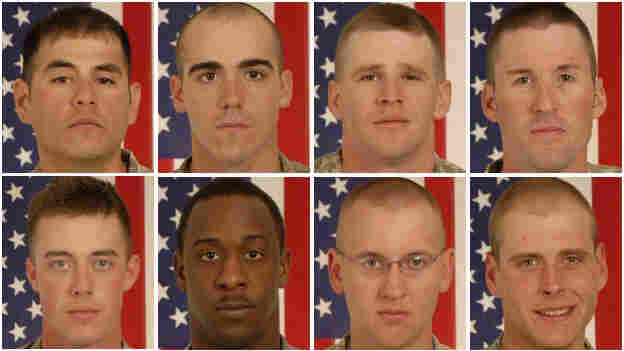 As the White House considers the country's future role in Afghanistan, U.S. soldiers continue to fight and die there.
Eight soldiers, all from a single unit stationed at Fort Carson, died on Oct. 3 when their outpost in Afghanistan was attacked. The men ranged from 21 to 30 years old. The attack came just a few days shy of the eighth anniversary of the start of Operation Enduring Freedom in Afghanistan.
Outside Fort Carson's main entrance near Colorado Springs, there are no flowers, candles or any other sign that this base recently suffered the largest number of deaths in a single battle since the Vietnam War.
But on Thursday, there was one guy holding a neon green sign that read simply, "Thank you." Fred Haddock of Pueblo, Colo., says he's stood outside Fort Carson a couple of days each year since the Sept. 11 terrorist attacks in 2001.
"Maybe sometime, somewhere, some guy in some hell-hole — and all hell's breaking loose — will remember that there's one son-of-a-bitch out here that still appreciates why he's there," says Haddock.
Military wife Heather Gravens says her husband will be deployed to Afghanistan in about a month. She says when it comes to combat deaths military families don't have the luxury of getting emotional over each individual passing anymore.
"We feel sorry for the people who lost their lives and especially their family — for the grieving that they have to do," says Gravens. "But in the same breath, it's not over. So we have to keep going."
At a Fort Carson press conference on Wednesday, military leaders said service members in the affected unit were keeping their spirits up, because they knew their dead colleagues helped to win that particular battle.
"There were a lot of heroes on that day," said Maj. Daniel Chandler, commander for the 4th Infantry Brigade Combat Team Rear Detachment. "They're really rallying around themselves and morale in the 4th Brigade Combat Team is high and it's getting stronger."
The wars in Afghanistan and Iraq have claimed 279 Fort Carson soldiers. Currently about 3,500 military personnel from the base are deployed in Afghanistan.
As the number of dead and injured soldiers has risen, the atmosphere in nearby Colorado Springs has changed. Gone are many of the Support the Troops banners in local store fronts. There are fewer flags and not as many yellow ribbons. In their place a form of stoicism has set in.
College student Tasha Bryant says she's a military brat. Her dad was in the Army. When news of the eight deaths came, she chose to focus on the sacrifice the soldiers made.
"I'm more thankful than anything," says Bryant. "[Rather] than sit and grieve, I want to focus more on the fact that I'm thankful that somebody, at least, went over there."
Local residents also want to know that soldiers volunteering for the military are doing it for a good reason, according to Father Bill Carmody. He's pastor at nearby St. Dominic Catholic Church, where he says 85 percent of the parishioners are active or retired military. But Carmody says he's not heard much talk about the soldiers who died.
"Most people around here want to make sure they didn't die in vain," says Carmody, "and what I mean by that is, are we going to win this war on terrorism or not?"
This is one big reason residents of this military town will watch closely as President Obama decides the country's future role in Afghanistan.