Inner-City School Founder: No Miracle, Just Teaching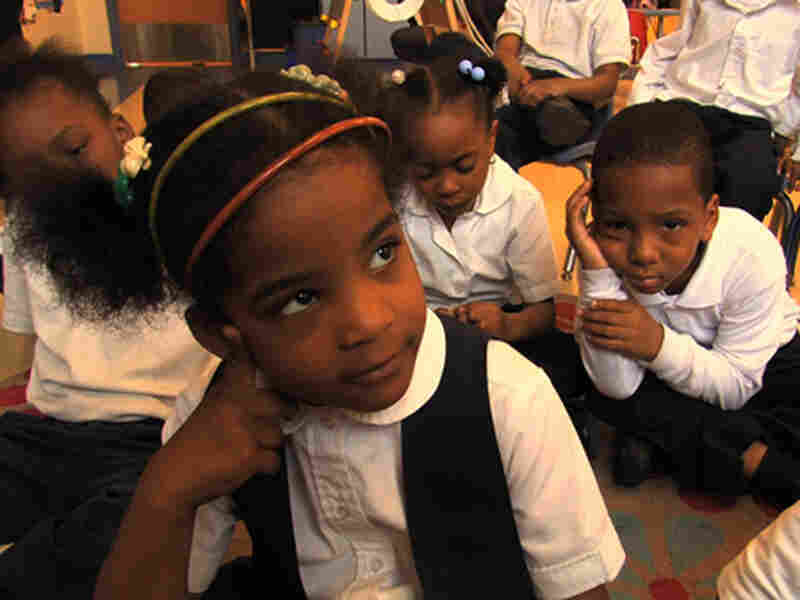 The Providence Effect, 2009
Providence St. Mel has been a kind of academic lifeboat on the west side of Chicago for 30 years.
It was once a Catholic school serving youngsters from inner-city families. When the archdiocese of Chicago decided it could no longer keep the school open, the school's principal, Paul J. Adams, started a campaign the press called "the school that wouldn't die." The campaign was successful: He raised enough money to keep St. Mel's running as a low-cost private school.
Today, the school is an inspiration. For the last 30 years, 100 percent of its graduates have been accepted to four-year colleges and universities. One recent graduate has enrolled at MIT. President Reagan raved about the school in the 1980s, and Oprah Winfrey recently gave the school a $1 million grant.
More From The Interview
Adams On 'Parent Contracts'
Now the school is the subject of a documentary film, The Providence Effect.
Creating 'Inspired Lives'
There's no magic formula to explain why the school is doing so well, Adams tells Scott Simon.
"I think we have very intelligent people teaching [the children]," he says. "We have people that understand our mission. Our mission is to send our children to college. We think those critical analytical skills need to be developed early."
But Adams says a key component of St. Mel's mission — "we believe in the creation of inspired lives" — takes plenty of work.
Web Resources
"You have to earn the right to dream," he says. "You have to pay your dues. That is something that sticks with our youngsters as they go off to college and are now adults. They talk about that mission statement. In times of need and when times are difficult, they can always go back to that mission statement."
Work Not Done
Adams says there's a positive energy at the school.
"We celebrate learning," he says. "We celebrate success. We have honors assemblies that resemble pep rallies, where children are applauding that you're on the honor roll."
Some criticize Adam's methods, such as paying students who make the honor roll. To those critics, he has a simple response: "Show me your record."
"My students are ending up going to some of the best colleges in the United States," he says.
Extended school weeks make a difference, he says.
"I think one of the misnomers is that we have some kind of miracle going on. We spend more time teaching," Adams says. "We're in school six days a week. If I could figure out a way to raise enough money, I'd have it seven days a week. Students are in the building from 7 a.m., sometimes even earlier, to 5 and 6 and 7 o'clock at night."
In January, Adams celebrates 38 years at Providence St. Mel. But he doesn't see retirement in his future as long as there are children around the country who are not getting an education.
"I think that's on my watch, so to speak," he says. "I can't go around parading around about how successful I have been if in fact we have children who are not being educated every day."