Director's Cuts: Minimalism
Director's Cuts: Minimalism
Weekend Edition Sunday music director Ned Wharton offers up three new CDs of a "minimalist" tone.
Wayne Horvitz
Composer/keyboardist Wayne Horvitz has devoted a lot of energy to his electrified group, Zony Mash, but From a Window with his 4 + 1 Ensemble on Avant Records is more acoustic and rarified.
"Crispin and Lisa's Duet"
"People Just Float"
"From a Window"
Bill Ware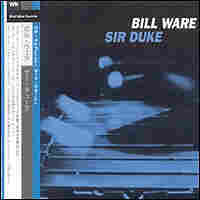 This groovy vibraphonist can wail with big jazz groups (including his own, Groove Collective), but he can also play crisply in a pared-down setting. Sir Duke is a collection of Ellingon duets with guitarist Marc Ribot on Knitting Factory Records.
"Mood Indigo"
"In Don't Mean a Thing"
"Take the 'A' Train"
Steve Reich
A fine collection of works by minimalist composer Steve Reich is now available on Nonesuch. Called Triple Quartet, the title work is a world premier recording by Kronos, and the CD also includes an electric guitar version of the 1967 "Violin Phase," as well as new renditions of "Music for Large Ensemble" and "Vermont Counterpoint."
"Triple Quartet - First Movement" (performed by Kronos Quartet)
"Triple Quartet - Second Movement" (performed by Kronos Quartet)
"Tokyo/Vermont Counterpoint" (performed by Mika Yoshida, MIDI Marimba)