Wary Afghans Watch As U.S. Mulls Over More Troops
The White House says it may be weeks before President Obama decides on a new strategy for Afghanistan and whether to send tens of thousands more troops.
The issue has divided Congress and American public opinion in the weeks since the Obama administration began weighing the troop request of Gen. Stanley McChrystal, the top American commander in Afghanistan.
The issue — whether to increase troop strength beyond the current 68,000 Americans currently serving in Afghanistan — is naturally also on the minds of Afghans.
"American troops in Afghanistan, it does make sense — but I don't think it can just solve the problem in Afghanistan," says Mohammed Imak, a midlevel government worker in the northern city of Kunduz.
He says it is good for the Obama administration to rethink what it is doing in Afghanistan. But he is not confident that U.S. officials will make the right decisions.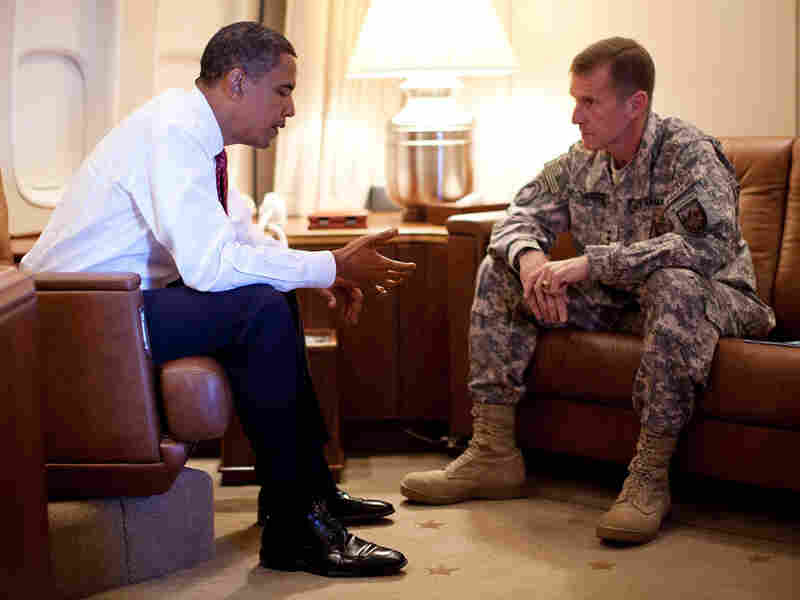 Pete Souza/The White House/Getty Images
Imak says there have been a lot of mistakes made since American troops first invaded Afghanistan in late 2001. The U.S. should get a better sense of Afghanistan and its people before it comes up with new plans to bring security, or help rebuild the country, he says.
"They have to just have an exact perception of Afghan culture, Afghan people, Afghan ideas ... it's really difficult to just bring in 40,000 troops, and implementing more projects here, it's nonsense actually," he says.
Like other Afghans NPR spoke with for this story, Imak fears the U.S. will continue relying on the same Afghans who have given advice for the past few years — telling the U.S., he says, only what it wants to hear.
Poya Rashid, who helps run a family bookstore and is a fourth-year student at Kabul University, says he and his friends worry that the U.S. is dictating policies without consulting a wide variety of Afghans.
"I think before sending troops they should listen to what people want. We need other things; people don't have work. Just sending troops can't solve people problems," Rashid says.
Mahmoud Attay, who sells shoes from a small shop in a busy downtown mall, says it is better to have U.S. troops in Afghanistan than not. Attay says he wouldn't mind if Obama decides to send more. But Attay knows that comes with some risks.
"More troops create more problems. If the American soldiers patrol, there will be more suicide attacks. If the soldiers come, it's better they stay outside the cities, outside the crowded areas, because too many civilians will be killed," he says.
Attay says there is another option. He says he believes the U.S. knows where the militants are and could just target those locations, without having to bring in a lot of extra ground troops.
Attay says if he had an opportunity to speak to Obama, he knows exactly what he would say.
"I would tell him to solve the problem in a political way. And also I know the president and his people are studying the situation in Afghanistan," Attay says. "But I would tell them don't waste too much time. ... as soon as possible, solve the problem of Afghanistan."