Former Texas Governor Rethinks Death Penalty
Former Texas Gov. Mark White, a Democrat who strongly supported the death penalty when he was governor from 1983-87, is now saying he has doubts about capital punishment. White says the system is not as foolproof as it should be in order to carry out an irreversible punishment.
MELISSA BLOCK, host:
A former Texas governor is making news by raising doubts about the death penalty. Democrat Mark White was governor from 1983 to '87, then a strong death penalty supporter who oversaw 19 executions. Now he's rethinking capital punishment and he joins us from Houston to explain why. Governor White, welcome to the program.
Governor MARK WHITE (Former Governor, Texas): Thank you. It's good to be with you.
BLOCK: I'm going to play for you part of a campaign ad from back in 1990 when you ran again. You lost in the Democratic primary, and the ad shows you walking along the portraits of people who were executed while you were governor. Let's take a listen.
(Soundbite of campaign ad)
Gov. WHITE: These hardened criminals will never again murder, rape or deal drugs. As governor I made sure they received the ultimate punishment: death. And Texas is a safer place for it.
BLOCK: Governor White, as you listen to that ad now, what do you think, were those executions constitutional?
Gov. WHITE: They were clearly constitutional at that time and even today. The distinction that I make today is that we've seen the change in technology and science over the years in the DNA testing, which can be done today - makes certain crimes more certain or also confirms the innocence of those wrongfully accused. I think we've seen that many people have been released from prison because they were found to be literally innocent of the crime. This was something that I think we need to be very cautious about when we carry out executions today and that's the reason I've been speaking about the prospect of our legislature reviewing the status of our death penalty statute.
BLOCK: Do you believe that innocent people have been executed in the state of Texas?
Gov. WHITE: I don't - I can't say for certain either way. I would hope not, and that's one of the worst things that could possibly happen is you see how terrible it is for someone to be confined for years in prison later to be determined to be innocent because of DNA testing. How much more horrible it would be if we were to have executed someone who was, in fact, innocent?
BLOCK: As a strong supporter of the death penalty before, I'm assuming you thought it had some sort of deterrent effect on crime. Do you still think that now?
Gov. WHITE: No, I never did think it was a great deterrent, and I still think it's not. Obviously, with 400 people on death row, there's at least 400 people up there that didn't deter. What I felt at the time was, and still do in this sense, that it is an appropriate punishment for the most heinous crimes. And it's been narrowed down as to what those heinous crimes are. What I see in retrospect is that our system is not as foolproof as I think it should be in order to carry out a punishment that's irreversible.
BLOCK: Do you think, Governor White, that it would be palatable to you to substitute a sentence of life in prison with no possibility of parole for the death penalty?
Gov. WHITE: Well, I'm - let me say, I'm a private citizen and I certainly would accept that is a way, and to make certain we didn't have unfortunate execution of an innocent person.
BLOCK: That would be acceptable, you think?
Gov. WHITE: Yes. And I'll assure you that that is a very harsh punishment. If you could imagine being locked up in a room of about maybe 96 square feet for 23 hours of a day, every day for as many years as you might live, it would be a very, very tough existence.
BLOCK: When you think about the prisoners who were executed during your time as governor, do you have second thoughts about those? Do those cases come back to you?
Gov. WHITE: Every one of them. I can recall the details in which we went through all of the records to make certain everything was done appropriately and then substantively appropriate as well. I don't have any reservation about it, I just - that was a job that I undertook. It was something that was most distasteful. But that's what the law was in Texas. And I think that we seem - a need to strengthen procedures to make sure that we don't have any such thing as execution of an innocent person.
BLOCK: Governor White, thank you very much for talking with us.
Gov. WHITE: Thank you.
BLOCK: That's former Governor Mark White, a Democrat. He was governor of Texas from 1983 to '87.
NPR transcripts are created on a rush deadline by Verb8tm, Inc., an NPR contractor, and produced using a proprietary transcription process developed with NPR. This text may not be in its final form and may be updated or revised in the future. Accuracy and availability may vary. The authoritative record of NPR's programming is the audio record.
2004 Execution Haunts Texas Governor's Race
2004 Execution Haunts Texas Governor's Race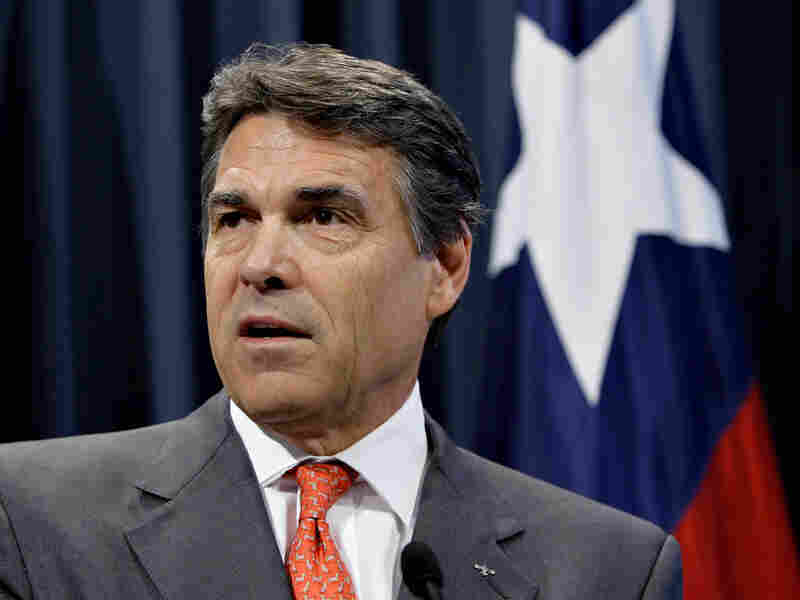 Did Texas execute an innocent man?
That question, and the controversy surrounding it, continues to dog Gov. Rick Perry. Critics say the governor has tried to squelch an investigation into the case. Now the issue has moved to the forefront of Perry's effort to win re-election.
At the heart of the controversy is Cameron Todd Willingham, who was executed by lethal injection in 2004 after being convicted of setting a house fire in Corsicana that killed his three children.
The Texas Forensic Science Commission hired a nationally recognized arson expert to examine the fire science used to convict Willingham. In a report made public in August, that expert, Craig Beyler, asserted the initial arson investigation was deeply flawed, adding his voice to those of other fire investigators who now doubt whether arson caused the fatal blaze.
Just as the commission was set to hear from Beyler in late September, Perry abruptly removed three of its members, including the chairman. The chairman, Sam Bassett, later said he felt pressure from the governor's office because it was unhappy over how the Willingham probe was proceeding.
More On The Texas Death Penalty
Former Texas Gov. Mark White, a Democrat who strongly supported the death penalty when he was governor from 1983-87, tells NPR's Melissa Block he has doubts about capital punishment.
Interviews
Former Texas Governor Rethinks Death Penalty
Governor Defends His Actions
As the uproar swelled, the governor went on the offensive. He called Willingham "a monster" and said numerous state and federal courts had upheld his conviction for more than a decade. Perry dismissed contrary views as those of "latter-day supposed experts."
As for the shakeup on the Forensic Science Commission, Perry said, "What's happening is we're following pretty normal protocol in the state. Those individuals' terms were up, so we replaced them -- nothing out of the ordinary there."
But the state's leading newspapers aren't buying his explanation. Their editorial pages have roundly condemned the governor's actions as arrogant. They also have criticized his refusal to release an advisory memo from his general counsel regarding clemency for Willingham on the eve of his execution. The governor says the state attorney general has ruled that the memo is protected by attorney-client privilege.
Leading Republican Opponent Criticizes Perry
Capital punishment is sacrosanct in Texas, which executes more inmates than any other state. No serious candidate from either party runs against it.
So it was with some delicacy that Perry's opponent for the Republican nomination for governor, U.S. Sen. Kay Bailey Hutchison, took on the Willingham case.
"I just think the governor made a mistake in trying to ramrod a covering up of what might be more evidence for the future," Hutchison told a Dallas-Fort Worth radio station.
Perry's office pounced on Hutchison, knowing the popularity of capital punishment in Texas -- upwards of 70 percent of the population support it.
"If the senator is suggesting she opposes the death penalty for an individual who murdered his three daughters, then she should just say so," said the governor's spokeswoman, Allison Castle.
However, the senator had started her statement by saying she's "a steadfast supporter of the death penalty."
"The point that Hutchison is trying to make about Rick Perry is that he's hurt the death penalty, weakened it, by making it look to people outside Texas -- and a lot of people in Texas -- that he's playing fast and loose with the death penalty," said Dave McNeely, a longtime political journalist in Austin.
Perry, who gained his seat after George W. Bush left the Texas governor's mansion for the White House in 2001, is the longest-serving governor in Texas history. He's seeking an unprecedented third term.
Perry's new chairman of the Forensic Science Commission, John Bradley, is a hard-nosed district attorney and a conservative ally of the governor. He says he needs time to study the Willingham arson report and has not set a new date for the commission to consider it.