Give Her an Instrument, She'll Learn How to Play It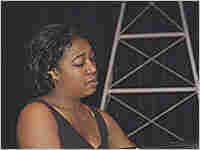 Pianist Michelle Cann, 18, was born into a very musical family. Her father conducts a school band, chorus and steel drum ensemble, and her older sister is a concert pianist.
"From the age of seven, when I started piano, my parents pushed me to do all I could with music," she says. Sometimes, when her father's various musical groups needed more members, he recruited Michelle to join. That often meant learning a new instrument.
"During the 18 years of my life, I've played trombone, violin, steel drums, bells, guitar, tuba and organ, in addition to piano," Michelle says.
Although Michelle grew up immersed in a musical environment, she didn't actually start loving music until she was around 12.
"I think at that point it just clicked and I realized that music could be fun and that practicing had its benefits," she says. "I started to realize that the notes weren't the only important things," she explains. "What really transformed the music on a page to actual music was the performer's personal touch. I wanted my ideas and my feelings to come through."
Michelle plays the fourth movement from the Piano Sonata No. 1 by Alberto Ginastera.