99 Seconds of a One-Woman Choir
Thursday's Pick
Song: "Tiny Flower"
Artist: Rose Kemp
CD: A Handful of Hurricanes
Genre: Folk-Rock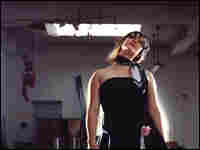 The muted beat that opens Rose Kemp's "Tiny Flower" is nothing but modern: It sounds like feet crunching in snow, but had it been mixed higher, it might have sounded like something unleashed by hip-hop producer Timbaland. Then, in swoops the voice: a young woman who sounds young and British as she imparts the pure, heartsick ache of a pub-friendly folksinger.
In a development that's bound to make fans of Fairport Convention feel even older than they are, the children of some of the greatest British folk-rockers are now grown-up enough to make records of their own. Eliza Carthy, the daughter of renowned folk guitarist Martin Carthy and his singing wife Norma Waterson, has made a handful of shimmering traditional and pop-folk records; one of the best albums of 2006 was Separate Ways by Teddy Thompson, the offspring of Richard and Linda.
In their own ways, each is trying to stay true to his or her roots while rebooting folk music for the era of ringtones. Few tracks accomplish that delicate balance quite like "Tiny Flower," from Kemp's first U.S. release. If the name sounds vaguely familiar to Anglophiles, think back to Fairport contemporary Steeleye Span: Kemp is the 22-year-old daughter of two of that band's stalwart members, Maddy Prior and Rick Kemp.
"Tiny Flower" functions as a marvel of concision and opposites-attract power. Over that relentless thump, Kemp starts singing, then overdubs her soaring alto over and over to become a one-woman Greek (well, British) choir. The five-line lyrics are brief and as proactive as an Oprah episode ("Though your back is breaking / you're a triumph over adversity"). By the end of this 99-second song, Kemp indeed sounds like she's overcome whatever psychological obstacle she was facing, with just her multiple voices and that beat.
Listen to yesterday's 'Song of the Day.'