Coyote Advocates Demand End to Aerial Gunning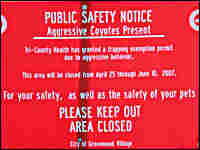 Environmental groups want the government to stop shooting coyotes from airplanes and have filed a petition with the U.S. Department of Agriculture's Wildlife Services program demanding an end to the practice.
A Deadly Plane Crash
The petition comes on the heels of a fatal plane crash involving two agency employees who were pursuing coyotes on June 1 in South Central Utah. The coyotes had been preying on a rancher's sheep.
The deaths of pilot Joseph Harris and gunner Glen Stevenson have drawn attention to the government's practice and prompted animal protection and environmental groups to question the merit of the government's aerial gunning program.
"Predator control is out of control when people are dying," says Wendy Keefover-Ring of Sinapu, a group dedicated to protecting carnivorous animals and their habitats. Sinapu is the Ute Indian word for wolves.
A Cruel Practice?
Keefover-Ring is also concerned about the targets of the government's aerial gunning program, which she calls cruel and, worse yet, ineffective.
"The federal government has been working to kill coyotes for the last 100 years using traps, poisons and guns, and the result has been they've actually expanded their range threefold," Keefover-Ring says.
But the government insists that the aim of its aerial gunning program is not to kill all coyotes.
"We're trying to resolve localized problems of wildlife predation or wildlife conflicts," Bill Clay, USDA deputy administrator for Wildlife Services, says.
In rural areas, most of those conflicts are between coyotes and sheep. The USDA says ranchers lost about $11 million worth of lambs and sheep to coyotes in 2005.
So after a brief pause to review safety procedures and inspect the agency's airplane fleet, pilots and gunners are back to hunting coyotes from the air.
Coyote Migration
The presence of wolves used to restrict the movements of coyotes, but wolves have since been hunted to near extinction and inhabit only a small portion of the territory they once roamed. Coyotes, who adapt easily to new surroundings, have thus been able to migrate from rural ranches to the suburbs in the past few years.
They can now be found in places like Middletown, NJ, and in April, the state reported its first coyote attack in recent memory.
"A 22-month-old was bitten in the backyard of his grandparents' home," says John Watson, Jr., deputy commissioner for the New Jersey Department of Environmental Protection. "And then about a month after that - in May - another child was bitten."
In Eastern Colorado, a woman sitting on her deck was bitten by a rabid coyote.
Coyotes have also been spotted in San Francisco's Golden Gate Park recently, and just outside of Denver, coyotes scared a boy waiting for the bus and menaced a family as they got into their car.
Authorities have documented only one fatal coyote attack—a California toddler in 1981. Attacks are more common now, though, as coyotes adjust to being around humans, often because people feed them.
Safety Concerns
Predator advocates argue that humans need to learn to live with coyotes, and according to University of Denver Environmental Law Professor Jay Tuchton, that means not feeding coyotes, keeping garbage locked up and bringing pet food indoors.
Tuchton is a resident of suburban Greenwood Village in Colorado. The city just received permission to trap and shoot a pack of coyotes, citing human health and safety concerns.
Greenwood Village Mayor Nancy Sharpe says the coyotes had started approaching people.
"When you've got threats to children, you can't ignore that. You have to do something," she says. "As a public servant and as an elected official, for us to do nothing is reprehensible."
But Tuchton, who said he was disappointed about the town's decision, argues that the only issue is pet safety. He says residents need to keep their pets indoors at night.
"The city got the permit saying it was human health and safety, but it's poodle health and safety," Tuchton says. "Human health and safety was never at risk and never in doubt."
Community leaders around the country, however, often reach the mayor's conclusion. Sharpe says dozens of coyotes are still living in her city, but she has no intention of ridding the town of all of them—just the ones that pose a threat.