India Lowers HIV Estimate; Part of Wider Trend
Deshakalyan Chowdhury/Getty Images
Priest Revives Clinic
Read about how one Catholic priest and the Indian Red Cross have created what some say is a model for AIDS care in the developing world.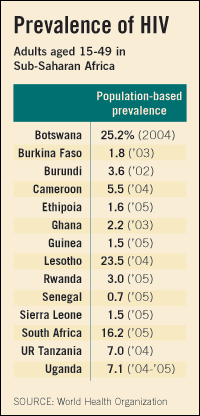 India has released new estimates of HIV infections in the country that equal about half of the 5 million figure produced by UNAIDS.
The new estimate is based on a survey of the total population that provides a more accurate measure of the extent of the problem than prior studies. Similar results in other countries have caused some to question the reliability of the figures from the United Nations Global AIDS program.
These new and more accurate figures are based on house-to-house surveys conducted in 30 countries so far. Most significantly reduce the estimated prevalence of the disease. In at least one country, Uganda, the rates were higher.
The surveys randomly select people to match characteristics of the population by age, income, education and where they live — in rural or urban areas.
The old estimates relied heavily on blood samples of select groups in the population — for example men who came to sexually transmitted disease clinics, sex workers in brothels, and pregnant women at clinics. That method of sampling missed the majority of the population, many of whom were uninfected.
"The population based survey gives a better estimate for men and for a greater geographic region," said Karen Stanecki, an advisor in UNAIDS epidemiology unit.
But it, too, is limited in some ways.
"It leaves out vulnerable populations that are not found in households," she said. "These are people that are likely to be involved in riskier behaviors, the sex workers and injection drug users and a large proportion of homeless people."
And, so, U.N. experts have been working closely with Indian officials to reach a consensus on the exact figure.
Last year, in Ethiopia, the estimated prevalence of HIV also dropped from about 2 million to less than 1 million. The U.N. data was based on blood tests of pregnant women at urban clinics.
Pav Govindasamy, who coordinated Ethiopia's demographic health survey, says there was a built in bias in the data because few women in the country use the clinics.
"The women at the urban antenatal clinics are mostly urban," Govindasamy said. "They are mostly educated and they are wealthy. And HIV prevalence among the wealthy and the urban and educated is higher than the rest of the population. So, when you obtain a prevalence rate based on this select group of women and then try to estimate for the whole population based on this group you are definitely going to get a higher prevalence rate."
The system of using blood samples from pregnant women and other specific sentinel sites was devised in the mid 1980s by Dr. James Chin, a professor of epidemiology who is now retired from the University of California Berkeley. He was working for the Global AIDS program and wanted to know whether the epidemic was increasing or decreasing, so he looked for HIV where he was guaranteed to find it. It was a way of tracking trends.
"That system — HIV sentinel surveillance — was not designed to make estimates of the total HIV infections in a population," Chin said.
At the time, however, the system did provide data from developing countries that was not available elsewhere. But Chin says it should have been understood a long time ago that it was not a true measure of HIV prevalence rates because it was not representative. He argues that the U.N. should have stopped using sentinel surveillance data soon after the population based surveys started coming in around 2001 and showed lower estimates.
"I think they should recognize that most, if not all, of their estimates are overestimated," he said.
Chin said political correctness kept UNAIDS from doing the right thing, a charge that officials at UNAIDS find somewhat bewildering.
Stanecki says the agency has been revising estimates downward. For example, they now automatically adjust the rural data taken from pregnant women at urban clinics in countries where household surveys have not been done. She says they also no longer assume that it is even a surrogate for urban populations. She also points out that the estimates from the house-to-house surveys in at least three countries — Mali, Niger and Benin — are similar to results that have been published by the United Nations.
The U.N. process of determining overall rate of HIV infection for a country is not a simple one and requires the cooperation of the people in the countries where the United Nations is working. It's a negotiation. UN agencies don't just walk in to a country and take surveys. They are invited in, and they train local epidemiologists in the appropriate way to conduct the surveys.
And the governments are not always happy when there are lower estimates. In the case of Ethiopia, where there was a disagreement over the final results form the demographic health survey, the United Nations reported an estimate that ranges from half a million to one and a half million.
Chris Murray of the Health Metrics and Evaluation Institute in Seattle says this is a good reason why measuring the size of health problems should be kept as far as possible from the people who are running health programs.
"There's a lot of money for global health and, so, if your problem HIV, TB, Malaria, is bigger, you are likely to get more money. And people know this," Murray said.
This can inject politics into the process.
He says many scientists don't necessarily see it as an academic exercise, though they have grumbled that the U.N. number for the global AIDS estimate is a bit too high. Taking into account the reality that new people are becoming infected, populations growing and rising mortality rates as well, Murray said, "The number of people infected with HIV/AIDS is probably lower than the U.N. estimate — but not by much."
At one point, the worldwide total for people with HIV/AIDS was estimated to be 42 million. That's now down to around 39 million. And when India released its HIV estimate today, the numbers dropped even further.