NGO Worker: 'Iraq Is Going to Fall Apart'
NGO Worker: 'Iraq Is Going to Fall Apart'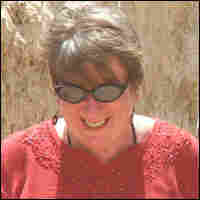 As part of a weeklong series of conversations with Americans who have recently returned from Iraq, Karen Diop talks about her work with America's Development Foundation, a non-governmental organization funded by the United States.
Diop spent two months in Baghdad closing down her organization's program due to a lack of funding. She returned to her home in Vermont on June 23.
"At some point, [Iraq] is going to fall apart," Diop says. "What we're trying to do ... is to get people to a point in Iraq where they're going to be able to cope with that point and help it move forward."
Diop's group held workshops and offered technical support to organizations in Iraq's civil society. She says that the Iraqis she encountered were incredibly dedicated people who needed support for "keeping the democratic space open."
The hardest part of her return, she says, is finding the words to describe Iraq to family and friends.
"I feel like I don't have an adequate response," Diop says. "I can tell them about the Iraq that I experienced, I can tell them about the Iraq I may have learned about. But I'm not in a position to really tell people about Iraq, and about what the magic key is to its future."