Remembering 'Kudzu' Cartoonist Doug Marlette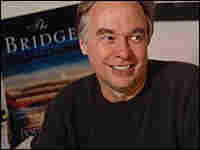 Editorial cartoonist and comic-strip creator Doug Marlette died July 10 in a Mississippi car accident. He was 57. For years he was the political cartoonist for the Charlotte Observer, based in the North Carolina city where Jim and Tammy Faye Bakker founded the PTL television ministry. His skewering of the Bakkers helped earn him a Pulitzer Prize. This interview first aired on June 8, 1987.
Marlette also created the syndicated comic strip Kudzu and wrote the novel The Bridge. When Terry Gross spoke to him in 1987, he had just written the book There's No Business Like Soul Business, featuring Kudzu's less-than-holy evangelist, the Reverend Will B. Dunn.