The White House, Sports And 'Jock-ocracy'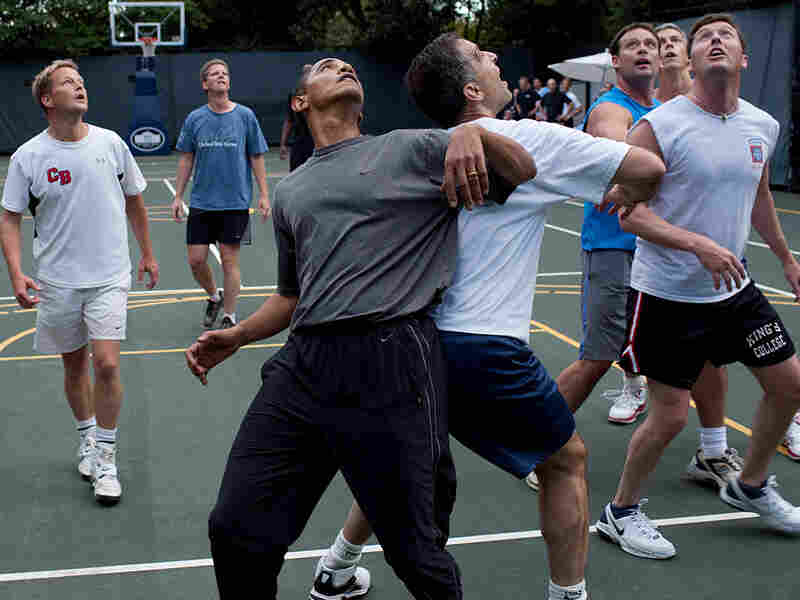 Pete Souza/The White House via Getty Images
I want to weigh in on "hoops-gate."
There's been a mini-flap over President Obama's pickup basketball games and golf outings. Until recently, they've been all-male affairs. Supposedly, this is a sign the White House doesn't quite get it when it comes to women, that it's still a boys club over there.
Yes, I grasp that the optics, as communications director Anita Dunn put it, are troubling to some — so troubling that domestic policy adviser Melody Barnes was pressed into service for a recent golf outing. She was breaking the greens ceiling, as it were. Or the divot dam, or whatever you want to call it.
Can I just tell you? Whatever is just how I feel about this.
Karen Hughes and Condoleezza Rice were, undeniably, two of President Bush's closest friends and advisers. Their views were as integral as anyone's to that administration, and they certainly had plenty of face time with the president — on the campaign trail and later at Camp David, and at the Crawford ranch. So they had as much opportunity to influence the Bush administration as anyone. And, thus, the Bush administration's record — whatever one's opinion of it — is theirs, too.
So to those who argue that just having women in close proximity inherently changes policy in one direction or another, I would give you Exhibits H and R. It's the policy and the ideology that matter.
I do recognize that informal get-togethers do feel like a big deal to people working in or with a tightly knit organization.
I'll make a confession. I was once asked to go jogging with the first President Bush, George H.W., when I was covering that White House for The Wall Street Journal. (I used to be a consistent runner on campaign and White House trips, and this was noticed.) But I begged off the invitation, saying I was too busy and hadn't brought my gear that day.
But that wasn't true.
The truth is my knees had started to deteriorate and I was, in fact, worried about not being able to keep up with the buff Secret Service agents — and, for that matter, letting down the sisterhood.
And after that, yes, I did wonder, every time I got passed over for a question at a press conference, if I would have been called on if I had hobbled through that run.
But now I think that this obsession with including women in Obama's every waking moment, including his sports outings, just perpetuates a different bias — the bias of a "jock-ocracy," where facility with sports somehow has some relevance to how well you do your job. Unless you're a personal trainer I don't see how it does.
It also perpetuates this notion that the key to women's success is just to do whatever men do as well or better; to play their games, as it were, instead of demanding respect and appreciation for whatever it is women do well.
Who says the most valuable people in this or any administration are the people who can sink a three or drive 250 from the tee?
Let me get back to those creaky knees. One reason I bet that more women Obama's age don't play basketball is that female basketball players are four times more likely to experience ACL injuries than their male counterparts (this according to a 1995 study in The American Journal of Sports Medicine). Nobody really knows why this is, but it would be helpful to find out, and if folks are going to get agitated about something I'd prefer it be that.
And as for the golf, let me tell you what most of the women who put in the kinds of hours [as] those women in the White House are doing on the weekends if they have kids, as many of them do: They are planning their kids' birthday parties, checking on college applications and running around to their kids' soccer and cheerleading competitions.
They do not have six hours to spend chasing a little white ball around a giant lawn so they can impress their boss.
Yes, some do. But again, this obsession with making sure women are included in Obama's off-hours golf games just advantages one particular kind of woman over another — a woman who has time to learn, practice and play this expensive and time-consuming sport. It does nothing to address the very real fact that women tend to be in their prime working years, just like men are, at the same time they are in their prime parenting or caregiving years. And the burdens of parenting and caregiving, in general — from the physical demands to the psychic ones — still fall disproportionately on women.
More important to me than who Obama plays games with is that he is exposed to and thinking hard about issues like that. The kinds of issues all different kinds of women and many men care about — both those who can sink a three and those who cannot and might not even want to.