U.S. Troops Target Insurgent Havens Near Baghdad
U.S. Troops Target Insurgent Havens Near Baghdad
NPR's John Burnett was recently embedded with the Sledgehammer Heavy Brigade Combat Team, part of the 3rd Infantry Division out of Ft. Benning, Ga.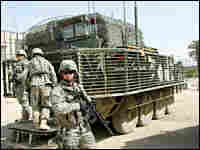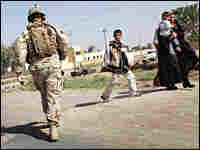 U.S. troops are in the midst of Operation Marne Torch, a summer offensive concentrated south of Baghdad aimed at stabilizing the capital.
Their strategy is to crack down on insurgent sanctuaries around Baghdad as a way to reduce bombings and other mayhem in the capital.
A lack of sustained U.S. troop presence has allowed insurgents and militias to find havens in the medium-sized cities and vegetable-growing villages in the Tigris delta. U.S. authorities suspect terrorists have been using these areas as bedroom communities, building bombs and then commuting to Baghdad to detonate them.
The region has become one of the newest battle fronts on the war map, and the Army has carved out a network of outposts close to insurgent strongholds. The idea is twofold: to aggressively engage the enemy and to live closer to the people whose trust is essential to winning the war.
The battle sector looks like classic guerrilla war. Americans have armor, artillery, air power and infantry. Insurgents counter with AK-47 fire, mortars, rockets, suicide car bombs and increasingly, lethal roadside bombs.
The White House and Pentagon frequently describe a monochromatic enemy in Iraq – al-Qaida. Critics call it an attempt to rally war-weary Americans against a known foe.
East of the Tigris, the picture is much more complex. Shiite militias are expelling Sunnis and bands of pro-Saddamist Sunnis are killing each other and Shiites — as al-Qaida militants fight to dominate everyone.
Changing Tactics
One of the lessons learned in the past four years is that sometimes-abusive behavior by U.S. troops — such as forced entry, wholesale detentions and pointing guns at everybody — embitters Iraqis and helps the insurgency's recruiting.
With this latest phase of the war, the military says its soldiers will no longer act like occupiers. Commanders say they can already see local Iraqis responding to America's gentler approach with an increased willingness to cooperate, volunteering information on bombs and arms caches.
"In the early stages, we would kick in doors and we would break things, and we would just say we're sorry and then pull off," says Lt. Col. John Kolasheski. "The majority of people understand we treat people with dignity and respect, but there are cases where we have to detain them. So it is a delicate balance."
But during the Sledgehammer Brigade's summer offensive, actions by combat troops have also deepened animosity among Iraqis.
In Nahrawan, soldiers shot the wrong man when he ran from a house thought to belong to militants. A gathering crowd glowered at the troops as they bandaged the victim's bloody arm and leg.
In two separate convoy incidents, U.S. Humvees rammed civilian vehicles, the first when an Iraqi sedan drove past a traffic blockade. In the second incident, a Humvee commander instructed his driver to clear a crowded intersection. The Humvee then smashed into a minibus full of terrified passengers — causing considerable damage --while his gunner fired an M-16 in the air to frighten other drivers.
When informed of the incident at the intersection, Col. Wayne Grigsby, commander of the 3,000-man Sledgehammer brigade, said bullying is not authorized and that he would investigate.
"That kind of stuff is what will get us in trouble," Grigsby says. "Over here, we're trying to liberate and support and assist. Some of these people on the fence...we make enemies, and they feed the insurgency."