Adviser: Clinton's Record Reaches Black Voters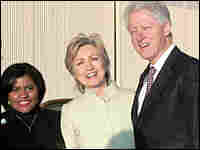 Michele Norris talks with Minyon Moore, senior adviser to Sen. Hillary Clinton's presidential campaign. Moore says the campaign is not looking at what Sen. Barack Obama is doing, but concentrating on making sure voters know Clinton's record and her stand on issues.
Moore worked in the Clinton White House. Her political roots are in Chicago where she got her first campaign experience working for Jesse Jackson.