Karzai Must Kick Out 'Cronies' To Succeed, Kerry Says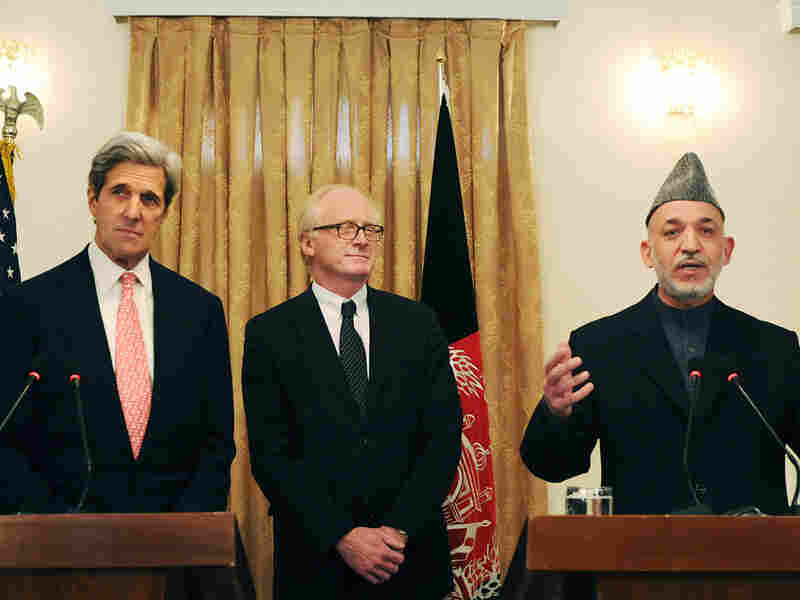 Shah Marai/AFP/Getty Images
When the main challenger to Afghan President Hamid Karzai dropped out of a planned runoff, it did more than end two months of election disputes. Sen. John Kerry says it also gave Karzai a chance to prove his legitimacy — and to become a stronger ally to America.
Kerry traveled to Afghanistan in October to persuade Karzai to hold the runoff election against Abdullah Abdullah — a man he claimed to have defeated.
Abdullah's withdrawal from the controversial election presents an opening for Karzai, Kerry says.
"I think President Karzai needs to seize this opportunity in a very clear and tangible way" to institute reforms and improve Afghanistan's government, Kerry tells NPR's Renee Montagne.
Cleaning Up The Afghan Government
Karzai needs to shake up his ministers and governors, Kerry says, emphasizing the need to get rid of "cronies" who were added during the election season.
Karzai must also "reach out to the provinces to help develop the partners we need at a local level," says Kerry, who is chairman of the Senate Foreign Relations Committee.
Those moves not only would help repair Karzai's relationship with the United States, Kerry says; they also are necessary for Karzai "to really establish his own credibility as a national leader."
Citing rumors of a "removal list" of competent governors who might be slated for replacement, Kerry says, "People just want to make certain that the folks who are really trying to work to get the job done are going to stay in place."
One example, Kerry says, is Gov. Gulab Mangal of Helmand province, where U.S. Marines are currently fighting insurgent forces.
Saying there have been rumors that Mangal might be replaced, Kerry says, "I think that'd be an enormous mistake and a very bad signal."
Trouble From The Family?
A potential source of major trouble for Karzai is his younger half-brother, Ahmed Wali Karzai, who has been described as a drug kingpin and who is generally thought to be profiting from shady deals in Kandahar.
Many people tell stories about Wali Karzai's supposed mafia-like grip on Kandahar, and virtually everyone in Afghanistan believes the tales. Wali Karzai is also believed to have worked for the CIA, as reported last month by The New York Times.
"If people have evidence, we need to see the evidence," Kerry says, adding that the matter is important enough to be part of the conversation of America's future role in Afghanistan.
Under the Bush administration, the United States said it had no choice but to rely on people known as warlords in Afghanistan, Kerry says — they were the only ones who had enough power to fight the Taliban.
Challenged to answer whether the Obama administration operates under the same premise, Kerry says, "I think it applies to anybody working in a place as complicated as Afghanistan — that you have to make some tough decisions. Nothing is pure or easy on its face."
The challenge, Kerry says, is to remember that few approaches will work in Afghanistan the way they might in the United States.
"Occasionally, you're going to have to deal with people who don't necessarily meet the test over here," he says.
'Good' Warlords, 'Bad' Warlords
Kerry says the end goal for the United States in working with warlords is to provide enough stability to keep Afghanistan from being a sanctuary for al-Qaida — and also to marginalize the Taliban.
"Now this may sound totally comical to you," Kerry says, "but there are, quote, good warlords and bad warlords, end of quote."
Kerry gave a speech last week in which he said America would not be able to transform Afghanistan into a "flawless democracy."
Asked during the interview to describe an Afghan government that would be acceptable, Kerry says it's one that tries to limit corruption, has a plan for economic and social progress and provides security for its population.
But, he says, "It has to do it at an Afghan pace, not at some artificially constructed Western pace."
As an example, Kerry says, if the United States were to engage in comprehensive nation-building in Afghanistan, it would very likely take the country 30 years to reach the level of neighboring Pakistan.
For now, Kerry says, the success of America's goals in Afghanistan hinges on Karzai's ability to be a reliable strategic partner running a legitimate government.
"It's in Afghanistan's interest, it's in our troops' interest, in our national interest, that we make this succeed," Kerry says.
Asked whether that means President Obama should send more soldiers to Afghanistan, Kerry acknowledges that he would support raising troop levels in Afghanistan. But "the decision is not just one about number of troops," he says; the U.S. mission is about strategy and security — and weakening al-Qaida and the Taliban.
He has no doubt about the U.S. military's ability to do its part, Kerry says; instead, his doubts are in the civic sphere: governance, development and civilian structure.
"If all we do is have a military component to this," Kerry says, "we will fail."