Vegas' Massive City Center Project On Hiring Spree
The $9 billion MGM Mirage City Center is undertaking what could be the largest private job creation effort in the country: 12,000 workers to staff the enormous Las Vegas Strip development.
Keith McSorley manages the MGM-Mirage City Center Uniform Distribution building. He coordinates 37 other tailors and a couple of hundred clients each day.
"It's like fitting an army," McSorley says. "You figure you're dealing with approximately 9,000 employees times three uniforms per — you're dealing with an average of 27,000 to 30,000 uniforms."
Rush For Jobs
City Center is a complex of hotels, condos, shopping and entertainment. The uniformed employees are being outfitted in 130 different styles.
Jacqueline Coatsworth, one of the new workers, smiles as she is being fitted. She will work in the Aria in the Skybox as a bartender.
Coatsworth got lucky. She was unemployed for six months before getting part-time work three months ago at the Rio resort. She applied for the job at City Center almost a year ago — one of 170,000 applicants for the 12,000 jobs. Her full-time union job comes with benefits.
"You know, I've kind of been waiting for City Center this whole year because I had a feeling — I had a feeling that I was going to be one of those lucky ones that got a job," she says.
Counting Workers
The jobs at City Center are at the top of the Vegas salary scale, which averages about $32,000 a year for leisure and hospitality workers. But just because 12,000 workers are being hired there doesn't mean 12,000 workers are coming off the unemployment rolls.
MGM Mirage Vice President Alan Feldman says some people came from the 10 other Las Vegas resorts owned by the company, like the Bellagio and Mandalay Bay.
"Of the 12,000, about a third of them are coming from within the MGM Mirage family, some of whom may have actually been part of the staff reductions over the last 18 months," Feldman says.
MGM laid off 9,000 people in the recession.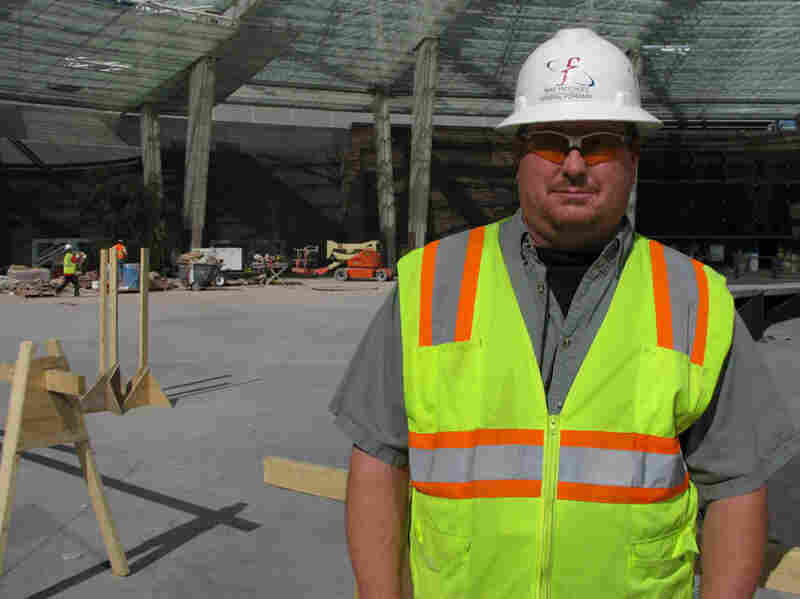 End Of Road For Some Workers
City Center's opening may be a new beginning for some, but it's the end for others.
It has taken five years and up to 9,000 construction workers to build City Center.
Mike Fritchley, who supervises about 700 electrical workers, says it's uncertain where the construction workers will go once City Center opens.
"We don't know. This is construction," Fritchley says. "It's boom or bust, so probably a lot of people will be going elsewhere in the country looking for work."
Construction workers generally make more than those in leisure and hospitality, so Las Vegas economist John Restrepo says it's difficult to gauge the overall impact on the Las Vegas employment picture.
"If you start netting out the construction workers that are lost, then you may have a net gain of zero — a zero-sum gain, essentially, at the end of the day, at least initially," Restrepo says.
Still, no matter how you do the math, were it not for City Center, things in Las Vegas would be that much worse. City Center is set to open in mid-December.