In Yemen, Animals Among The War's Displaced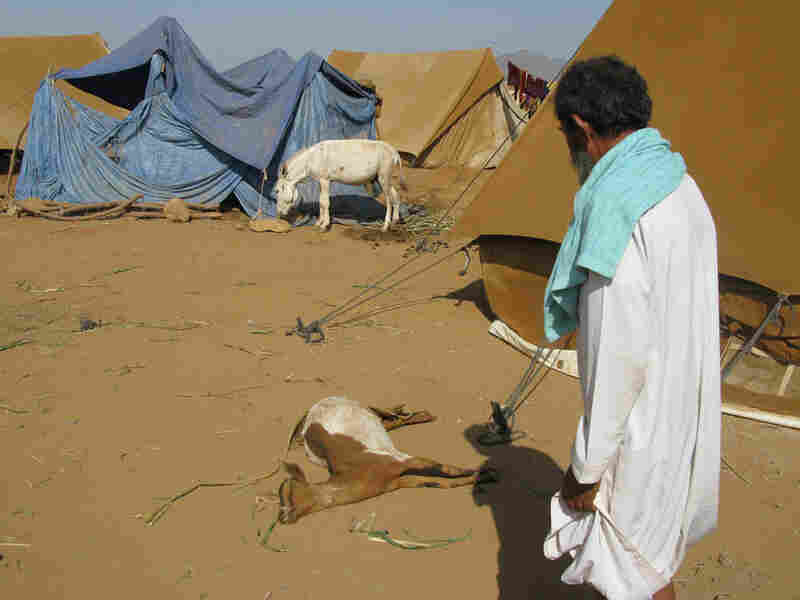 In the remote plains of northwestern Yemen, towns and relief camps are being inundated with displaced families fleeing conflict in the north. Both Saudi and Yemeni government forces are attacking Shiite rebels along the border area between the two countries.
The population at the main U.N. camp near the conflict area is swelling — not only with thousands of displaced people, but also with their livestock, which are posing a health risk.
Extended families have made the long, harsh trek out of the mountains of the Saada governorate, where air and ground forces are battling al-Houthi rebels. Often traveling by foot, the displaced fled first to Saudi Arabia, only to be turned back to Yemen when fighting spilled over into Saudi territory. Now, they are streaming in daily to the Mazrak camp near the border town of Haradh.
The number of people in the camp is nearing 9,000, with even more spilled out across the hot, sandy landscape, as displaced families seek to stay with relatives or in abandoned huts. And with these families come their animals — thousands of goats, sheep and cattle.
Ali Assaf, a middle-aged man in red-and-white robes, says when the Saudis kicked his family out, he left relatives behind so he could first bring the animals to safety.
"I had to leave my elderly, blind aunt and 9-year-old daughter in Saudi Arabia so I could go first with the goats. But when I got back to the border, they wouldn't let me in to get my family. And now the animals are suffering," he says.
By the side of the main road in the camp, a dead baby goat lies swarming with flies, its body bloating in the afternoon sun.
Felicie Monneret with the French aid group Triangle deals with livestock issues at the camp. She says it is difficult enough for these mountain families to adjust to the desert heat, but the sudden shift is even harder on the animals, many of which are dying in the camp.
Monneret cites one family that had 180 animals — nearly 90 of those have already died.
"It's very hot, and people cannot graze their cattle. So mortality is a big problem, because people are losing their capital," she says.
For these families, the animals are their bank accounts. When a child falls ill, a sheep is sold to pay the doctor. In a desperate attempt to keep the last remaining bit of wealth they possess, displaced people are putting cows and goats inside their tents.
Volunteers load sacks of wheat onto small pickups for distribution. The U.N. refugee agency's team leader at the camp, Mai Barazi, says since the Saudi military got involved in the fighting last month, she has seen a sharp spike in the number of displaced families showing up.
"It's changed dramatically," she says. "Before that, we were getting between 20-30 families. Now, we're having over 100 families per day; I would say 150 and up. And we did not expect that."
The animals pose a health risk to humans, and they carry parasites that could infect local animals. Monneret says an estimated 1 in 7 animals has died since arriving at Mazrak camp. She hopes to engineer a compromise that groups families that know each other together, with their animals mixed together in a separate pen.
Local villagers feel threatened by this sudden influx of northern animals into a land with precious little grazing area. It's just one more side effect of a conflict that, five years on, shows no sign of ending.