The Decade In Music: Rihanna's 'Umbrella' (2007)
Wednesday's Pick
Song: "Umbrella"
Artist: Rihanna featuring Jay-Z
CD: Good Girl Gone Bad
Genre: Soul
2007's Greatest Hits
1. Beyonce, "Irreplaceable"
2. Rihanna featuring Jay-Z, "Umbrella"
3. Gwen Stefani featuring Akon, "The Sweet Escape"
4. Fergie, "Big Girls Don't Cry"
5. T-Pain featuring Yung Joc, "Buy U a Drank"
For a list of 2007's top singles, click here.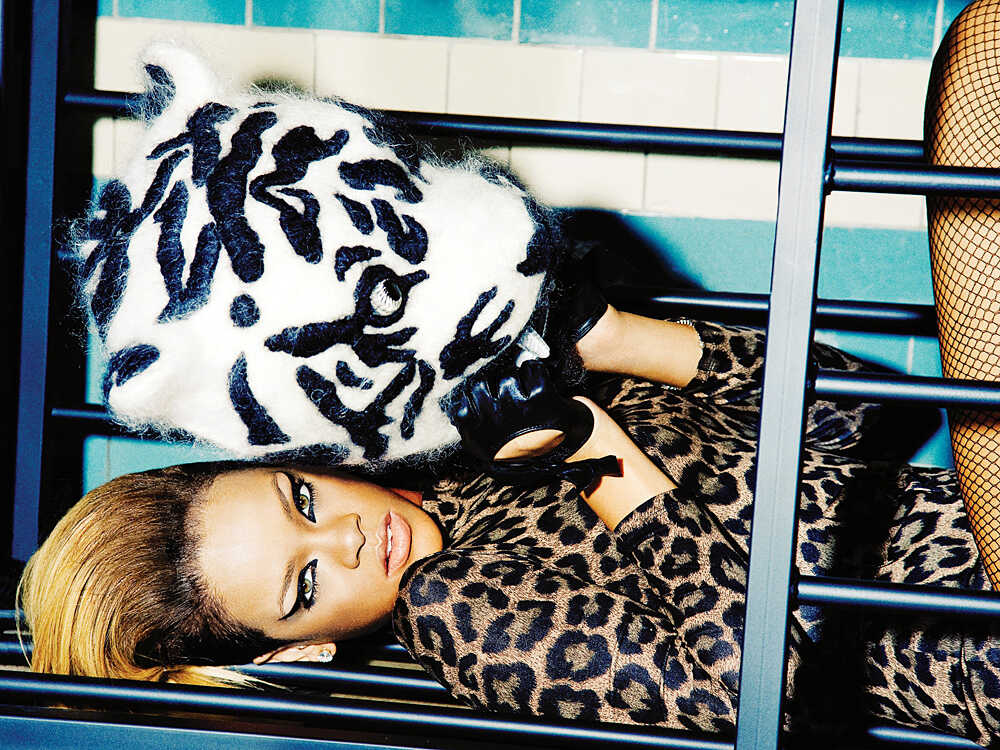 [Every weekday from Nov. 9 to Nov. 20, Song of the Day is surveying the past decade, one year (and one song) at a time, with an emphasis on America's most popular music. These picks don't exactly qualify as musical discoveries, but they do have something to say about the 10 years we're about to leave behind. Song of the Day will return to new music on Monday, Nov. 23. --ed.]
Consider, for a moment, the early singles of Rihanna. There was her debut hit "Pon De Replay," a dancehall-inspired number which marketed her Caribbean roots; "SOS," a radio-friendly electro-pop confection; and "Unfaithful," a tactful if mostly conventional, piano- and string-soaked ballad. As a teenager of obvious talent, Rihanna seemed to be throwing known formulas against the wall to see if they would stick; the fact that many of them did only complicated her identity crisis. Rihanna's unlikely ticket out arrived in early 2007, when a hastily assembled demo fell into her lap. "Umbrella" reads at first as ineffably strange, metaphorically obvious, darkly futuristic; if her problem heretofore was unclassifiability, here it was in song form. She gives it a go anyway.
By May, it would be the summer jam of the year.
In unpacking the many strange charms of "Umbrella," it's worth noting that Jay-Z literally (and perhaps figuratively) begins the track. He was boss at Def Jam Records when a 16-year-old Rihanna first came into his field of view; still at the helm some years later, he deigns to publicly cosign her with his opening verse. It's more or less disposable, but no matter. The man has a certain Teflon to him; he's continued to assert his hip-hop kingship throughout this decade even as he's marched inexorably to, and now past, his 40th birthday. It's hard not to admire how effortlessly he's reified his pre-eminence by constantly proclaiming it. Well, that, and by still finding a way to hitch his wagon to a catchy song every now and then.
What else in "Umbrella" galvanized America during the summer of 2007? Chalk it up in part to the Atlanta-based songwriting-and-production team of Terius Nash (better known as recording artist The-Dream) and Tricky Stewart. Their collective ear for alien-science-synth-meets-crispy-hi-hat beatmaking is very much of its zeitgeist, and their "ella ella / ay ay ay" sounds like throwaway filler turned accidentally into a piece de resistance. (The superfluous repeated syllable is actually a Nash trademark, if you think about J. Holiday's "Bed" and his own "Shawty Is a Ten," but it has a certain back-of-the-napkin sing-along brilliance here.) So excited was Island Def Jam about the rough demo that it aggressively outbid Mary J. Blige — for whom the track was intended — so that Rihanna could record it instead.
And, of course, credit Rihanna herself, as the R&B star whose mutable persona always seems to synchronize with what's asked of her. Here, her piercing yet even-keeled alto plays the role so well that we hardly notice its profound lyrical triteness. And the video, with all the black leather, metallic body paint and showers of sparks, completes her transformation to a bionic avant-fashionista who transcends category. In essence, it's the Rihanna we know today, and in 2007, her arrival echoed across the world to an indelible refrain: "ella, ella / ay, ay, ay."
Listen to yesterday's Song of the Day, and subscribe to the Song of the Day newsletter.