New Term For Karzai Brings Same Old Problems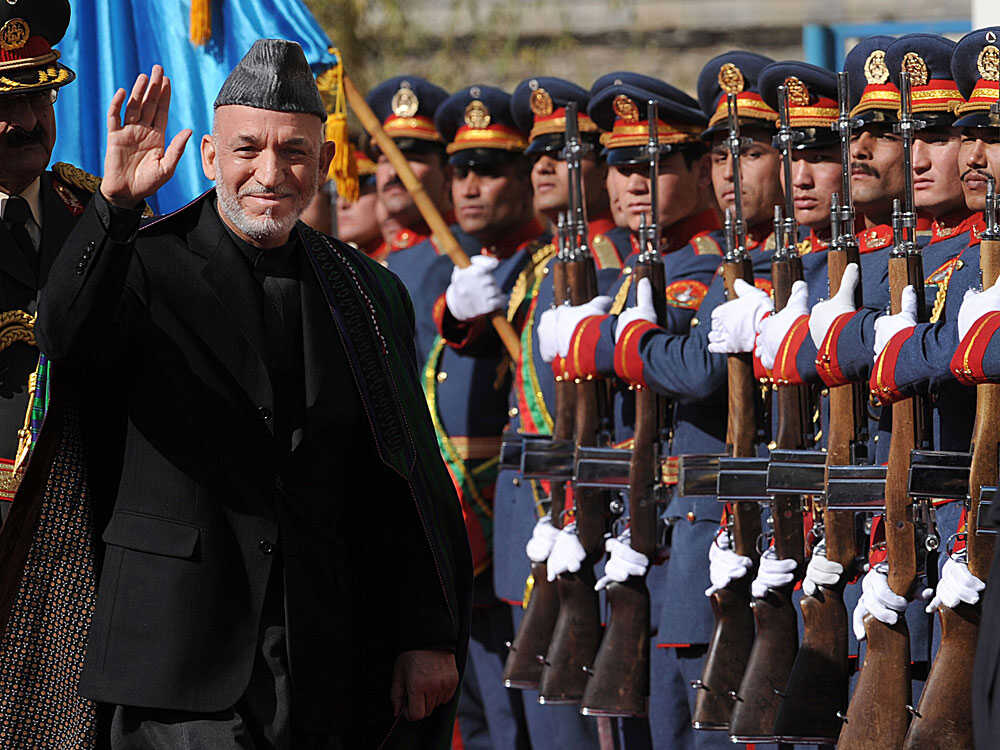 Shah Marai/AFP/Getty Images
The inauguration of Afghan President Hamid Karzai in Kabul on Thursday came with all the usual ceremonial flourishes, including a suffocating security cordon. But his second term is already beset by severe doubts that he will be any more effective at tackling the country's rampant corruption.
On Morning Edition
Afghanistan
Afghan President Pledges To Clean Up Corruption
Afghan President Pledges To Clean Up Corruption
Karzai's first five-year term ended amid record levels of violence and a growing sense by the international community that unchecked corruption and incompetence were threatening to undermine the entire Afghan government.
To make matters worse, the presidential election in August was marred by such blatant rigging by Karzai's supporters that it only served to highlight how widespread the corruption has become.
Speaking at Thursday's ceremony, Karzai pledged to appoint competent ministers and to go after corrupt officials. He insisted that his government "is committed to end the culture of impunity and violation of law and bring to justice those involved in spreading corruption and abuse of public property."
But Afghanistan is seen as the world's second-most corrupt country after Somalia, according to a new survey by Berlin-based Transparency International, and most observers are pessimistic that anything will be different going forward.
'A Weak Leader'
"Karzai is a weak leader, and he always has been a weak leader," says Andrew Natsios, who ran the U.S. Agency for International Development during the Bush administration. "Karzai has kept the country together, but it's at a high cost, and it's now compromising the future of the country."
President Obama skipped Karzai's inauguration, but Secretary of State Hillary Clinton did attend to press the U.S. position that Karzai needs to shake up his Cabinet and crack down on high-level corruption.
"There is now a clear window of opportunity for President Karzai and his government to make a new compact with the people of Afghanistan, to demonstrate clearly that you're going to have accountability and tangible results that will improve the lives of the people," Clinton told staff at the U.S. Embassy in Kabul before the inauguration.
Obama is still mulling a new strategy for Afghanistan that could entail deploying up to an additional 40,000 U.S. troops. A decision is expected soon.
In the meantime, U.S. diplomats will be watching closely to see whether Karzai shakes up his Cabinet and removes ministers and other senior officials suspected of corruption.
"The existence of corruption at the Cabinet level is probably the most disconcerting element," says a U.S. official. "The fact is that there is not a clear example or a clear message from the top of the government that corruption will not be tolerated."
Some government departments, such as the Ministry of Information and the Ministry of Mines, will come under particular scrutiny. The minister of mines, for example, has been accused of accepting a $30 million bribe to award a massive project to a Chinese mining firm, according to a report in The Washington Post.
"There are individuals who will be clear barometers for judging the Afghan seriousness of this commitment," the official says.
Everyday Corruption
Afghan deputy justice minister Abdul Qader Adalat Khwa declined to comment on the allegations about the minister of mines, but he insists that the Afghan government is trying to change.
"Right now, the reform process is still continuing," he said during an event in Washington, D.C., on Wednesday. "The Afghan government would like to be accountable and responsible, and needs the international community to help."
But the corruption problem goes well beyond high-profile allegations of multimillion-dollar kickbacks.
Nearly a third of Afghans say they have personally experienced corruption when trying to obtain an official government document, according to a large-scale survey of the Afghan people conducted by the Asia Foundation.
"The people have lost complete confidence in their government, which wasn't the case before," says Nipa Banerjee, who ran the Afghan aid program for the Canadian International Development Agency from 2003 to 2006. "The legitimacy of the government is very much at stake."
More than a quarter of Afghans told the Asia Foundation's pollsters that they have seen corruption firsthand when dealing with Afghan courts and judges.
"In many areas, it's at the point where people don't even go to the formal justice system," says Masood Karokhail, deputy director of the Tribal Liaison Office, a private Afghan group that works on local governance issues. "The majority of people don't think there is justice in Afghanistan now."
Limits Of U.S. Pressure
U.S. officials concede that they have limited leverage over Karzai to force him to move more strongly. Threatening to halt aid money or even withdraw troops is simply not credible, particularly given Obama's high-profile commitment to strengthening the U.S. effort there.
"There's really not much of a punitive threat," says a U.S. official. "It's not constructive."
Instead, the Obama administration hopes to use the promise of additional aid to encourage tougher enforcement. Top U.S. envoy Richard Holbrooke visited European capitals last week in part to try to persuade them to participate in a new international donor conference where new aid programs for Afghanistan would be tied directly to a concerted crackdown on corruption.
But the culture of corruption has become so entrenched at nearly every level of government that the challenge is daunting. Natsios says the problem is that Karzai has purposefully built a system through which he maintains power through a series of relationships with tribal leaders and warlords.
"The tribal chiefs that support him maintain the loyalty of their followers by doling out favors — money, jobs, influence," Natsios says. "It's like the old-fashioned political machines in the United States in the 1920s. But without it, the whole country would fly apart and it would be much worse than it is now."
A report sponsored by USAID earlier this year described just how pervasive the problem has become.
"Corruption has become a system, through networks of corrupt practices and people that reach across the whole of government to subvert governance," the report concluded. "Particularly perniciously, these networks ensure that the guilty are not brought to justice; often the officials and agencies that are supposed to be part of the solution to corruption are instead a critical part of the corruption syndrome."
Even worse, many Afghan officials have come to resent Western criticism when it comes to corruption, says Banerjee, who adds that senior officials are still "in denial" over how serious the problem is.
"They seem to think they are being unnecessarily chastised for this," she says. "They seem to think it's more a matter of perception."
Privately, U.S. officials concede that there is plenty of blame to go around for the situation.
U.S. reconstruction efforts are entering their ninth year, but Washington was distracted during much of the Bush administration by the invasion of Iraq and its bloody aftermath. This meant that there was less attention on issues like fighting corruption.
"Without U.S. and international leaders pushing on this, it became easier for Karzai not to lead, and for old habits to become resurrected and entrenched," says a U.S. official. "We lost the spirit and the energy that did exist in Afghanistan in 2003 and 2004. We weren't pressing as hard on this as we were in the past."
The energy has returned, the official insists. The question now is whether it's already too late.