Is The Postal Service Writing Off Santa?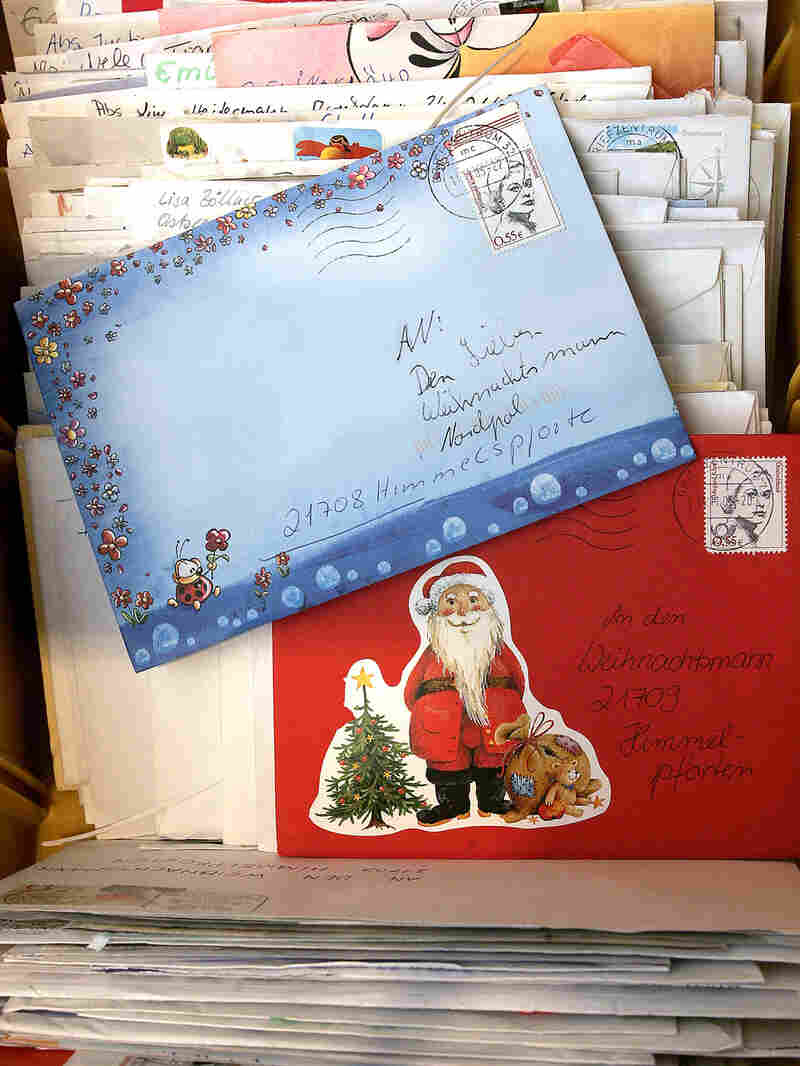 As a nation and a people, we have taken to burning down the haystack because we fear we might step on the needle.
Latest example: The Postal Service is putting strict limits on a program that used volunteers to answer letters to Santa Claus.
Why? Last year, a postal worker in Maryland recognized one Operation Santa volunteer as a registered sex offender. The suspect volunteer was dismissed before having any chance to answer the child.
And now the postal service has instituted changes that have angered overworked local postal officials, who say it would be difficult, if not impossible, to comply with the new rules.
The Postal Service's restrictions strike me as another overreaction in a world grown foggy with fear. Yet another explosion of the elephant gun in a panicky attempt to dispatch a random ant.
I seek solace. Perhaps one of the true chestnuts of the holiday season — "Yes, Virginia, There Is A Santa Claus" — has some comfort to offer.
In 1897, Francis Pharcellus Church of The Sun newspaper wrote in response to a letter from young Virginia O'Hanlon, whose playmates had told her there was no Santa Claus.
Mr. Church famously rebutted that claim, saying, among other things, "Your little friends have been affected by the skepticism of a skeptical age."
Well, 112 years later my friends — both little and old enough to know better — have been affected by the fearfulness of a fearful age.
The Postal Service found one person about whom suspicions were properly and promptly raised, and the reaction was to cancel an entire program aimed at preserving children's innocence.
Quick, give me a large lump of coal to drop in the postmaster general's stocking.
Mr. Church knew what Santa Claus was made of, and his timeless commentary suggests he knew a thing or two about boogeymen, as well. For instance:
"You might get your papa to hire men to watch in all the chimneys on Christmas Eve to catch Santa Claus, but even if they did not see Santa Claus coming down, what would that prove?"
It would prove that nothing is nothing unless you want to believe it's something. That's a recipe for faith, but also for irrational fear.
And:
"Nobody can conceive or imagine all the wonders there are unseen and unseeable in the world."
Nor can we imagine all the dangers. Nor can we protect our children from the worst of it. We can only hope to show them the best of it as often as possible.
Fear, some say, is the absence of faith. It can also be the absence of reason.
No letters from Santa at the North Pole? A small loss, but a telling one. Rudolph, lead me out of here, buddy. It's getting awfully foggy.
Todd Holzman is supervising senior editor for digital news at NPR. Incidentally, he is the son, the nephew and the cousin of proud U.S. postal workers.